Now that the white paper has been released and the UKGC has outlined its plans, what do players and operators need to know?
After much frustration and numerous delays, the UK's Gambling Act White Paper was finally released in April 2023. The white paper, which contains proposed changes to the UK's Gambling Act 2005, aims to more accurately reflect gambling in the digital age, by addressing issues related to VIP customers, slot limits, financial risk checks (formerly known as affordability checks), and other facets of the UK's gambling sector. 
According to the policy paper, many of the main measures will be effective by the summer of 2024. So, as the government initiates a series of consultations to convert policy into practical measures, what challenges lie ahead for the UK gambling sector, and how should UK gambling operators be prepared for the new era?
Numerous conferences and webinars featuring high-profile personnel with close connections to the gambling industry have also been held since April to discuss the white paper's proposals. The much-anticipated document has certainly given the gambling industry plenty to think about, with many gambling operators pondering how best to react.
The UK Gambling Commission's 3-year plan.
The UK Gambling Commission (UKGC), which will work toward implementing the proposals in the coming years, has recently disclosed its Evidence Gaps and Priorities program, set to run from 2023 to 2026, mapping out areas in the UK gambling sector requiring further data collection and research.
In reference to its plan, the UKGC states: "The document outlines a cohesive and consistent framework for improving the evidence base, in line with our regulatory duties."
The UKGC also plans to enhance its research and evidence-based principles over the next three years, highlighting collaboration and transparency with the Lived Experience Forum, which brings together a group of people that have lived experience of gambling related harms, either from their own gambling or from someone else's. One of their chief aims is to share stories and insights to help influence wider developments in the prevention, support, and treatment of gambling harms.
The UKGC has designated six key themes of research that will function as the primary focus of its investigations:
The impact of operator practices

Early gambling-related experiences and gateway products

The variability and range of gambling experiences

Harms and vulnerability related to gambling

Gambling product characteristics and their risks

Illegal gambling, fraud, and crime
Ultimately, the research process is set to examine how players respond to different gambling-related activities and the associated potential hazards. The Commission looks to understand the variability and range of different gambling experiences. For example, how betting on slots and sports betting can produce dramatically different behavior.
The UKGC also seeks to further its knowledge of the adverse impacts of gambling and the elements contributing to player vulnerability. By determining such potential hazards, they hope to create effective strategies that will potentially protect vulnerable individuals and safeguard them from harm.
With the UK's gambling white paper now released, the Commission believes the coming years will provide more opportunities to make genuine progress toward making gambling in the UK fairer, safer, and free from crime.
Consultations begin: Feedback on UKGC's proposed changes.
In July 2023, the UKGC announced the first four areas of the UK's gambling regulatory framework to undergo changes, and invited feedback from all stakeholders, consumers, gambling operators, and members of the public.
Participants have until October 18, 2023 to fill out an online survey and have their say.

1. Online gambling: Financial risk and financial vulnerability.
With the UKGC's proposed changes, operators are now required to conduct financial risk checks (formerly known as affordability checks) to assess whether a customer's gambling activity may be harmful to their financial circumstances. For more information about financial risk checks, and how our 6-pronged approach is the most comprehensive in the market, read our 'Reimagining affordability: Why 6 financial risk check indicators are better than 2.' blog.
Participants can have their say as to where these measures should be implemented, for example in the Customer Interaction section of the Licence Conditions and Codes of Practice (LCCP), and how operators should use the obtained information.
2. Remote game design.
The UKGC is proposing a 5 second minimum game speed (per spin), targeting the fastest version of non-slots products. It also proposes removing features that can speed up play. Another proposal seeks to remove features that may mislead consumers or create dissociation from awareness of play.
3. In premises: Strengthen age verification.
Proposed changes include betting shop staff being required to check the age of any customer who appears to be under 25, rather than 21.
4. Improve customer control over marketing, advertising.
Especially important for problem or vulnerable gamblers, the UKGC is proposing to give customers more control over the direct gambling marketing they wish to receive. The Summer 2023 consultation package invites participants to have their say on the introduction of a new LCCP requirement that would enable customers to opt-in and select the product type and channel they wish to receive marketing.
Gambling regulations 101: Europe and the UK.
Interested in expansion? Discover how gaming operators can keep pace with the ever-growing multi-jurisdictional landscape in Europe and beyond.
Get your free copy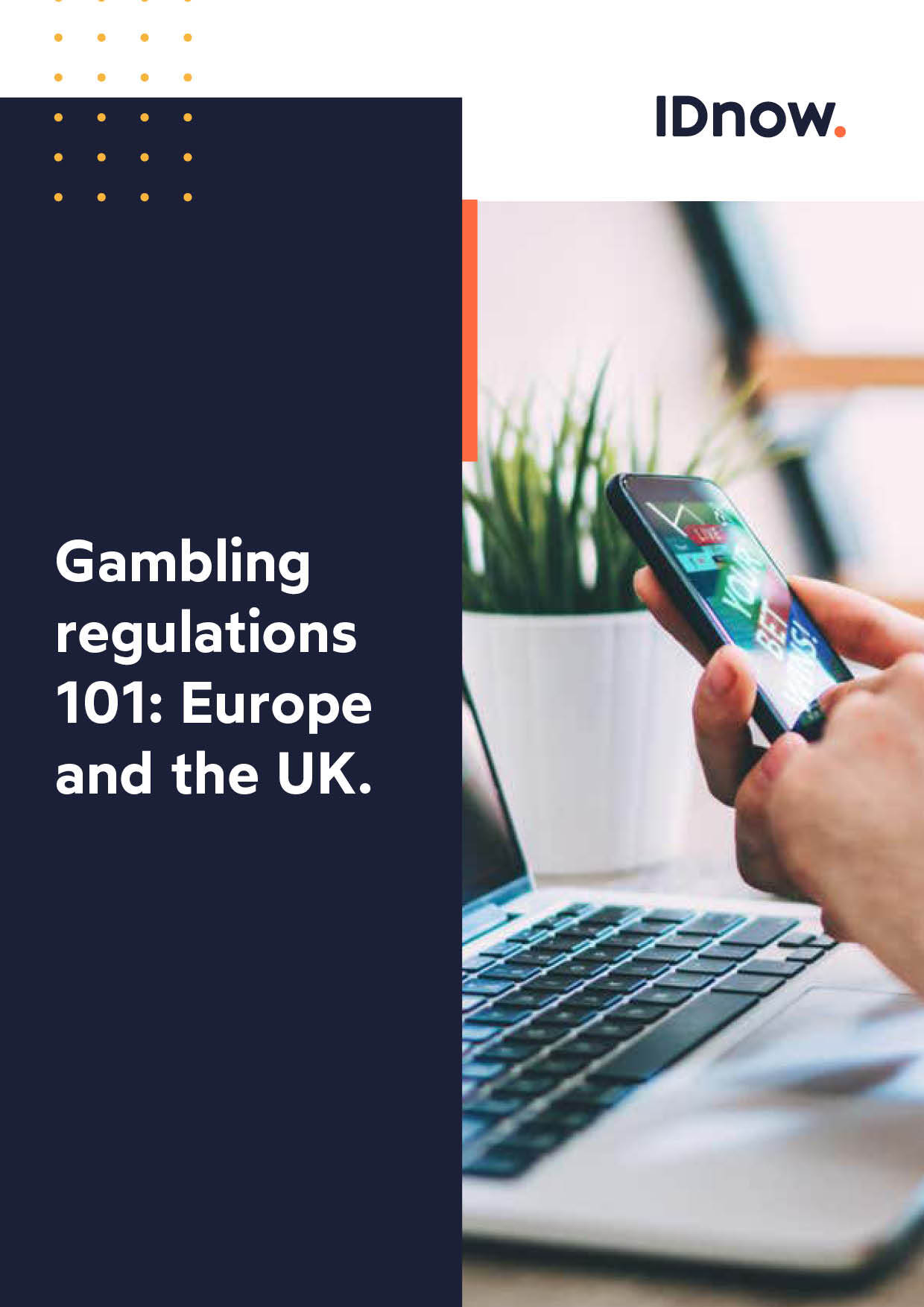 What is the UK's new 'Customer Interaction Guidance for Remote Gambling Licensees'?
In August 2023, following a year-long consultation period, the UKGC issued a revised version of its Customer Interaction Guidance for Remote Gambling Licensees.
Remote gambling operators in the UK have until October 31 to implement measures. The chief aim of the new guidance is to minimize the risk of customers experiencing harms associated with gambling through the implementation of "effective customer interaction systems and processes." It suggests doing so through the use of a three-step system:
Identify.
Through an ongoing process of monitoring, licensees should utilize indicators of harm to flag signs that a customer may be at risk.
Act.
Review indicators to tailor the action to the type of harm. This may require automated action, or manual intervention. Activities and interactions should be recorded. Ongoing monitoring may be required, alongside further, more intensive intervention.
Evaluate.
Consider actions taken, and whether further intervention is required. These evaluation processes and systems should be baked in from the beginning of the customer experience, and "not an afterthought."
The new guidance is incredibly important for any operator that wishes to hold a gambling license in the UK. From October 31, all licensees are required to build processes that can identify risk, take appropriate action, and evaluate the effectiveness of said action. This three-step approach is now considered essential throughout the customer's relationship with the operator.
Read more about how to obtain a UK gambling license here.
What are the new UK gambling laws?
Operators can prepare for the UK's new gambling environment by reviewing their ongoing policies and practices. This includes ensuring they comply with all relevant laws and regulations and identifying areas that might benefit from change. For instance, increasing the use of KYC checks. It is also crucial for operators to stay updated on any developments in the white paper, including any new proposals or updates to existing regulations.
According to panelist Chris Elliot, partner at law firm Wiggin, in a recent webinar held by iGB in partnership with the Department of Trust, operators will face an imminent demand to figure out which consultations are most impactful for their business. As a short-term response, operators can focus, in the next few months or years, on which consultations matter. Overall, Elliot noted that the white paper presents operators with a clear and coherent policy direction.
The financial risk checks are perhaps the major cause of anxiety, with many licensees rowing back from offering VIP or loyalty clubs at online casinos. VIP services are designed to reward customers who spend large sums of money. However, after a report in 2020 that narrowed in on the industry's reliance on problem gamblers, some operators decided to remove VIP schemes altogether.
The now obligated financial risk checks are likely to significantly impact the quality of the gaming experience. Operators must now carry out financial checks if players incur a £125 net loss within a month or a £500 net loss in a year, with the most rigorous checks effective at a £1000 net loss in one day or £2000 net loss in 90 days.
Bodies such as the British Horseracing Authority questioned how intrusive these checks might be. However, ministers were quick to emphasize their desire for the checks to be as frictionless as possible. Consequently, operators must conduct these checks with the least friction possible or risk losing customers to other brands where checks feel less intrusive. Operators failing to comply with the new financial risk checks and keeping up to date with new requirements could risk fines.
The UKGC will also undertake consultation on design rules for online gaming products, to take into account the impact of features such as the speed of play, the illusion of player control, and other features prone to heighten risk.
Considered a high-risk product, online slots are typically associated with long, binge sessions, large losses, and no statutory stake limits.
As a result, stake limits will be introduced, consulting on a limit ranging from £2-£15 per spin. Greater protections have also been considered for 18-24-year-old players who are considered more vulnerable, e.g., options of a £2 stake or £4 stake limit per spin or a separate approach predicated on individual risk.
Who wants to be a VIP anyway?
There are two parts of the white paper that, either intentionally or not, will heavily impact the online gaming experience of VIPs or high-spending customers: slot limits and financial risk checks. It is highly likely, therefore, that the operators that are currently offering services to VIPS may decide to change tact, and refocus on the mass market.
However, although the now compulsory slot limits will make the process of attracting high rollers more challenging, gambling platforms shouldn't necessarily neglect this player base. After all, the problem doesn't lie with high rollers, who can afford to gamble significant amounts, but the one-size fits all approach. Operators must therefore look for innovative ways of offering VIP services, rather than just avoiding offering them altogether. It is therefore crucial for such consultations to find a voice for all customers. Operators need to put customers at the forefront.
3 further steps toward the new UK gambling laws.
To prepare for the new, updated and more accountable UK gambling landscape, operators should focus on three specific areas to ensure they meet new and upcoming compliance requirements:
Evidence
Evidence will remain a keyword for the next five years for the UKGC, and should be for operators too, who must now provide evidence of the decisions they make and the programs they implement.
Innovation
Innovation will become the answer to many of the challenges posed by the white paper, particularly open banking: one of the key drivers for innovation, alongside artificial intelligence.
Collaboration
Collaboration will be essential across different business units and operations to effectively utilize innovative technologies. The goal is to protect consumers and enhance operations by automating processes, all while ensuring consistency and coherence in a thorough and comprehensive manner.
How can operators prepare for the future?
As further regulatory changes come into play, and new global markets continue to slowly but surely open up, such as Brazil and Canada, one key way that operators can prepare for the future is by incorporating robust identity verification technology that enables operators to conduct thorough Know Your Customer checks. Many current IDV platforms utilize the latest data analytics tools to ensure their players are who they say they are, the age they claim to be, and with the financial means they claim to have.
Another crucial consideration for operators is the need to focus on and further enhance responsible gambling practices. The key to preparing for the future of the UK's gambling industry is to be agile, innovative, collaborative, and focused on offering the best possible customer experience.
Our highly configurable platform for identity proofing in the gaming market allows operators to keep abreast of constantly changing regulations, and new fraud schemes and scams, while ensuring a safe, secure and seamless gaming experience. With our latest round of platform enhancements, we now offer UK-specific data checks, and financial risk checks, which provide operators with insights into a player's affordability indicators to comply with the latest updates to the UK Gambling Act.
This not only helps businesses avoid potential fines and reputational damage, but also allows for ongoing monitoring of changes in player circumstances and verification of reported income without the need for additional documentation.
If you would like more information on obtaining a UK gambling license, read our 'Everything you need to know to get a UK gambling license.' blog.
Interested in how online operators can achieve full gambling compliance?
Read more about the UK government's recent fraud strategy, and the responsibility that operators bear in our 'UK declares war on fraud, calls on technology giants to join the fight.' blog.
By

Roger Redfearn-Tyrzyk
VP Global Gaming at IDnow
Connect with Roger on LinkedIn