After numerous delays, the much-anticipated government review and update of the Gambling Act 2005 has finally arrived.
It's safe to say that the UK's gambling industry has been in a state of turmoil for a few years now. In 2020, Boris Johnson launched a review of the Gambling Act 2005, raising concerns that the document might need to be updated to apply to the digital age. Indeed, it absolutely did, as at the time the 2005 Act was created, almost all gambling took place in brick and mortar betting shops, casinos and racetracks. Now, the industry makes more than 40% of its £14 billion annual revenue from online gambling.
The review was expected to lead to a white paper outlining modifications to the act. Three years later, and the UK gambling white paper (High Stakes: Gambling Reform for the Digital Age) is finally here.
Now that the white paper has been released, it will likely have long-term implications for the sector. Therefore, it is crucial to understand the potential consequences for players and operators.
What is the UK gambling white paper?
The Gambling Act Review White Paper is an official publication that sets forth its approach to regulating the online gaming industry in the UK.
The document covers current policies, regulations, and changes for gambling services in the UK. Such gambling regulations and policies include ensuring the protection of consumers, mitigating problem gambling, preventing money laundering, and making the enforcement of payment regulations easier.
The official document aims to provide an environment where players can safely partake in various forms of mainstream gambling, such as casino games, slots, lotteries, and sports betting. Gambling operators can continue providing the same products, but all games have to be within the regulatory limits.
Overall, the ultimate goal of this white paper is to promote transparency, fairness, and safety within all aspects of UK-based gambling activities.
Why was the white paper delayed?
Speculated by industry insiders to be the greatest reform in nearly two decades, the UK's new gambling framework has introduced proposals for various significant changes. However, the nearly three-year delay in reform has resulted in frustration and even inactivity in the gambling sector.
Initiated in December 2020, the review was supervised by no less than four culture secretaries, six gambling ministers, and three prime ministers. Little wonder, then that its official release was stalled four times throughout government turmoil and the pandemic.
In February, Prime Minister Rishi Sunak revealed plans for a newly-formed DSIT (Department for Science, Innovation, and Technology) and a new "refocused" Digital, Culture, Media, and Sport (DCMS).
Sunak's recent cabinet shuffle has caused further frustration, especially since Paul Scully, who received praise from those within the gambling industry for listening to both sides of the argument as demonstrated by his views on affordability checks, was then appointed to another post. On February 7th, Scully took up his new position as Minister for Tech and the Digital Economy.
It is important to remember that in the last few years, a cost of living crisis, the war in Ukraine, and rising energy prices have also been pressing concerns for the current government, which perhaps explains why the review into the Gambling Act being was so low down on the priority list.
The amount of negotiation that goes into such a paper must also be considered. Stakeholders within the gambling industry realize the devastating consequences these reported new initiatives could have, so they are still fighting for the best potential outcome for the health of the gambling industry.
Gambling regulations 101. Europe and the UK.
Discover how gaming operators can keep pace with the ever-growing multi-jurisdictional landscape in Europe and beyond.
Get your free copy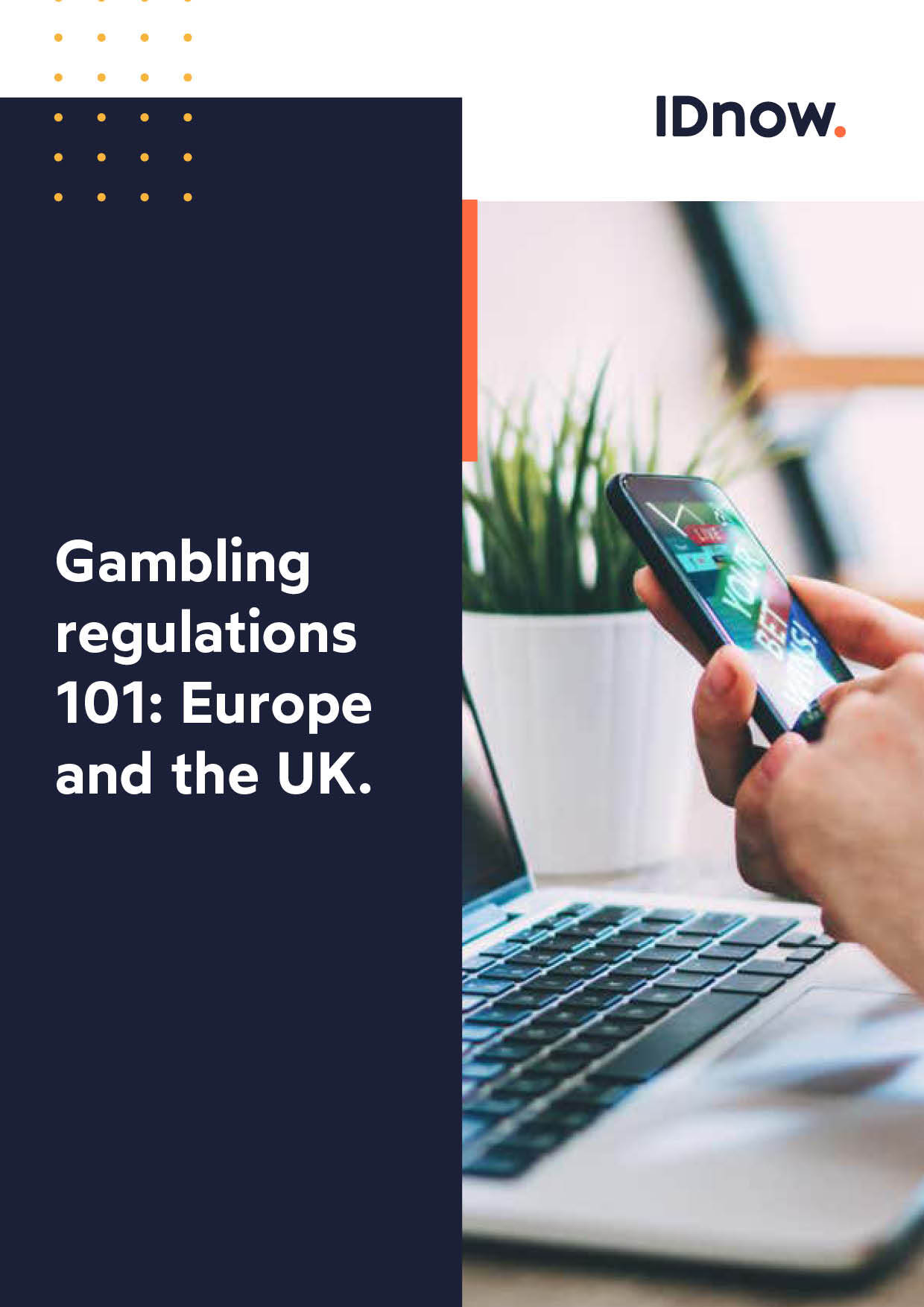 Why is the UK gambling white paper important?
Overall, the UK gambling white paper is important in terms of providing much-needed regulatory clarity, and helping establish the social and legal framework of the gambling sector in the UK. By suggesting various measures to ensure consumer protection standards and mitigate underage gambling and cybercrime, the document offers guidance and direction on how operators should facilitate fair, transparent, and safe services. According to Frazer, the white paper also aims to protect individuals that are vulnerable to addiction and harm without affecting the overall experience of the majority. As other regulators often look to the United Kingdom Gambling Commission to see where gambling regulation is headed, the UK gambling white paper is likely to affect many global markets, such as the Netherlands and Ontario.
In establishing a transparent legal framework and providing support services wherever necessary, the white paper will have a sweeping impact on operators and gamblers alike. Now that the document has been released, operators are advised to implement the necessary changes to their services and operations, from more active measures in managing problem gambling behavior, to increased minimum standards for protection and safety for players.
Implications for gamblers include more comprehensive access to information regarding their gambling activities, improved customer support processes, new limits on stake levels, more straightforward registration processes, and more robust consumer protection standards.
However, despite the apparent need to help tackle issues surrounding problem gambling, people within the industry argue that some of the UK gambling white paper's proposals, including intrusive affordability checks and betting limits, could unfairly impact the enjoyment of your everyday punter.
What are the UK gambing white paper's main proposals for change?
The UK gambling white paper sets out a series of changes to the Gambling Act 2005, which featured rules for the industry before the proliferation of smartphones and online gambling. The UK government has pledged to work with the Gambling Commission to implement changes as soon as possible. Consultations and trials for some of the changes will be carried out, but all measures are expected to be in force by summer 2024. Some of the most significant proposals include:
Promotion of responsible gambling
More prescriptive rules on when operators must check for 'harmful' customer losses.

Stake limit for online slots games, bringing them in line with land-based sector. (e.g. between £2-15 per spin.)

Greater protection for 18-24 year olds, which could be a £2 limit per stake or an approach based on individual risk.

Gaming experience
Making the 'design' of online games safer, by reviewing game speeds and features that exacerbate risks.
Ensuring incentives like bonuses and free bets are constructed in a 'social responsible manner'.

Subject to trials, data sharing between online operators and high risk customers mandatory for 'collaborative harm prevention'.

Consultation on whether to make player-centric tools like 'online deposit limits' mandatory or opt-out rater than opt-in.

Support services
Strengthen informational messaging including on the risks associated with gambling.
Premier League to end 'front-of-shirt' sponsorships by gambling firms.

Review Gaming Commission fees to ensure enough resources are available to implement changes.
Introduce a statutory levy paid by operators to Gambling Commission to fund research, education, and treatment of gambling harms.

Creation of new ombudsman role to deal with disputes and provide appropriate redress when a customer suffers losses due to a failure in an operator's social responsibility policy.
What is the UK Gambling Commission's role?
In May, the UK Gambling Commission released its own detailed three-year plan outlining its priorities, and six themes where there are gaps and questions that need to be answered for it to regulate effectively:
Early gambling experiences and gateway products

Range and variability of gambling experiences

Gambling-related harms and vulnerability

Impact of operator practices

Product characteristics and risk

Illegal gambling and crime
The demand for more UK regulations and gambling laws.
Britain has the world's largest iGaming market, not to mention one of the most liberal. In the past, UK-based regulatory authorities primarily outsourced consumer protection to problem gamblers, who were expected to "self-exclude" from gambling platforms should they suspect problem gambling patterns in their own behavior. They can do so through a platform established and funded by the gambling industry in 2018: Gamstop. That said, anti-gambling lobbyists argue that it is unreasonable to expect addicts to make sound decisions for themselves, and it should be accepted that they require guidance. Many addiction clinics in the UK have reported an upsurge in gamblers seeking treatment for deterioration in mental health.
The horse racing industry in the UK has also suffered partly due to the delay in the white paper's release. In December 2022, representatives of the British racing industry met with gambling officials outlining their concerns affordability checks will have on the industry. While the sport has always been popular in the country, it has lost at least £40 million in revenue. The UK Gambling Commission has also increased restrictions, causing shifts in betting sentiment.
Similarly, prominent operator Entain reported a loss of £100 million due to a significant drop in gambling activity led on by the UK Gambling Commission's restrictions and the rumor of affordability checks in the white paper. According to the operator, the drop is because more players are headed toward platforms that do not enforce as much oversight.
According to the Betting and Gaming Council, 250,000 bettors visited black market betting sites in December (during the World Cup 2022), up from 80,000 during the same month in 2021. Betting fraud affects all countries regardless of their legal stance on gambling.
How to prepare for the white paper.
The UK has become the world's most prominent regulated iGaming market. Despite its impact on society – both positives and negatives – it is still held back by restrictions that the white paper's release could correct. Online gambling regulations in the UK have up until recently been relatively liberal compared to other jurisdictions.
Now that the white paper has released, one thing's for sure – gambling platforms have a duty to ensure they're protecting their users, especially those problem gamblers. Having a KYC process in place to verify who they are, and the age they are, has never been more important.
Our highly configurable platform for identity proofing in the gaming market allows operators to keep abreast of constantly changing regulations, and new fraud schemes and scams, while ensuring a safe and secure gaming experience. With our latest round of platform enhancements, we now offer UK-specific data checks, and financial risk checks, which provide operators with insights into affordability indicators to online gamblers and comply with the latest updates to the UK Gambling Act. For more information about financial risk checks, and how our 6-pronged approach is the most comprehensive in the market, read our 'Reimagining affordability: Why 6 financial risk check indicators are better than 2.' blog.
Our financial risk check not only helps businesses avoid potential fines and reputational damage, but also allows for ongoing monitoring of changes in player circumstances and verification of reported income without the need for additional documentation.
Read more about the UKGC's plans for the UK's gambling sector in our, 'From paper to policy: What's next for the UK's gambling sector?' blog.
For more information on the UK's ever-evolving regulatory framework, read our interview, 'Controlling the comfort zone, with Roger Redfearn-Tyrzyk.'
By

Roger Redfearn-Tyrzyk
VP Global Gaming at IDnow
Connect with Roger on LinkedIn