IDnow eID.
Simple, compliant chip-based identity verification using the German identity card.
eID: secure and easy onboarding using a new identity verification technology.
In addition to VideoIdent, the IDnow platform includes another fully AML-compliant identification solution that uses what your customers already have in most cases: an electronic ID card with an activated online identification function and an NFC (Near Field Communication) enabled smartphone. This makes IDnow eID a fast and user-friendly way for your customers to identify themselves with their German electronic identity card
To maximize conversion, IDnow eID can be seamlessly combined with VideoIdent or BankIdent to provide users with alternative identification solutions within the IDnow platform if the online ID function is not enabled or the smartphone does not have an NFC interface.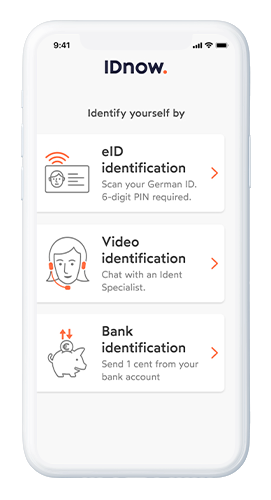 Chip-based identification for easy and fast onboarding.
COMPLIANT.
The solution is compliant with both the German Money Laundering Act (GWG) and the eIDAS regulation on electronic identification and trust services for electronic transactions.
FAST.
Identity verification only takes a few seconds and can be carried out conveniently at any time – no need to wait in line.
FLEXIBLE.
Users choose their favorite identification methods and keep full control over the release of personal data.
Seamless identity verification using the identity card.
The German electronic identity card must be equipped with a radio frequency identification chip (RFID chip), and the online identification function must be enabled. The user also needs the 6-digit PIN. The smartphone requires an NFC (Near Field Communication) interface, as the mobile device serves as a card reader, and the data is transmitted via an encrypted channel.
The user chooses IDnow eID identification.
The user enters his personal 6-Digits-PIN.
The user holds the eID card next to their NFC-enabled smartphone.
The relevant data is cross-checked with the user and transmitted via a secure encrypted channel.
The verification process is completed instantly.

eID enables electronic identification for many use cases in Germany.
Due to its compliance with the German anti-money laundering and telecommunications laws and the European eIDAS regulation, IDnow eID is relevant as an electronic identification for many industries such as finance, insurance, and telecommunications. Users can use seamless identity verification to purchase a prepaid SIM card, open bank accounts, make digital deposits, and verify themselves to access insurance platforms.
If you have questions about your specific use case's applicable regulations, we will be happy to advise you.
Furthermore, you can benefit from our in-depth expertise. You can receive exclusive and up-to-date information on regulatory changes relating to KYC and digital identities via our KYC Insider Newsletter or contact us directly.
Meet the IDnow identity verification platform.
The highly flexible IDnow platform is the answer for meeting all of your KYC identity verification needs. Everything is available on a single platform, from automated and video-based identity verification to eSigning solutions. You'll love it!