With a gaming regulatory framework that has more similarities with Europe than other Canadian provinces, is the Ontario market the natural step for European operators to expand to?
Ever since April 2022, when Ontario opened the iGaming market to private gaming operators, the province's regulatory framework has been highly lauded and well-regarded in the international gaming community.
Managed by iGaming Ontario (iGO) and the Alcohol and Gaming Commission of Ontario (AGCO), there is no limit to the number of private gaming operators that can compete in the province.
There are currently 45 regulated operators in Ontario that comply with Ontario's high standards of game integrity and player protections. The AGCO has approved over 5,000 certified games for use in the province in the last year alone.
According to a study conducted in March 2023, over 85% of respondents who had gambled in Ontario in 2023 had done so via regulated sites. This is an impressive majority, especially considering that around 70% of all online gambling was done so via unregulated sites before the launch of the open market.
One of the most pivotal steps in Ontario's journey toward being a profitable and attractive gaming market came when the pivotal C-218 bill was passed by Ontario lawmakers in 2021. C-218 allows players to make single bets, rather than the previously allowed combination-only betting, this adds increased flexibility and opportunity for both operators and bettors, as single bets make up a sizeable portion of gambling activity and are some of the simplest to both place and offer.
Ontario was quick to act following the passing of C-218, putting out detailed guidelines for operators interested in entering the market, while also working alongside a range of industry leaders to establish responsible regulations.
For more information, read our 'How to become compliant in Ontario's iGaming market' blog.
Advantages for gambling operators doing business in Ontario:
Relatively unrestricted marketing opportunities

Young untapped market

Gateway to the rest of Canada

Only province in Canada to have legalized both sports betting and online casinos, which is rare in North America

No cap on the number of licences given to operators, allowing for healthy competition

iGaming sites are not tethered to land based sites

Tax rate is very competitive (around 20%)

Operators can operate out of Malta, UK and other countries
Outlook on Ontario's online gambling market.
VIXIO Gambling Compliance forecasts have predicted that Ontario's gambling market will see rapid growth in the short term, with a forecasted revenue of $1.5 billion by 2026. These numbers put the province as one of the largest online gambling markets in North America.
While impressive growth is forecast, that's not the only benefit for operators. Ontario's market also features a very competitive annual tax rate of just 20% – one of the lowest in the world.
Another key positives to Ontario gaming sector, is its European-like approach to gambling regulations. Unlike some other markets, operators will not be required to cease offshore activities in other Canadian provinces, once registered in Ontario.
How Ontario's standards are raising the regulatory bar.
Ontario's iGaming market is also raising the bar when it comes to regulatory standards. Due to an extensive list of rules and regulations, it is considered a complex market to enter, and features a core focus on customer protection.
iGaming Ontario and the AGCO have set out a wide range of rules and regulations that need to be followed to enter the market. This goes way beyond standard Know Your Customer (KYC), and Anti-Money Laundering (AML) standards. All users and operators also required to adhere to the Proceeds of Crime and Terrorist Financing Act (PCMLTFA), which is regulated by the Financial Transactions and Reports Analysis Centre (FINTRAC).
Guidelines include requiring operators to report suspicious transactions, prohibited players, and provide a robust KYC process with an onboarding stage that includes checking official documents, recent photos, as well as liveness. Read the full details of AGCO's Registrar's Standards for Gaming for more information.
The future of Ontario's iGaming market looks very promising. Not only from a revenue standpoint, but also with regard to its high level of customer protection and regulations. If the market proves to succeed as it is forecast, it shows that stepping up security and customer protection efforts in order to become regulated, is definitely worth the effort. This is especially important in modern times, with regulators all over the globe pushing for stricter gambling rules and regulations.

Why Ontario's iGaming model will be an industry game changer.
Discover how IDnow can help you tackle Ontario's complex iGaming market.
Download now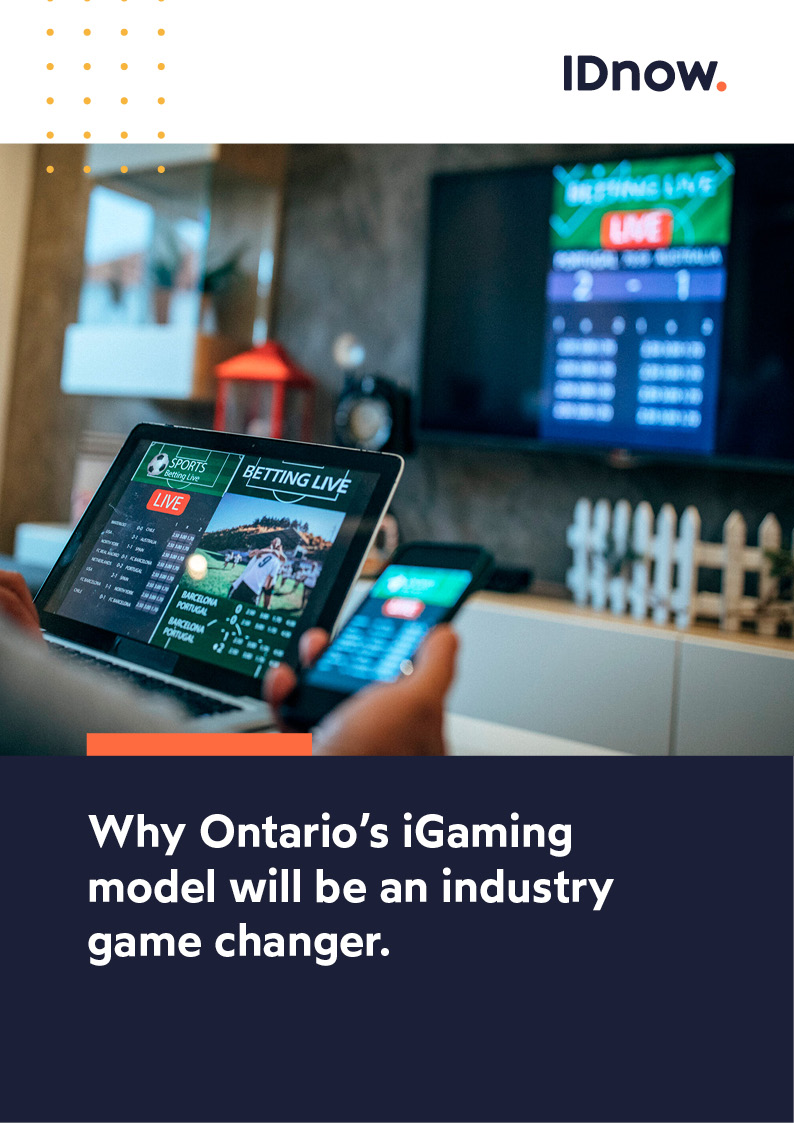 What's next for the Canadian iGaming market?
Due to the success of the Ontario model, it's highly likely the future of Canada's iGaming market will see more provinces open up their market to private gaming operators. In fact, it's probable that finance ministers are already looking at Ontario, and its increased revenue streams from the regulated gaming sector, and considering how it could launch its own regulatory regime for the iGaming market. The good news for operators that are registered and regulated in Ontario is that when other provinces finally open up their market, regulations are likely to be quite similar, which will give them a headstart on regulation processes.
How European gaming operators can enter Ontario's iGaming market.
All operators are required to register directly through the AGCO, which will provide their services through a commercial partnership with iGO. This means gaming companies work as private operators on behalf of Ontario's governing body.
In order to enter the market, operators must go through an official registration process, which begins with submitting an application through the iAGCO portal. Operators must submit gaming-related goods and services, gaming website information, and branding details.
There are also comprehensive entity and personal disclosure stages, where the registrant, as well as associated individuals like parent companies and individuals holding key management or operational roles, need to submit details.
There is, however, more to it than just going through that initial application process. In the long run, operators will need to be fully compliant with Ontario's evolving rules and regulations.

IDnow's role in easing entry into Ontario's iGaming market.
Entering Ontario's iGaming market will prove a challenge for any operator. The range and complexity of iGaming requirements mean operators must navigate a regulatory maze to reach compliance. (Read on: Becoming Compliant in Ontario's iGaming Market)
Player onboarding requirements include:
Players must be 19+, physically based in Ontario

Politically Exposed Person (PEP) checks need to be passed

Personal information, including occupation must be collected

Third-party providers are needed for onboarding for initial checks

One key issue operators may face is a substandard non-compliant onboarding process. iGO's clear AML and KYC requirements, which even exceed FINTRAC standards, and require detailed verification, tracking, and data storage systems.
This is where IDnow steps in with our verification solutions.
IDnow's highly configurable identity verification services for gaming work across multiple regulations, industries and use cases, including gaming. Whether automated or expert-assisted, our online identity-proofing methods have been optimized to meet the strictest security standards and regulatory requirements without compromising on customer conversion or consumer experience.
Our proprietary AI-powered fraud technology can verify users' identities in minutes, while remaining fully AML-compliant. All users need is a mobile phone, and we guide them through the rest, including Ontario's and FINTRAC standards, with official document, selfie, and liveness verification.
With years of experience and compliance support for over 195 countries, our automated identity verification service is not only a great tool for making entry into Ontario simpler, but also further expansion in the ever-growing iGaming industry.
Read our 'How online operators can achieve full gambling compliance' blog for more information.
By

Roger Redfearn-Tyrzyk
Director Global Gambling & Sales UK at IDnow
Connect with Roger on LinkedIn