Ontario, and Canada as a whole, is seeing a transformation when it comes to betting and iGaming, with a bill being passed in 2021, removing the prohibition of single-game betting in the country.
The bill (C-218) was a milestone change for gambling in Canada, with single-game betting opening up a ton of markets that were previously unavailable in the country. Regulation is still, however, down to each province and Ontario is looking to welcome iGaming and betting with open arms.
Ontario's government acted quickly after the bill was passed, creating a new body to contact and manage iGaming in Ontario, iGaming Ontario (iGO). This body serves as a subsidiary of an existing regulatory body, the Alcohol and Gaming Commission of Ontario (AGCO), with the two working together to ensure a safe and open gaming market within the province.
Now, operators are readying to enter what could be a very promising market.
What makes Ontario a high-potential iGaming market for European Operators?
Ontario's iGaming market is set to be a unique and open one. Managed by iGO and AGCO, there is no limit to the number of operators that can compete in the province, which houses over 15 million people.
Early VIXIO Gambling Compliance forecasts predict that Ontario's gambling market could generate over $795 Million in revenue in 2022 and will see rapid growth in the short term, with a forecasted revenue of $1.5 Billion by 2026. These numbers put the province as one of the largest online gambling markets in North America.
While impressive growth is forecast, that's not the only benefit for operators. Ontario's market also features a very competitive annual tax rate of just 20% – one of the lowest in the world.
On top of all this, Ontario has proven to be a leader when it comes to embracing Canada's new iGaming market. The province was quick to act following the passing of C-218 and has put out detailed guidelines for operators interested in entering the market, while also working alongside a range of industry leaders to establish responsible regulations.
Another keynote is Ontario's European approach to gambling regulations. We can still expect to see the usual restrictions and regulations. However, unlike in some markets, operators will not be required to cease offshore activities in other Canadian provinces, even after being registered in Ontario.
How Ontario's standards are raising the regulatory bar
While Ontario looks to be a promising iGaming market, it's also raising the bar when it comes to regulatory standards. Due to a wide set of rules and regulations, Ontario is being considered a complex market to get into and features a core focus on customer protection.
iGaming Ontario and the Alcohol and Gaming Commission of Ontario have set out a wide range of rules and regulations which need to be adhered to in order to gain access to the market. This includes and goes beyond standard know your customer (KYC) and anti-money laundering (AML) standards. Specifically, the country is subject to the Proceeds of Crime (Money Laundering) and Terrorist Financing Act (PCMLTFA), which is regulated by the Financial Transactions and Reports Analysis Centre (FINTRAC).
This includes things like requiring operators to report suspicious transactions, prohibited players, and step up KYC processes with an onboarding process that includes checking official documents, recent photos, as well as liveness. The AGCO has made available a full list of Registrar's Standards for Gaming, where the full details can be found.
All in all, Ontario's iGaming market looks to be a very promising one when it comes to revenue, while also offering a high level of customer protection and strict regulations. If the market proves to succeed as it is forecast to, it could show that stepping up security and customer protection efforts is well worth pursuing and possible while still being profitable. This is especially important in modern times, with regulators all over the globe pushing for stricter gambling rules and regulations.

Why Ontario's iGaming model will be an industry game changer
Learn in our ebook how IDnow can help tackle Ontario's complex iGaming market.
Download now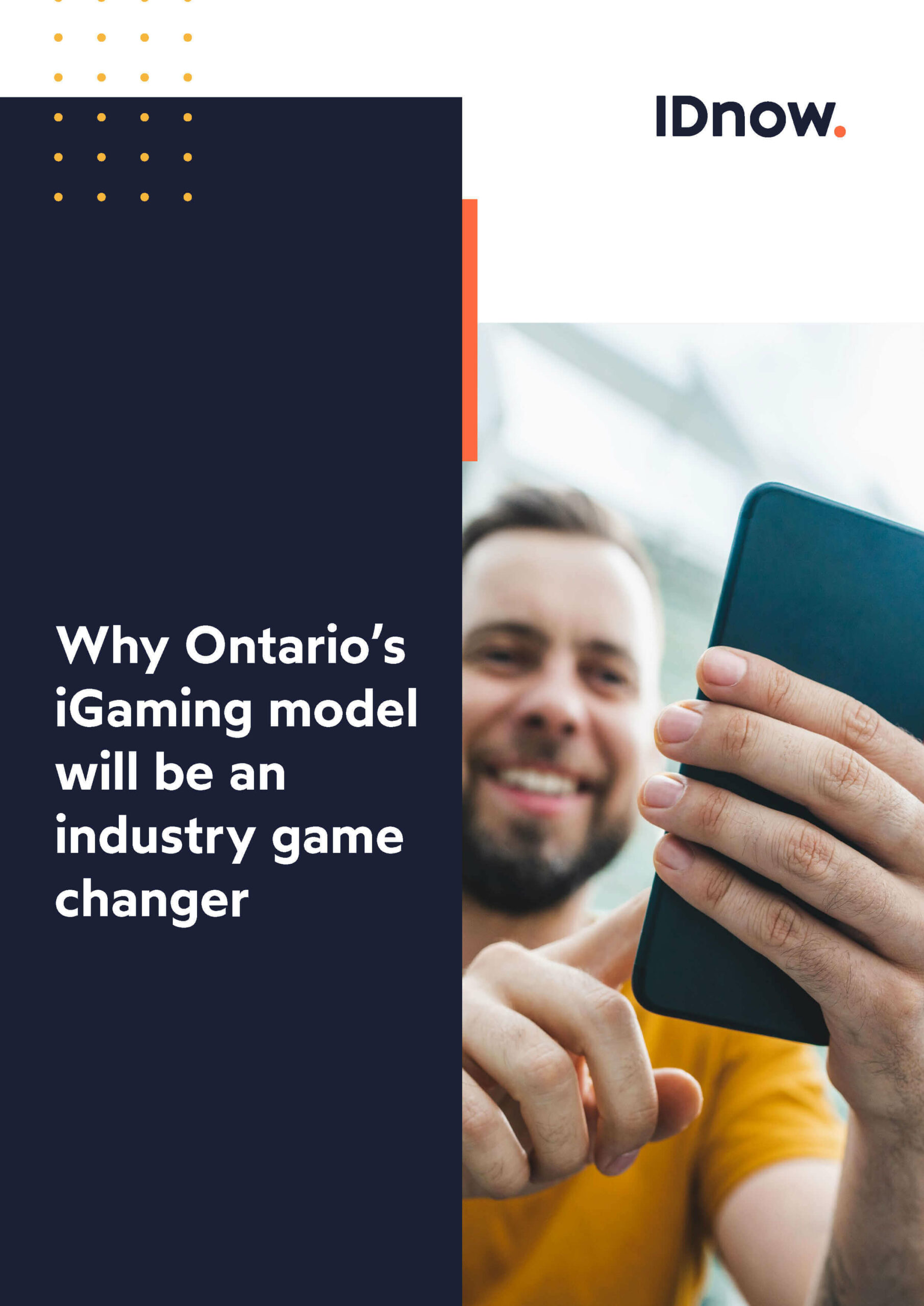 How European Gaming Operators can enter Ontario's iGaming market
Ontario has introduced a unique method of managing operators within its market. All operators must register directly through the AGCO, and rather than operating individually in Ontario, they will provide their services through a commercial partnership with iGO. This means gaming companies work as private operators on behalf of Ontario's governing body.
In order to enter the market, operators must go through an official registration process. This begins with submitting an application through the iAGCO portal. It's a detailed process, which requires operators to submit gaming-related goods and services, gaming website information, and branding details.
Additionally, there are also comprehensive entity and personal disclosures which require details of both the registrant, as well as associated individuals like parent companies and individuals holding key management or operational roles.
There is, however, more to it than going through the application process. In the long run, operators will need to be fully compliant with Ontario's evolving rules and regulations. This means being subject to not only iGO's and the AGCO's rules and regulations, but also the overarching PCMLTFA and FINTRAC standards.  
 
IDnow's role in easing entry into Ontario's iGaming market
Entering Ontario's iGaming Market will prove to be a sizable challenge for any operator. The wide range and complexity of iGaming requirements in the province mean there is almost a regulatory maze to navigate through to reach compliance. (Read on: Becoming Compliant in Ontario's iGaming Market)
All operators will need to meet iGaming Ontario's and the Alcohol and Gaming Commission of Ontario's standards, while also adhering to policies laid out by the Proceeds of Crime (Money Laundering) and Terrorist Financing Act and the Financial Transactions and Reports Analysis Centre.
One key issue operators may face is a lacking onboarding process. iGO has set out clear AML and KYC requirements, which exceed even the FINTRAC standards and will require detailed verification, tracking, and data storage systems. You can learn more in our Ontario's iGaming model ebook.
This is where IDnow steps in with our verification solutions. IDnow's AutoIdent is the perfect solution to bolster an operator's onboarding process as they aim to expand into Ontario's market.  
AutoIdent is fully compliant, fast, and customizable. Using AI-powered technology, it can verify users' identity in minutes, while remaining fully AML act-compliant. All users need is a mobile phone and AutoIdent guides them through the entire process, this includes Ontario's and FINTRAC standards, with official document, recent image (selfie), and liveness verification.
With years of experience and compliance support for over 195 countries, AutoIdent is not only a great tool for making entry into Ontario simpler, but also further expansion in the ever-growing iGaming industry.
By

Roger Redfearn-Tyrzyk
Director Global Gambling & Sales UK at IDnow
Connect with Roger on LinkedIn