IDnow AutoIdent
State-of-the-art AI-powered solution for the highly reliable verification of your customers' ID – anywhere in the world.
Our intuitive AI-powered solution enables your customers to quickly and dependably verify their ID.
Deep ID recognition intelligence ensures highly effective authentication and total compliance with KYC requirements. AutoIdent provides robust fraud prevention in conjunction with unparalleled conversion rates and comprehensive compliance. Our hybrid identity verification solution combines the best of humans and machines. We leverage state-of-the-art machine learning technology and a network of identity and fraud specialists to enable you to increase your onboarding rates – while keeping fraudsters at bay.
Maximize conversion rates.
Achieve best-in-class conversion rates.
Outstanding usability.
We design and build identity verification solutions with excellent usability – reflected in our top ratings on Trustpilot, Google Play Store and Apple App Store.
Swift, customer-friendly process.
We eliminate unnecessary user input by automatically capturing key data from ID documents. In other words, our AI does the "heavy lifting" for your customers.
Results you can rely on.
We deliver actionable outcomes – each and every time. Even where manual review by one of our ID specialists is required, you can be sure of reliable, rapid results
Rapid, actionable response.
Results are typically delivered in real time. Even where manual intervention is needed, outcomes are supplied within five minutes.
Omni-channel integration.
Incorporate your chosen solution into a mobile app, web or physical location.
Ideal for global deployment.
Made for a connected world and capable of identifying people anywhere and anytime.
Exceptionally high conversion rates.
Typically from 70% to over 90%.
Global document support.
Supporting a huge variety of document types such as passports, driver's licenses, ID cards and other government-issued documents around the globe.
Fully comply with the strictest requirements.
IDnow is able to comply with any level of regulatory compliance across the EU, even the strictest requirements.
Fit for the toughest regulations on the planet: Our solutions are designed to meet the most demanding regulatory systems anywhere. You can rest assured – we will meet your specific requirements in full.
A single, one-stop platform for multiple regions and use cases: We fulfil KYC requirements across diverse countries and use cases with a single, highly customizable platform.
We comply with the extremely stringent requirements of the GDPR.
Be sure that identity data stays within the European Union: Our resources and activities are entirely within the European Union, including our IT infrastructure, IT professionals and ident centres.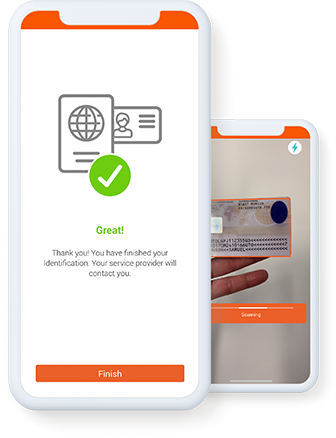 Designed for enterprise needs.
Enjoy a solution developed specifically to meet the needs of enterprise businesses.
Using our robust API, you can integrate IDnow AutoIdent in a way that works best for your business and your customers. Moreover, IDnow AutoIdent can be seamlessly incorporated into multiple channels, includes mobile, web and physical locations, ensuring high customer satisfaction.
Your own customer success team.
A dedicated account manager, a dedicated client success manager, plus the support of a pool of specialized service professionals.
Reliable, transparent delivery against SLAs.
Measured, reported and fulfilled.
Audit-ready security, at all times.
We have undergone and successfully passed hundreds of client security audits, and we are happy to be audited by your organization, too.
One-time API Integration.
Integrate our platform API just once, and then enjoy a comprehensive, seamless answer to all your identity verification needs.
Data analytics.
We provide you with a powerful reporting portal that can be tailored to your individual needs.
We provide a complete portfolio of operating models: full-service (including ident specialists), software-as-a-service and on-premise.
Prevent fraud.
Ensure reliable onboarding and avoid financial and reputational damage.
We have market-leading technology for verifying the authenticity of documents and people's ID.
Security checks using artificial intelligence.
Best-in-class biometric checks and video-based liveness detection protect you from identity fraud.
Superior results through Video-based technology.
Our entire platform is built on video rather than still images. This means that all security checks are executed on hundreds of images, rather than just a static image. This results in far superior security.
Hybrid process: The best of humans & machines.
Our human ident specialists provide assistance in instances where intervention is needed.
False acceptance rate (FAR) of just 0.05%.
False acceptance rate (FAR) of just 0.05% – i.e. the proportion of idents where the system reported a success/authenticity, but where it was later revealed to be fraudulent. Meaning, the True positive rate (TPR) where the IDnow AutoIdent system reported a true positive is at 99.95%.
A truly future-proof solution.
Engineered for mobile devices, and designed to support the always-on experience demanded by today's customers, IDnow AutoIdent is both powerful today, and ready for tomorrow.





E-commerce/Online marketplaces