The German and overall DACH (Germany, Austria, and Switzerland) Online Gambling market is an emerging one, but it is also one of the largest in Europe. Recognizing this, new regulations legalizing Online Gambling in Germany added to an already existing and sizable legal gambling market.
Overall, Germany's gambling market is forecast to grow from €2.2bn in 2019 to €3.3bn in 2024, with the legalization of Online Gambling no doubt playing a key role. Meanwhile, Austria's online gaming market was the fastest-growing gambling sector in the country in 2017, growing by 11% Switzerland is also expanding its Online Gambling market share since it became legal in 2019.
Currently, all DACH countries have legalized online betting markets, with lottery, casinos, and sports betting being the most popular. The regulatory and KYC compliance requirements are strict and, each of these countries feature different requirements. For example, Germany requires a deposit limit of €1000 for all players, stake limits, and a range of other player-protection requirements.
On the whole, regulations are a mixed bag for the DACH market. The gambling markets are forecast to grow, with legalization allowing players to move away from black market gambling and into a safer, regulated environment. However, there are limitations, such as the aforementioned regulations in Germany, as well as a myriad of different rules in different countries. In particular, limits to advertising and promotions can have an impact on operators' growth.
Why Online Gambling needs to be regulated in DACH
Regulation is crucial for the Online Gambling market in the DACH region. It's beneficial to both operators and players, with the core focus of regulations being the safety of all parties. This is done through regulations that promote fraud prevention, anti-underaged gambling processes, and Money Muling.
With Online Gambling being easily accessible, each of these things and more have become vital. It's easy for underaged users to claim to be of any age, thus regulations such as ID verification and other anti-underaged gambling tools were introduced. In the same light, using Online Gambling to 'clean' money is a common criminal practice, and many regulations focus on Anti-Money Laundering processes.
It's also important to consider how sports events affect Online Gambling and why regulation is vital in that aspect. Euro 2020 saw an incredible increase in player verification, with millions being waged throughout the tournament. It's easy for fraudsters to attempt to slip through the cracks in such a busy period, where operators may be overwhelmed with player signups – so it is vital for emerging markets like Germany to be ready.
Online Gambling in the DACH market
Online Gambling in the DACH market varies from country to country. In Germany, individual states act as regulators, with the Glücksspielstaatsvertrag (or the State Treaty on Gambling in Germany) providing many of the current rules and regulations in the country.
Meanwhile, Austria and Switzerland follow a more traditional regulatory format, key regulatory bodies being set up to overview the gambling sector. In Austria, the Ministry of Finance is mostly responsible for regulating the sector, following the Law on Games of Chance. However, the country is making plans to create a new regulatory body.
Switzerland currently has two regulatory bodies, the Eidgenössische Spielbankenkommission (or Swiss Federal Gaming Board) which handles casino gaming and the Interkantonale Geldspielaufsicht (or Swiss Gambling Supervisory Authority) which regulates lottery, sports betting, and skill games (such as poker). These regulators follow the Federal Gaming Act.
When it comes to Online Gambling regulations in Germany, few are more important than the identity verification rules. These state that robust age verification solutions need to be implemented by operators, using an approved age verification system that checks players' names, addresses, date and place of birth, as well as nationality.
The goal of this is to combat illicit actions, such as Underage Gambling and fraud. These KYC checks have a big impact on both players and operators, forcing players to submit documents and wait for verification before gambling. Meanwhile, operators not only have to invest time and money to put these systems into place, but also overcome customer issues like users not understanding the verification process, or simply getting bored while waiting for verification.
Changes by the Glücksspielvertrag in Germany
The Glücksspielvertrag brings many changes to Online Gambling in Germany. Most importantly, it is now legalized in all of the country's states, and operators need to obtain a permit to offer Online Gambling services.
There are many limitations, however, including enforced deposit limits, extra player protection, limitations to advertising and promotions, as well as robust verification requirements. Overall, these regulations seem to bring a promising future for Germany's Online Gambling market – players can now safely seek regulated Online Gambling services, rather than having to resort to black market or offshore sites.
Of course, there is a lot for operators to do to keep, especially in terms of KYC requirements, however, players and operators alike are set to reap the benefits of an open and regulated market.
Why does Germany place so many restrictions on Online Gambling?
Read our new guide about the German Glücksspielsvertrag to learn all you need to know at a glance.
Download now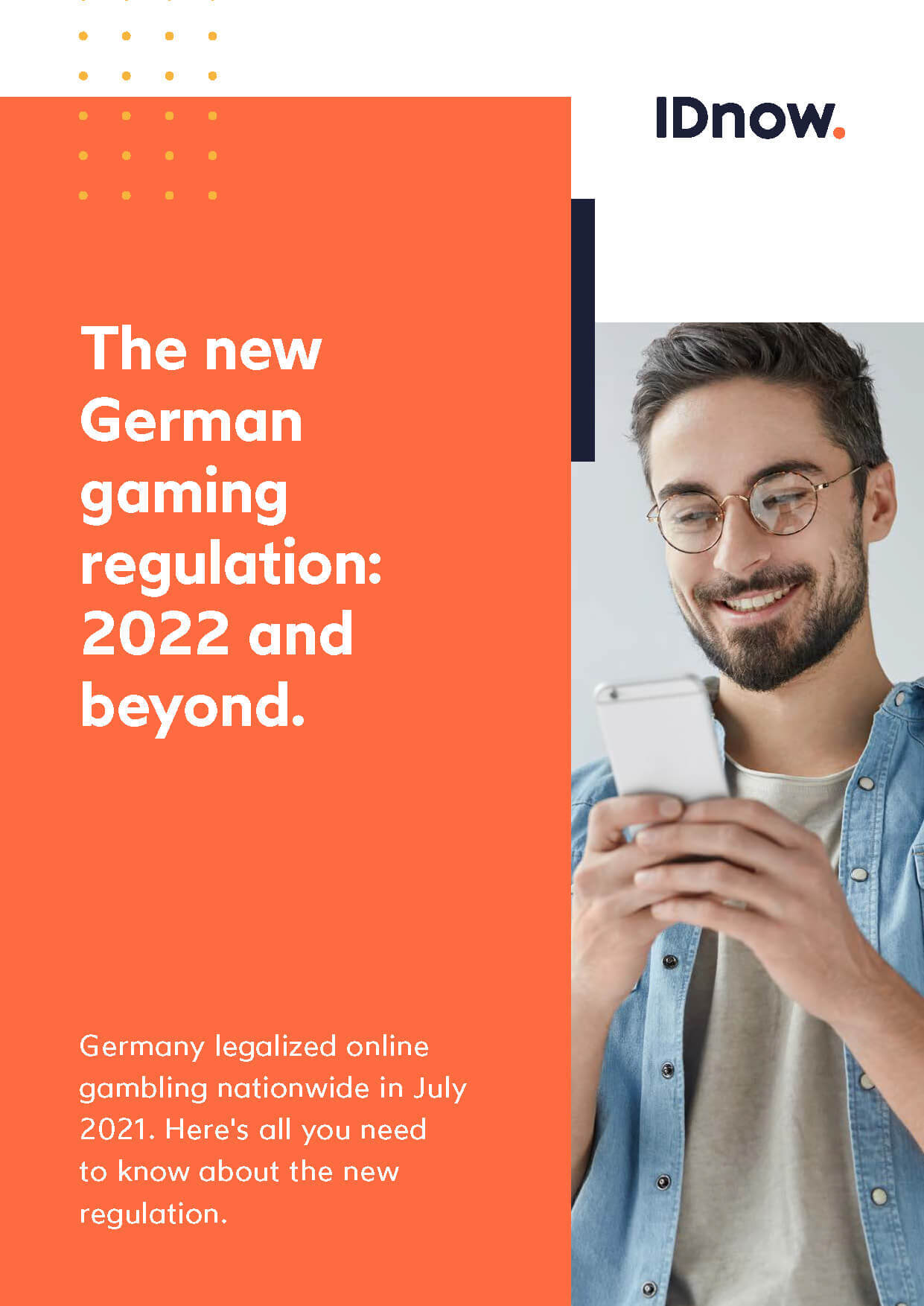 How to get a license as a gambling operator in DACH
Receiving a license as a gambling operator in DACH can be challenging contrary to getting a gaming license in Malta, Gibraltar and other markets. There are many requirements, and each country has its own specific rules which must be followed. In Germany, this includes following new Glücksspielvertrag regulations, which includes things like limiting monthly deposits of players, limiting activity on virtual slot machines, following KYC requirements, and more.
Things are a bit more complex in Switzerland. In order to receive a license for a casino, operators must follow regulations set out by the Swiss Federal Gaming Board. Additionally, an active land-based casino license is required to open an online casino. When it comes to betting, operators need to follow regulations set out by the Swiss Gambling Supervisory Authority, however, only two companies currently have a license.
Meanwhile, in Austria, operators must be compliant with laws set out by the Law on Games of Chance, as well as regulations put in place by the Ministry of Finance and potentially local governments.
Check also our overview page: Online Gambling regulations in EU & UK
Overall, there are many rules and regulations for operators to overcome to attain compliance and it can be a real challenge, especially when it comes to stringent technical aspects like KYC processes. This is where IDnow comes in with our AutoIdent solution.
AutoIdent is an AI-Powered identity proofing solution that is fully-compliant, fast, and highly customizable. It is a fully-automated application for ID verification issues, allowing players to quickly and easily complete the onboarding process.
It simply requires is a mobile phone or computer with a camera and a few minutes of the user's time. AutoIdent provides a simple step-by-step guide to users, aiding them in providing the correct documents, then automatically verifies the data in just a few minutes.
The solution has a proven track record of success, provides conversion rates of up to 90%, and is not only compliant with the DACH market, but supports rapid scalability with compliance in 195 countries while supporting over 30 languages.
If you want to enhance your onboarding process and reach compliance in a range of markets, AutoIdent will get you there in next no time.
By

Rayissa Armata
Senior Head of Regulatory Affairs at IDnow
Connect with Rayissa on LinkedIn
The regulatory landscape in the EU & UK
As the industry grows, so do the regulations that govern it. Learn in our ebook how to be compliant with European regulations as a gambling platform.
Get your free copy