So, you want to enter the online world of gaming? Here's everything you need to know about online gambling licenses, their relevance and importance, who needs them, and much more.
The gaming industry is booming and shows no signs of slowing anytime soon. In fact, while numerous sectors, including financial services, are struggling, the global gaming industry is looking for new approaches to meet consumers' needs.
The gaming market was worth $63.53 billion in 2022 and is projected to grow by 11.7% between 2023 and 2030. The most popular gambling markets in Europe, the United Kingdom is the largest online gambling market, with its GGR worth $12.5 billion in 2021. Others include France with 3.8 billion and Germany with $3.6 billion that same year.
However, where there are opportunities there are always criminals looking for ways to exploit the system for their own benefit. Players who use underground gambling platforms and rogue casinos, which often do not have the most rigorous of KYC checks, run the risk of having their personal data and funds stolen. Players should avoid these rogue casinos at all costs. 
To offer gambling services legally, every operator must hold a license and comply with specific regulations and standards set by one or more regulatory authorities.
For an online gaming business to be licensed means they are committed to a fair gambling policy and care about their reputation, among other factors. Holding an online gambling license is crucial for the operator and the consumer.
What is an online gaming license?
An online gaming license is a legal document issued by a regulatory authority that allows gambling operators to run online casinos and sportsbook platforms in certain regions or territories.
For an operator to legally provide gambling and betting services, they must hold a license covering the regions in which they want to operate. Obtaining a license typically involves a lengthy process that includes extensive paperwork and various fees.
Licenses cost money (the costs may act as a significant barrier to access a market) and oblige the operator to adhere to set regulations. The operator also needs a license to open merchant accounts, obtain AML compliance, buy and offer legal gaming software, and work with payment providers.
The specifics of regulations usually vary from one jurisdiction to another. Some regions have stricter prerequisites regarding online gambling than others. For instance, the UK Gambling Commission is among the most stringent regulatory bodies for gambling worldwide.
For more information about how to get a UK gambling license, read our blog.
Many countries want online gambling to enter the legal mainstream and have started cracking down on illegal gambling businesses. Those caught offering illegal gambling or betting services risk hefty fines and potential jail time. In 2022, there were record financial penalties ($269,532,490) and warnings – and even gambling-license suspension.
In essence, a licensing body's main roles include (but are not limited to) the following:
Eliminating crime from gambling.
Guaranteeing that all licensed gambling is fair and transparent.
Safeguarding minors and vulnerable individuals from potential harm and exploitation of gambling.
Who needs a gaming license?
Any business that offers facilities for gambling, betting, or participating in lotteries requires licenses to operate legally. Obtaining an online gambling license should be considered a priority since it is non-negotiable if you want to enter the world of legal gambling.
A license is needed when registering a company, opening merchant accounts, proving credibility, and establishing the reputation of a fair gambling business in the eyes of B2B providers and players. It also allows licensees to operate in regulated markets and protects them from legal problems, fines, and imprisonment. Licensees can also enter new markets and work with renowned software developers.
Online gaming licenses and remote gambling licenses are sometimes used interchangeably and refer to all gambling activities involving players participating via different forms of remote communication.
What are the different types of online gaming licenses?
Types of online gambling licenses vary depending on the jurisdiction. Each licensing jurisdiction has its system. It can be uniform, including a single permit, comprising a variety of games. It can also be split across categories, depending on the kind of gambling or betting activity the licensee intends to offer. The cost of obtaining a permit typically comprises a one-time fixed fee, business registration and bank account fees, and regular renewal fees.
The type of gambling licenses needed by a business depends on various factors:
Category of gambling and betting, i.e., online slots, poker, sportsbook, etc
Jurisdiction of the operator and prospective customers
Operating currencies

How to get an online gaming license.
As previously stated, regulations vary depending on the jurisdiction. The most common licensing requirements for licensing authorities include the following:
Business registration, including trademarks and design, and having servers within the jurisdiction
Readying detailed information about the business' main employees, origin and proof of funds, and onsite gambling operations
Enforcing AML policies on the online platform, and carrying out independent audits
Providing clear information regarding problem gambling and the prohibition of underage gamblers
Compiling all required documentation
Paying the necessary fees
Much like the licensing conditions, the required documents for obtaining a license vary from one region to another. The most common requirements include the following:
Provide evidence of no criminal history
Passport copies of the business owners and main employees
Utility bill copies and bank statements
Description of the games and software to be offered
Sound business plan
Before issuing a license, regulatory bodies usually conduct background checks to ensure the operator is transparent and will not affect the reputation of the jurisdiction.
The most popular jurisdictions for issuing gaming licenses.
There are many recognized jurisdictions worldwide. Below are some of the most popular ones chosen by most operators:
Malta
The Malta Gaming Authority provides B2B and B2C licenses, with the latter divided into four types. Each of these licenses enables the licensee to organize different types of gambling and betting businesses. Licenses remain valid for 10 years. Once the Maltese authorities accept an applicant's licensing application and the required information, a decision is usually made within 12-16 weeks. The minimum total of all fees combined (initial application, licensing, system, and compliant audit fees), is €36,000.
The United Kingdom
The UK Gambling Commission accepts licensing applications for both online and land-based casinos. Applying for a British gambling license starts at about £25,000. Those with a cross-license agreement with the British administration can apply for a gaming license in the UK.
Curacao
Curacao is well known for its affordable pricing, low tax rates, and moderate requirements for obtaining gaming licenses. The island of Curacao offers two types of gaming licenses: a basic license and a sub-license. The jurisdiction allows licensees to organize various kinds of gambling activities under one license. Applications to the Curacao Gambling Control Board take nearly six weeks to review.
Gibraltar
A license from Gibraltar remains valid for five years. Being one of the strictest authorities, the licensing department only considers businesses with experience in the industry, particularly ones with other licenses from recognized jurisdictions, fair financial conditions, and a sound business plan. Generally, the prices have a straightforward structure: licensing for B2C operators running online casinos, betting platforms, and websites offering other gambling products cost £100,000. On the other hand, licensing for B2B providers costs £85,000.
The benefits of having an online gaming license.
Obtaining an online gambling license – especially from a respected authority and jurisdiction – has numerous benefits:
Reach global markets: Obtaining a license from a reputable regulator can allow businesses to gain exposure to global markets. For example, a Malta Gaming Authority license can be used internationally and help the licensee target global markets; specifically, those where gambling is legalized and no regulator is governing activity, like in Canada.
Legal business in prime jurisdictions: The UK is Europe's most prominent gambling market, accounting for most of the continent's market revenue. To offer gambling services legally in the UK, an operator must hold a local license from the UK Gambling Commission.
Financial benefits: Some licensing jurisdictions impose low to zero tax rates, allowing licensees to take advantage of fiscal benefits. Operators can also open settlement accounts in various jurisdictions.

Partnerships with top software developers: Through proper licensing, operators can partner with award-winning developers in the industry, such as Microgaming, NetEnt, Pragmatic Play, Playtech, IGT, and more. Licensees can also benefit from ad campaigns created by such software providers, which often prove to be an asset for player retention business strategies.
Working with trusted financial institutions: Licensees can negotiate terms and establish strong relationships with renowned payment service providers, such as regional and global financial institutions, e.g., Neteller, PayPal, Trustly, Skrill, etc.
Credibility and authenticity: Players and businesses are significantly more likely to trust licensed online gambling operations. Licensed operators also enjoy numerous opportunities, as associations with well-known hardware, software, and other providers are easier to achieve.
The risks of not having an online gaming license.
Online gambling regulation ensures authorities and governments receive revenue and can protect operators and players from all types of crime and gambling-related harm, e.g., fraud, money laundering, problem gambling, and the exposure of underage individuals to gambling.
Operating without a license can damage the reputation of a company and may even negatively impact the entire industry. Below are the disadvantages associated with not having an online gaming license:
Player distrust: Players trust licensed companies. This is for many reasons: a license from a respected regulator means the operator follows stringent rules regarding fair gaming, data security, and responsible gambling. Operators cannot guarantee safety and fairness without a proper license.
No cooperation from financial institutions: Financial institutions regard licenses as an agreement and pledge that the operator will not engage in criminal activity such as money laundering or terrorist financing. That is because regulatory bodies conduct thorough background checks to ensure the operator has no criminal record.
Little to no partnerships from software companies: Respected software developers and game providers avoid offering their services and products to unlicensed gambling providers. They do not want to risk associating their brand with companies that have the potential to engage in unethical practices.
Being blocklisted: Unlicensed gaming businesses face the imminent risk of being blocklisted by distinguished review platforms, regulators, and other organizations. A poor reputation may keep the operator from acquiring an online gambling license or having their current one revoked.
Risk of penalties and eventual shutdown: Operating in a certain region and not complying with the jurisdiction's licensing laws can have dire consequences, including being blocklisted, hefty fines, legal problems (potentially leading to imprisonment), and eventual shutdown.
A legitimate gaming license is vital in a booming gaming industry.
With the ever-expanding gaming industry, having a valid gaming license is becoming increasingly important. Not only must businesses comply with their nation's laws and regulations in order to protect consumers from harm, but they also need to demonstrate their commitment to responsible gaming practices to avoid any potential reputational damage or legal repercussions.
Having a gaming license gives companies legitimacy, as well as acting as a financial buffer for losses incurred through fraudulent activity or cheating. Furthermore, it allows customers to assess a business' reliability and trustworthiness when taking part in online gambling activities – ticking all of these boxes is essential for creating an attractive platform for gamers.
Gambling regulations 101: EU and the UK.
Learn how gaming operators can keep pace with the ever-growing multi-jurisdictional landscape in Europe and beyond.
Read now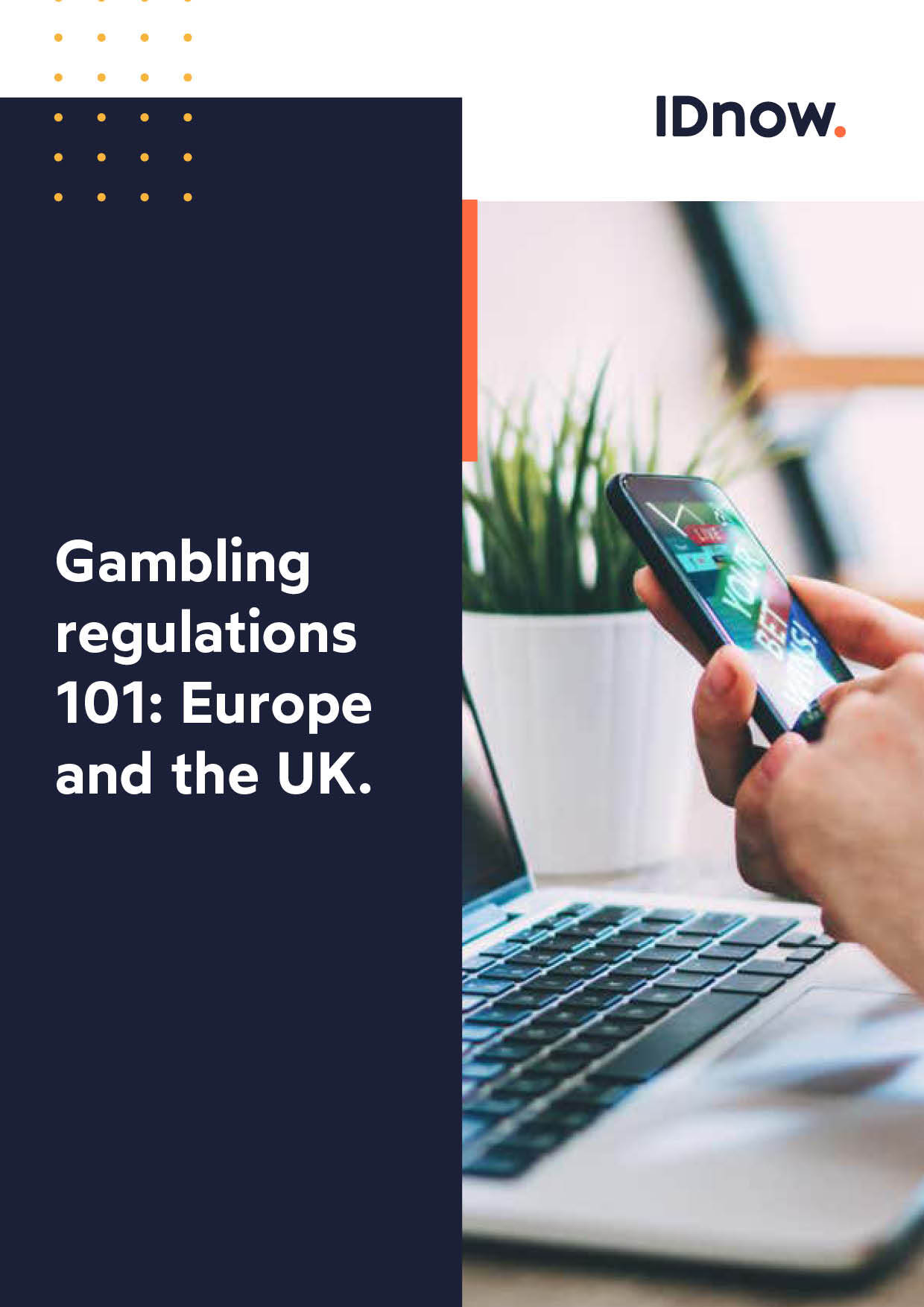 Frequently asked questions about online gaming licenses.
Here are some of the most frequently asked questions regarding online gaming licenses.
What is a gaming permit? 
A gambling license, or gaming permit is a certification that a regulatory authority grants gaming businesses to run online casinos and sportsbooks legally. 
How do I apply for a gaming license? 
Applying for a gaming license involves various steps, including gathering the required documents, paying the fees involved, enforcing AML protocols, and creating a sound business plan, etc. 
What are the benefits of having a gaming license? 
A gaming license has various benefits, such as contributing to a solid reputation in the industry, partnerships with top software developers and payment providers, fiscal advantages, and more. 
How much does it cost to get a gaming license? 
The costs of obtaining a gaming license vary from one jurisdiction to another. Some may be more expensive than others, e.g., a fixed annual £100,000 for a Gibraltar license. 
Can I operate a gaming business without a license? 
While it is possible to operate a gaming business without a license, it is not ideal. Unlicensed providers are considered untrustworthy and hotspots for criminal activity.  
What are the legal consequences of operating without a gaming license? 
Operating without a gaming license can lead to heavy fines, legal issues, possible imprisonment, and the shutdown of the operator in question. 
What types of businesses need a gaming license? 
Businesses offering gambling and betting services via online casino platforms and sportsbooks require gaming licenses. 
How long does it take to get an online gaming license? 
The time it takes to acquire a gaming license varies from one authority to another. Generally, it can take up to 16 weeks. 
How hard is it to get a gaming license? 
Some authorities, such as the UK Gambling Authority and Gibraltar, are strict, while it is relatively easier to obtain a Curacao license. Running an online gambling and/or betting operation requires a license from a reputable regulatory authority. While the process may seem tedious, licensing guarantees a good reputation and ensures safety for both the provider and the customer.  
By

Jonathan Bluemel
Senior Content & SEO Manager bei IDnow
Connect with Jonathan on LinkedIn