Offering a sign-up bonus is a popular technique by many iGaming operators to attract new players. But is it worth the risk?
In the online gambling world, you would be hard pushed to find a mainstream online casino that doesn't attempt to entice new customers through bonuses. Offering bonuses to attract and retain bettors has become a staple for new and old brands in the industry, and there is no reason to believe this will not be the case for the near future.
Attracting bettors and players is the main reason why sportsbooks and other operators provide bonuses. Players appreciate the chance to play with bonus funds, so seeing appealing offers from sportsbooks makes them more inclined to register.
Unfortunately, while iGaming businesses work toward developing strategies to attract and retain bettors' interest, gambling fraud proves to be a particularly tricky and dangerous obstacle to overcome. Bonuses themselves are often abused, in fact, it's quite common.
Understanding bonuses in gambling.
Bonuses offered by gambling operators can vary, but typical promotions grant players bonus funds or free spins to encourage them to use their platform.
Bonuses are also designed to encourage players to continue betting using their own money when the bonus funds run out. Both parties should gain from a good betting bonus. For example, customers may receive bonus funds to bet with, while operators get to acquire paying customers. Challenges emerge when certain users start using bonuses for malicious activities like money laundering.
Even though conversion rates differ depending on the operator, the most popular types of bonuses include the following:
Sign-up bonus (often with free spins)

Deposit match bonus

No deposit bonus

Reload bonus

Cashback

Free bets

Reward program

Refer-a-friend bonus
What is bonus abuse in gambling?
Bonus abuse involves players signing up to a gambling platform to manipulate the promotion to their favor, unfairly manipulating the promotion incentives aimed at casino players who have yet to sign up.
There are betting communities that look to exploit such bonuses. This activity goes by numerous names, including bonus hunting and promo abuse.
Considering most bonuses can only be used once, this often leads to fraudsters setting up multiple accounts to take advantage of repeated bonuses.
In fraud terminology, this process is known as multi-accounting. Bettors typically target free bet promotions and bonuses with no deposit requirements, i.e., no deposit bonuses, such as free cash or spins.
It is worth mentioning that only some people who partake in bonus cheating are seasoned fraudsters. Most bonus abusers are regular gamblers who believe they are only 'cheating the system', and not venturing into illegal territory. However, there is a sizeable community of tech-savvy criminals who have the resources to utilize betting bots, virtual machines, emulators, and (simulated) residential IPs, such as mobile networks or Socks5 proxies, to leverage new IP addresses.
Some of the different types of bonus abuse fraud include:
Whatever the type, the process of bonus abuse invariably starts at sign-up. One fraudster (or a group of them) will create as many accounts as possible, a process called 'gnoming'.
They use disposable emails, fake aliases, and fake or stolen credit card information to bypass KYC checks. Once they have created multiple accounts, they then take advantage of the promotion in question.
Engaging in casino bonus is not illegal per se, but breaking terms and conditions is. For example, all bonuses will typically include terms detailing that they have the right to confiscate any winnings if they suspect the account player to be involved in some form of bonus abuse. These terms can be murky but are typically referring to players who manipulate bonuses to their advantage.
The same would apply for any suspicions that the account is being used in a fraudulent manner, such as the account being used by someone else other than the official holder. Fraudsters would be breaking many of these terms if they were to create multiple accounts under other people's names.
If caught, the user's bonus money and winnings will be confiscated, and the user's deposit may also be frozen in their account.
Gambling regulations 101: Europe and the UK.
Interested in expansion? Discover how gaming operators can keep pace with the ever-growing multi-jurisdictional landscape in Europe and beyond.
Get your free copy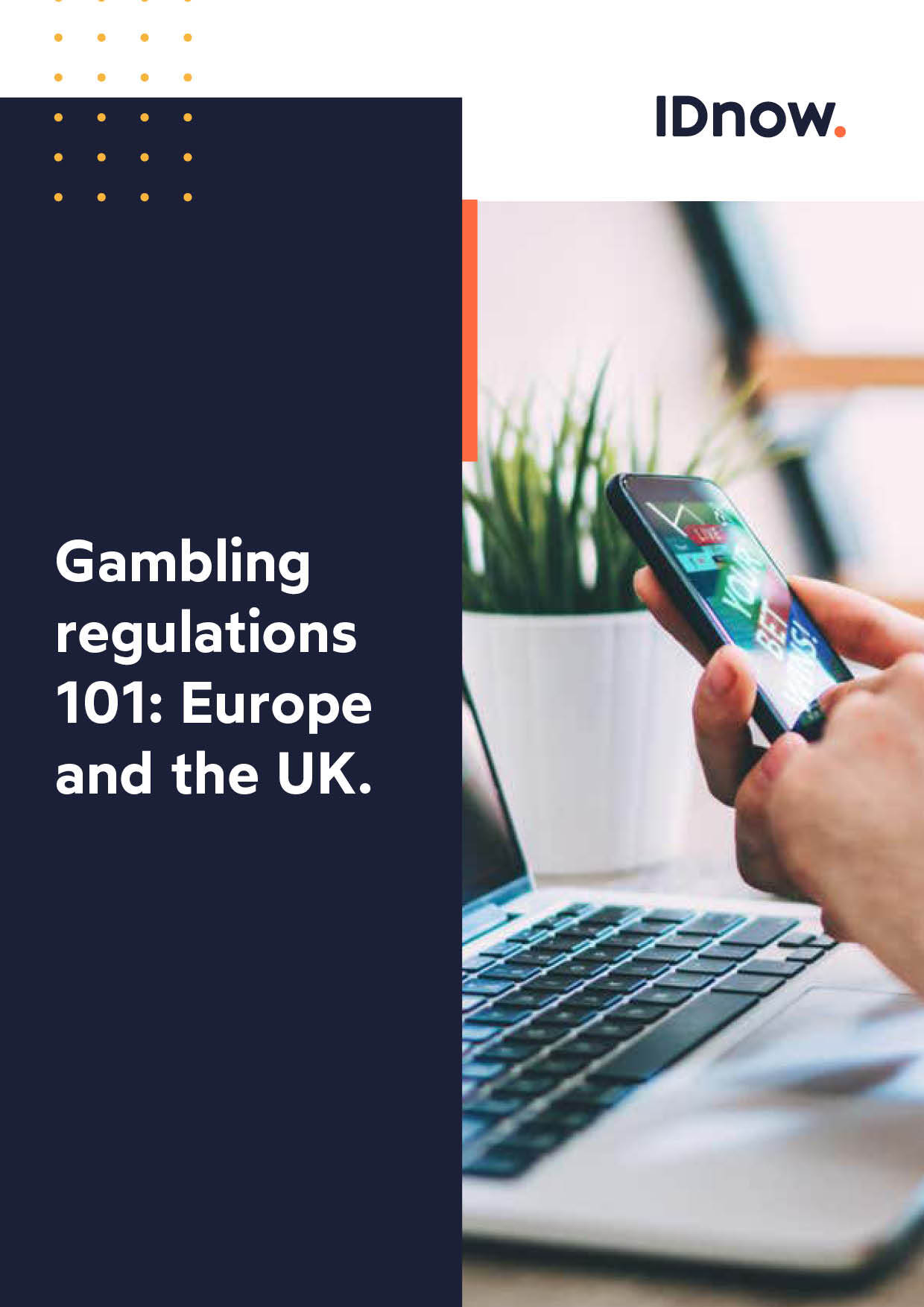 Recognizing the warning signs.
To prevent bonus abuse in online gaming, operators must first be able to spot them. There are numerous signs and behavioral patterns to watch out for:
When the account is fake, there is typically a much shorter period between sign-up and withdrawal or chip dumping. For example, if a newly assigned bonus is instantly lost to a third person at a poker table.
Certain games usually attract more fraudsters than others. Games like poker, where players can play against each other and more easily manipulate the outcome, are most at risk of bonus abuse.

Fraudsters use VPNs, TOR browsers, or blacklisted residential-like proxies.
Understandably, KYC and ID verification platforms have become crucial in helping gambling operators identify potentially nefarious or fraudulent practices.
Techniques used in bonus abuse.
Exploiting loopholes in terms and conditions.
One of the most common restrictions in T&Cs involves preventing players from playing specific games with bonus funds. Blackjack and poker games are usually excluded from bonuses due to their lower house edge. This is because matched bettors could complete their wagering requirements on an outcome close to 50/50, meaning they were almost guaranteed to make money.
While most gambling sites use technology to detect and prevent players from claiming bonus funds on forbidden games, bonus abuse invariably involves avoiding promotional restrictions to play games with bonus money.
Multiple account creation.
Most casino platforms allow users to create one account per user, a restriction monitored by the IP address of the device or household used to register and redeem the bonus. Fraudsters trick casinos by signing up for multiple accounts via IP addresses, VPNs, TOR browsers, etc.
Identity theft and manipulation.
Sophisticated criminals often buy real ID documents on the dark web for use in defrauding gambling platforms. As these documents are not falsified, systems may fail to detect the abuse. Indeed, synthetic identity fraud, which uses a combination of real-person and fake data to form a new identity can bypass some weak KYC checks.
The impact of bonus abuse on sports betting sites.
Bonus abuse is becoming increasingly widespread and costs the iGaming sector approximately 15% of its annual gross revenue.
Jon Howard, an Essex-based fraudster, was recently imprisoned for five years for his part in various frauds, which resulted in the bookmaker losing over £236,000. This was the first bonus abuse fraud penalty ever seen in the UK.
Howard played a leading part in a syndicate that created over 1,000 bet365 accounts using different aliases to use welcome bonuses and evade deposit limits.
Responsible gambling measures.
To mitigate fraudulent gaming activity, operators must deter online bonus abuse. Some operators opt for the removal of deposit bonuses altogether, which is far from ideal, considering gambling bonuses are a sure-fire way of bringing people to a gambling platform.
In other cases, some operators provide loyalty bonuses, rather than sign-up bonuses to discourage bonus abuse. This approach risks alienating the casual, everyday gambler, though.
Many operators also use profiling tools to detect and restrict accounts that are engaging in unwitting cheating or fraud.
Operators must also work toward spreading awareness about the consequences of online gaming bonus abuse. This involves starting initiatives and collaborations among other operators and sharing best practices and helpful information to safeguard the industry.
The recently published UK Gambling White Paper, which details the new approach to the UK's iGaming regulation, also sets out new proposals to tackle bonus abuse fraud and other fraudulent activities by curbing "bonus" and "free spins" offers. Read more about the steps that the United Kingdom Gambling Commission is taking to bring the UK gambling industry into the 21st century in our blog, 'From paper to policy: What's next for the UK's gambling sector?'.
Bonus abuse has also been a recurring problem in Europe, with most countries taking strict measures to put an end to such activity.
For example, in 2019, Malta-based companies Genesis Global and AG Communications were fined by gambling regulator Spelinspektionen for allegedly offering recurring bonuses to their Swedish player base.
Operators in other regions of the world have also adopted ways to reduce gambling fraud. With the Brazilian gambling market on the verge of widespread regulation, operators should be concerned about fraudsters looking to take advantage of an immature market.
Battling bonus abuse fraud.
As the iGaming industry flourishes, so does the number of fraudsters looking to exploit the system for their illicit interests. As bonus abuse is among the industry's most significant challenges, operators must seek proactive measures to tackle cybercriminals and their methods.
Besides stricter protocols and spreading awareness, KYC and AML checks can reduce bonus abuse in iGaming, combat money laundering, and minimize financial losses.

IDnow's user-friendly, efficient, and secure AML and KYC solutions can help with player onboarding, financial risk checks, age verification checks, and more. With IDnow, operators can guarantee compliance with international regulatory standards and curb fraud, such as bonus abuse fraud, without compromising the player experience.
What is bonus abuse? 
Bonus abuse occurs when people sign up for multiple accounts to abuse promotions offered by online gambling operators. 
 
Are there any legal consequences for engaging in bonus abuse? 
If caught partaking in bonus abuse, the user's bonus funds and winnings are confiscated. They might also have their deposited funds frozen. For punishments more severe, it depends on the technique of bonus abuse. For example, receiving permission from a friend to use their details will be viewed very differently than stealing personal information.
What steps can online casinos take to prevent bonus abuse? 
The steps to prevent bonus abuse include setting more complex bonus terms, lowering bonus payouts, and ensuring the casino's KYC process is as rigorous as possible. 
Is bonus abuse worth the risk?
IDnow's user-friendly, efficient, and secure AML and KYC solutions can help with player onboarding, financial risk checks, age verification checks, and more.
Onboarding players is a critical part of the iGaming experience. With IDnow, operators can guarantee compliance with international regulatory standards and curb fraud without compromising the player experience.
Our highly configurable platform for identity proofing in the gaming market allows operators to keep abreast of constantly changing regulations, and new fraud schemes and scams, while ensuring a safe, secure and seamless gaming experience. With our latest round of platform enhancements, we now offer UK-specific data checks, and financial risk checks, which provide operators with insights into a player's affordability indicators to comply with the latest updates to the UK Gambling Act.
Interested in learning more about how to achieve full gambling compliance? Check out our blog.
By