What is iGaming Ontario?
iGaming Ontario (iGO) is a newly created organization, overseeing the expansion of the iGaming market in Ontario after lawmakers passed a bill, C-218, in June 2021, removing the prohibition of single-game betting in Canada.
It is a subsidiary of the overarching regulatory body in the province, the Alcohol and Gaming Commission of Ontario (AGCO). iGO aims to enter into agreements with gaming operators who wish to enter the Ontario market, allowing operators to run their iGaming services, so long as they meet the rules and requirements set out by AGCO and iGO.
iGO is managed by a Board of Directors - made up of four members, including a chair, co-chair, executive director, and a member. The body was established in July 2021.
What does iGaming Ontario do?
iGaming Ontario was created specifically to help regulate and manage iGaming in the province. The body aims to do this by solidifying efforts in four different areas: consumer choice, consumer protection, legal market growth and provincial returns, and reducing red tape.
The official iGaming Ontario website goes into detail on these areas, with their work and goals including:
Introducing fair competition in the regulated iGaming market in Ontario to improve iGaming experience for customers
Enhancing entertainment choice for consumers
Responding to consumer preferences
Ensuring safe and responsible play, as well as game integrity
Ensuring compliance by private operators, including Anti-Money laundering and privacy and information security laws and regulations
Leveraging private sector expertise to unlock opportunities for business
Addressing the unregulated iGaming market
Capture and reinvest provincial revenue to benefit Ontario
Enable innovation and speed to market
Reduce regulatory burden on businesses
Overall, iGaming Ontario works with the Ontario government and AGCO to help establish and maintain a safe, open, and competitive online gaming market.
Operators must go through iGO to enter the province's iGaming market. This includes a unique process, wherein operators deliver online gaming as a service through a commercial partnership with iGaming Ontario, working as private operators on behalf of the government body.
Read more in our article: Becoming Compliant in Ontario's iGaming Market
iGaming Ontario also highlights a list of key activities on their website, summarizing some of their responsibilities in the market. These are:
Execute Operating Agreements with private igaming operators, once they have been registered by the AGCO, and oversee contract obligations for provision of their services in Ontario's regulated igaming scheme.
Implement and oversee reconciliation of igaming revenues on behalf of the province.
Provide market insights and facilitate operator integration into the regulated market.
Implement responsible gambling requirements for operators.
Develop and oversee iGaming Ontario's anti-money laundering program and policies.
Establish a dispute resolution process to respond to customer concerns.
Why Ontario's iGaming model will be an industry game changer
Learn in our ebook how IDnow can help tackle Ontario's complex iGaming market.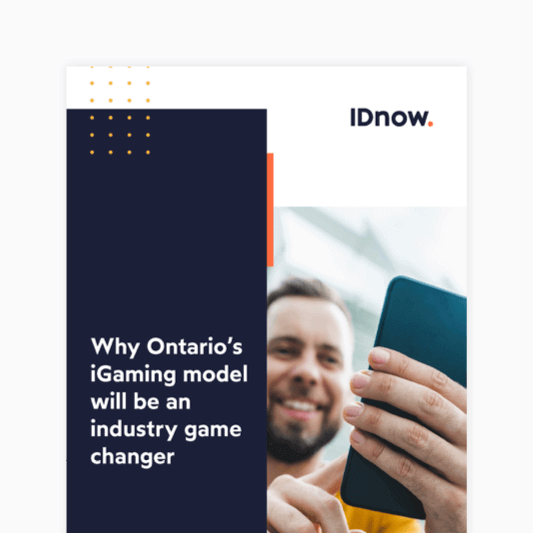 Who regulates Gambling in Ontario?
While iGaming Ontario focuses on entering agreements with operators and ensuring they are compliant before entering the market, the Alcohol and Gaming Commission of Ontario remains the overarching regulator of iGaming and gambling in Ontario.
This is due to the fact that iGO is a direct subsidiary of AGCO, with the latter having been the province's gaming regulator for years and now enforces the Alcohol and Gaming Commission of Ontario Act, alongside its own set of rules and regulations.
With that being said, in order for operators to become compliant in Ontario, they'll need to work with both organizations.
Broadly speaking, iGaming Ontario manages operators and is the key point of contact and organization for operators, while the Alcohol and Gaming Commission of Ontario is the key regulator. Additionally, in order to enter Ontario's iGaming market, operators must submit applications through the AGCO portal, where further details on Ontario's iGaming market can be found.
Read on: iGaming Ontario - a promising market for European Operators?