With online gambling the preferred method for gaming in today's society, both operators and players want to feel safe as the popularity of online betting continues to increase. However, with that comes certain responsibilities from both the operator and the player.
With 2022's global online gambling market valued at $63.53 billion, online casinos want to guarantee that their players are practicing responsible gaming through developing information solutions that support and assist gamblers, safeguard the authenticity of gambling activities, and prevent fraudulent activities, thus giving players the assurance of using a safe online gambling site.
However, there might come reservations from both parties that their time and efforts must be sacrificed in order to practice safe gaming, but that's quite the contrary.
What is responsible gaming and why does it matter?
Responsible gaming is all about prevention. Players want to enjoy themselves, but sometimes things can go too far, or individuals might take advantage of the system. Instead, responsible gaming is a concept that encompasses several policies and requirements which apply to gambling stakeholders. These policies and requirements make sure operators adhere to the highest standards of quality, while offering a safe user experience that protects people from the potential negative consequences of online gambling.
The creation and maintenance of a socially responsible gambling environment and the provision of tools to support gamblers with their gambling behavior lays at the core of the European Commision's Recommendation principles. Although it is up to the individual players to take advantage of the tools being offered, it is up to the Member States to ensure that appropriate tools that facilitate safer gambling practices are available.  
As such, "the Recommendation specifies that online gambling operators should be required to allow players to set their own financial and temporal limits, to offer time-outs, temporary breaks and long-term self-exclusion schemes, to provide gamblers with information regarding their playing and expenditure patterns, and to initiate engagement with any customers whose playing patterns give indication of the potential development of gambling problems."
Additionally, it is suggested that gambling websites should display links to relevant support helplines and other details of support organizations in order to ensure responsible gambling. Furthermore, Member States are urged to create national self-exclusion registers that would enable players to exclude themselves from all online gambling operators licensed in that jurisdiction and to ensure that all operators have access to such registers. Through this encouragement, the number of Member States that offer national self-exclusion registers has actually increased over the past three years to a total number of 16.
Thus, gambling operators have the opportunity to give their customers all the tools they need to practice responsible gambling. However, it isn't only through self-exclusion and monitoring gambling behavior that this will be achieved. It also entails a few more aspects on the side of the stakeholder. Here is a list that operators should be aware of and implement in order to establish responsible gaming:
Protecting vulnerable gamblers with responsible gaming tools and self-exclusion lists
Incorporating safety measures to fight criminal activities
Providing an information policy
Having an online payment protection
Maintaining a secure online environment
Complying with ethical and responsible marketing
The importance is therefore driven home through the above practices. Thus, companies in the online gambling sector who implement the above measures act as role models when it comes to this importance of responsible gaming.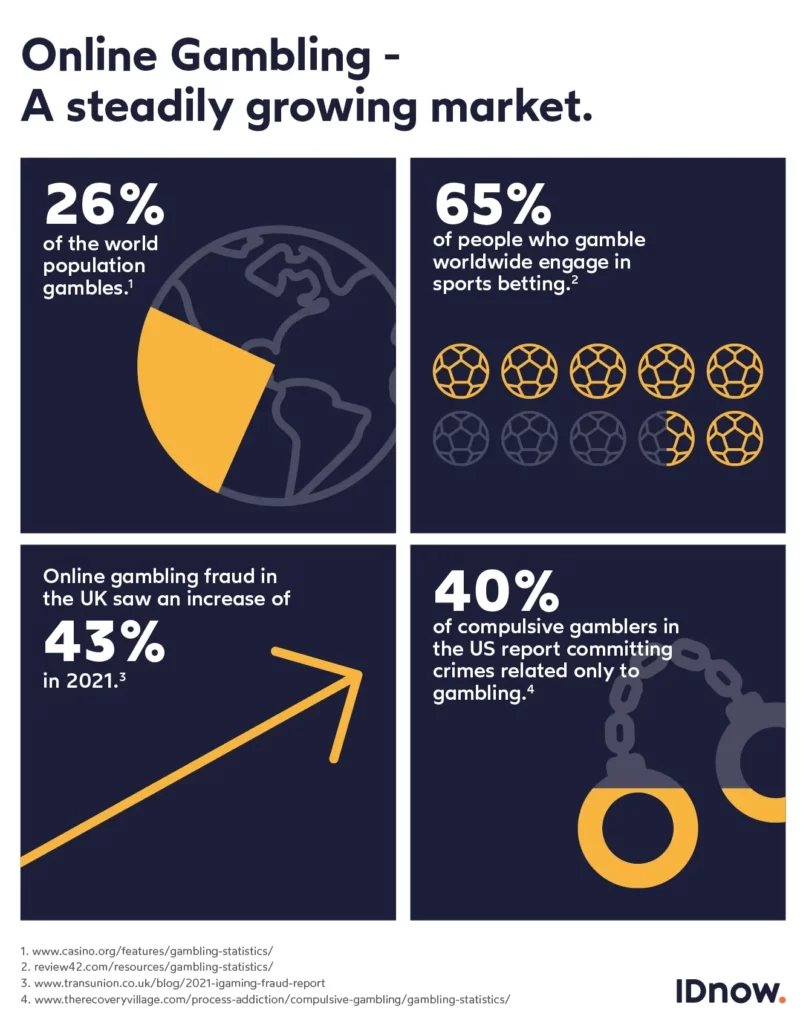 Underage Gambling and Fraud Prevention
Not only are vulnerable gamblers protected, as well as underage gamblers, but by having a safe online gambling site it allows the operator to fight criminal activities, which put not only the company in jeopardy, but also its players. With underage gambling becoming more popular, with nearly 40% of 11-16 year-olds wagering their own money in the UK, this is one of the many reasons why countries such as Germany place heavy restrictions on online gambling.
Furthermore, in the case of criminal activities, fraud is a serious problem in many aspects of the online world, not excluding online gaming. This is particularly the case when big sports events occur and operators see an increase in user activity. Just in the first quarter of 2022, the global online gambling fraud rate grew to 50%.
In consequence, safe online gambling sites are required to verify the identity of their players in order to prevent such cases, both fraud and underage gambling alike, from happening.
How ID Verification can assist in responsible gaming
When it comes to online gambling and identity verification, many companies and players are turned off by the requirements. However, this need not be the case. Businesses can incorporate responsible gaming while keeping player conversions, even during bigger sporting events.
The key to such success is through a user-friendly verification process that also prohibits fraud. By providing such an experience, huge sporting events, such as EURO 2020, can become perfect examples and opportunities for operators to showcase what they are able to do for their players.
Planning for such events includes encouraging players to verify themselves before the event. Plus, by giving players options on how to identify themselves, as seen with AutoIdent and VideoIdent options provided by IDnow during the EURO 2020, it takes into consideration background checks that take place before the ID verification, and what browsers and devices might be used by the players to meet customer demand.
Additionally, through the use of NFC, operators are able to quickly scan an NFC document which requires less human intervention, thus improving gross margins for the company and more convenience for the end-users. And not only that, it provides a higher level of security for the company through the reading of the chip, with more regulators accepting it.
This in turn uncovers a new wave of sophisticated crime that is only detected through ID verification. For example, during the EURO 2020, IDnow discovered that fraudsters were utilizing very well forged ID cards. The visual security features, like holograms and watermarks, were forged to perfection. And when an ID document is forged to perfection, it requires verification solutions that look beyond visual security features, like with NFC.
In the end, ID verification is a win-win for both the gaming operators and sports fans alike by providing high levels of security for the company and a fast and convenient onboarding process for customers. In fact, 83% of operators believe smooth digital transactions have become essential to business survival. Trust is consequently forged between the operator and its players.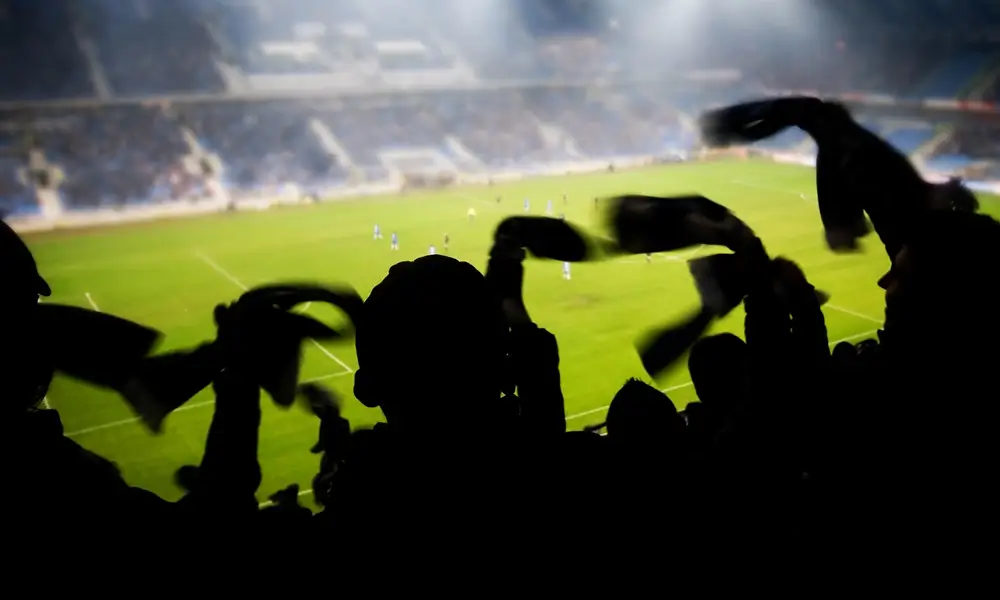 Preparing for the FIFA Qatar World Cup
With EURO 2020 having experienced high viewing figures as well as skyrocketing bets, the 2022 FIFA World Cup should be no different.
As was the case with the EURO 2020, operators need to be aware of increased activity and potential fraud with the prospective of increased player verifications. In order to handle such spikes in big sporting events, operators need to provide a streamlined onboarding process for players in order to smooth out the user experience and catch potential fraud risks. Focusing on fraud is vital during these busy periods because with the increase of players, comes the increase of underage gamblers and fraudsters alike.
Looking back at the 2018 World Cup, which saw an estimated €136 Billion in bets, it should come as no surprise that 2022's World Cup will be any different. The UK saw a 50% increase in betting from the 2014 to 2018 World Cup, and an average match in 2018 saw a betting turnover of €2.1 billion. With online betting rising in popularity, operators can expect rising numbers in player verifications.
By having a trusted digital identity verification partner, that has experience with player spikes and fraud attempts during big sporting events, online gambling operators can have full confidence in preventing such cases.
But in order to prepare ahead of time, operators should encourage users to register early, just like with EURO 2020, providing their players with a more pleasant experience.
Additionally, with the FIFA World Cup taking place in Qatar, it is important to keep in mind that gambling is strictly prohibited in the country, but online gambling is still allowed since operators are based outside of the country. This may also have an effect on the increase of online betting, due to gambling being illegal in the hosting country.
Furthermore, this year's World Cup is taking place during the winter months, instead of the summer months. Despite this change in schedule, gambling operators can still expect large numbers in players, since most people will already be indoors. Gambling online becomes even more comfortable during the winter months.
Plus, the Premier League season is set to start at the beginning of August and end right before the World Cup. It then picks up again right after the World Cup ends. For players, fans, and operators in the UK, it's a continuous stretch of football mania.
The consequences of a Winter World Cup…
Learn how to best prepare as a gambling operator for the challenges of a winter World Cup.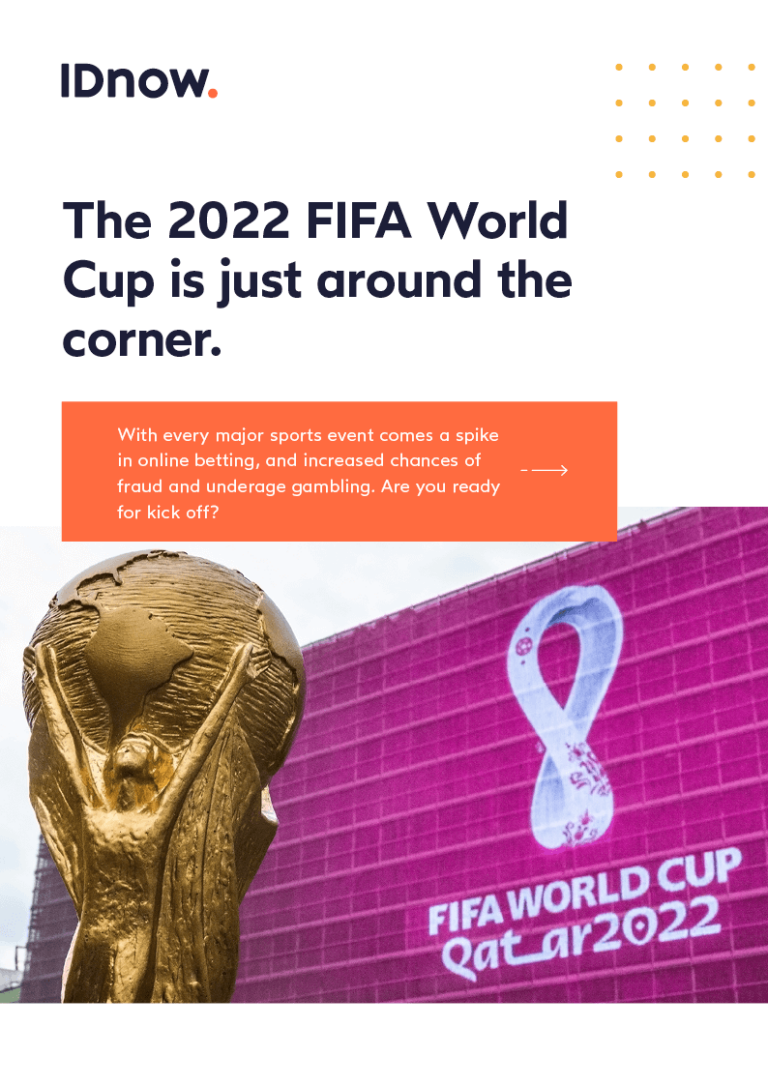 Leveraging IDV and KYC for Big Sports events
With the FIFA World Cup on the horizon, this provides a huge opportunity for gambling operators to prepare for the incoming wave. The key to this preparation is leveraging identity verification platforms, such as IDnow, and implementing robust KYC processes that don't harm the player onboarding experience.
By leveraging such solutions as IDnow's AutoIdent and VideoIdent, which use artificial intelligence to check security features on ID documents and have the potential to cover more than 7 billion customers from 195 different countries, you can be sure that the identity and age of your customers is verified.
Our solutions are focused around security and uncomplicated application for the customer, making the process as simple as following on-screen prompts and completing verification within minutes, boasting a conversion rate of 90%.
This makes big sporting events such as the upcoming FIFA World Cup, not only attractive for gaming operators, but also for their customers. Security is not sacrificed when it comes to customer onboarding, but rather enhanced.
Additionally, the IDnow platform covers a wide range of use cases both in regulated sectors in Europe, as well as for entirely new digital business models worldwide and allows the identity flow to adapt to different, regional, legal, and business requirements on a per use case basis.
Through leveraging such robust KYC processes, like those at IDnow, online gaming operators can rest assured that responsible gaming is taken seriously at IDnow through the use of our identity verification solutions. You can trust the IDnow team and their experience to fulfill all of the key factors and excel as a gaming identity verification partner.
By

Roger Redfearn-Tyrzyk
Director Global Gambling & Sales UK at IDnow
Connect with Roger on LinkedIn