How digital identity can improve the passenger journey.
Summer is over and so is the annual travel rush. Every summer, millions of people worldwide hit the airport in search for sunny beaches and vacation fun. However, travelling during peak season can often be frustrating for passengers. The aftermath of the Covid-19 pandemic is still present and impacts the passenger experience from curb to gate, as long lines, missed flights, and lost luggage remain too common. This brings the question: how can we make the travel experience a little less painful?
Well, imagine a world where you can simply breeze through security checkpoints and skip the long and tiresome lines at the airport. Through digital identity wallets, this future is about to become a reality. Whether you are a frequent passenger travelling for business, or a tourist seeking a leisurely holiday, this revolutionizing technology can smoothen your travel journey and your passenger experience.
What is the concept of digital identity, and why is it important?
Until now, we relied on physical id document such as ID cards driving licenses to identify ourselves in the real world as well as online. Digital attributes and credentials were solely used online. Digital identity wallets, like the IDnow Wallet, are about to change that, as they are simultaneously addressing our digital and real-world requirements by bringing physical and digital credentials together.
Digital identity wallets enable you to verify, store, and most importantly reuse verified identity information from your smartphone, in a convenient, secure and legally recognized way. Your sensitive personal information is securely stored and encrypted on your phone and can only be accessed by yourself. Keep control of your data by choosing which information you want to share, with whom and when.
eiDAS 2.0. and the European digital identity framework.
With eIDAS 2.0, the second version of the central European regulation for electronic Identification, authentication and trust Services, the European Commission has introduced a new European digital identity framework. The objective is to create an interoperable ecosystem of digital identity wallets and enable EU citizens to use their digital identity to access public and private services across the EU. eIDAS 2.0 and the underlying trust framework is the foundation for the legal recognition of digital identity wallets, such as the IDnow Wallet, in the EU and beyond.
What information can you store in your digital identity wallet?
Digital identity wallets allow you to store anything from your government issued ID card and driver's license, over biometric information as well as additional attributes, such as a frequent flyer membership card.
After a document or other credential has been verified and stored, the wallet empowers you to reuse the verified identity and share only the necessary information with the relying parties. The IDnow Wallet allows you to reuse the personal data of your identity in multiple scenarios. Use your verified identity to rent a car today or for your hotel check-in tomorrow.
The potential of digital identity wallets in the air travel industry.
Think about your own travel journey and the number of times you have to identify yourself: from booking flights, dropping off luggage at the airport, passing security, a small stop at the duty-free store, boarding the plane, to finally sitting at your seat and enjoying some in-flight services, and the list goes on when you land at your destination. Therefore, the air travel industry in particular offers a great potential for leveraging digital identity wallets.
Air travel use cases for digital identity to improve the passenger experience.
As digital identity wallets become more prevalent, the air travel industry has the opportunity to leverage this technology to improve the passenger journey. Below, we outline use cases for digital ID within the travel experience.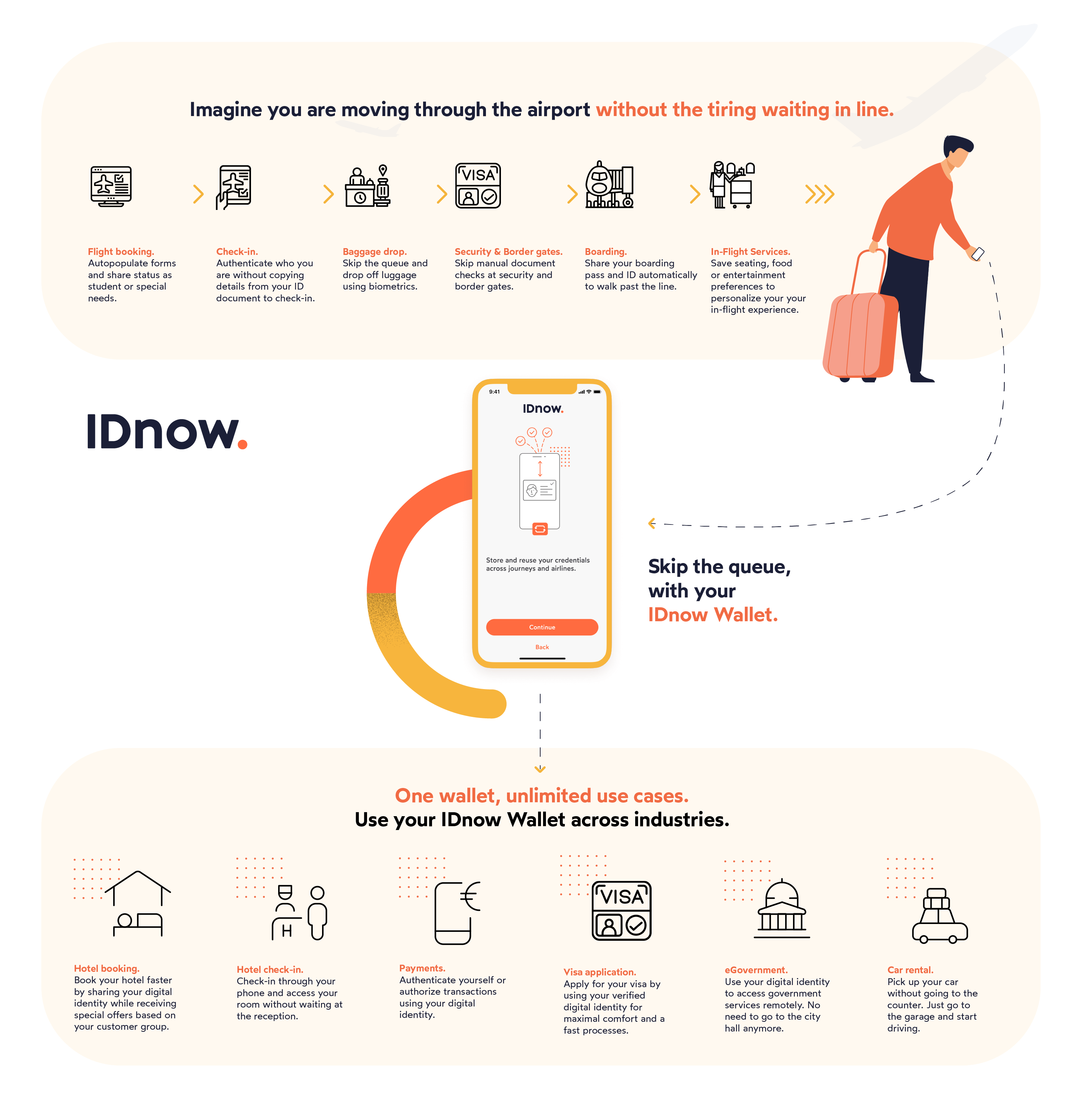 Online Flight Booking
When booking a flight online, identify yourself in one click using your identity wallet to automatically fill out required forms and anticipate the joy of a laid-back holiday.

Airport Check-In
Using your digital identity wallet will keep your check-in process short and sweet. Save yourself some time by avoiding coming hours prior to departure, or equally enjoy that time at your favorite airport lounge.

Baggage Drop-Off
Experience a fast and contactless luggage drop off, as a simple biometric facial recognition can link your baggage receipt to the personal data on your ID and your boarding pass, all of which will be safely stored in your digital identity wallet.

Security Checkpoints & Border Gates
Skip the queue and avoid clogged border gates, as the digital identity wallets allows you to breeze through security checkpoints. No more rummaging through your luggage for your passport, just look into the camera to verify your identity and smile as you pass through.

Boarding
Once checked in, your digital identity wallet stores your boarding pass as well as your ID credentials. After a simple biometric check, you can cross the gate and reach your seat in all serenity.

In-Flight Services
Customize your in-cabin experience during long-haul flights, by indicating your entertainment and dietary preferences to start your holiday relaxation a little earlier than expected.
How digital ID can benefit businesses in the travel industry.
Consequently, there is no doubt that digital ID enhances the passenger's journey by making it faster and more convenient. Furthermore, digital identity wallets represent a win-win situation for both passengers and carriers. In fact, they enable a higher efficiency though their seamless touchpoints, which not only increases customer satisfaction but also benefiting airlines and airports as less ground personnel are required to process travelers.
Learn more about digital identity in the air travel industry.
Read how IDnow is supporting the International Air Transport Association (IATA) or visit our Travel industry page or IDnow Wallet product page.
Let's talk air travel!

By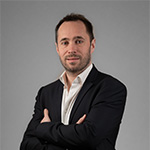 Edouard Baussier
Global Mobility and Travel Sales Director at IDnow
Connect with Edouard on LinkedIn