It comes as no surprise that digital transformation had a significant impact on the hospitality industry worldwide. Multiple aspects of the industry were transformed forever, from business models to user experience. Indeed, traditional business models evolved, as alternative accommodation rentals and home-sharing platforms entered the arena.
The overall customer experience also acknowledged tremendous changes. Whether booking accommodations, researching a holiday trip, or using a smartphone as a boarding pass, the travel journey has been drastically redefined. And the demand for an even more digitalized experience is growing stronger by the day. According to a report from Condor Ferries in 2021, 66% of millennials booked their travel using a smartphone, and 75% had already installed travel apps. Nonetheless, 86% of them were still disappointed by the experience online provided by travel agents on mobile devices.
Airlines and businesses from the transportation industry rapidly adapted to this new paradigm by offering easy check-in processes, enabling travelers to avoid long airport queues and go through a fast-paced travel experience. However, the hospitality industry was a bit late to implement such features.
Digital transformation has altered the way we perform check-ins and check-outs at hotels or airlines. It even guides us in unfamiliar places, by offering alternative services along the customer journey, such as dining establishments and activities. Digitalizing check-in processes is a great way to reshape the user experience and can have numerous advantages.
The benefits of digital guest check-ins.
Experiencing a seamless user journey is now required more than ever. Whether traveling, shopping or subscribing to a service, customers are now accustomed to going through multiple digital hoops and have rapidly developed an appetite for them. Therefore, providing a secure and contactless guest check-in experience can provide the following positive impacts on hotel businesses: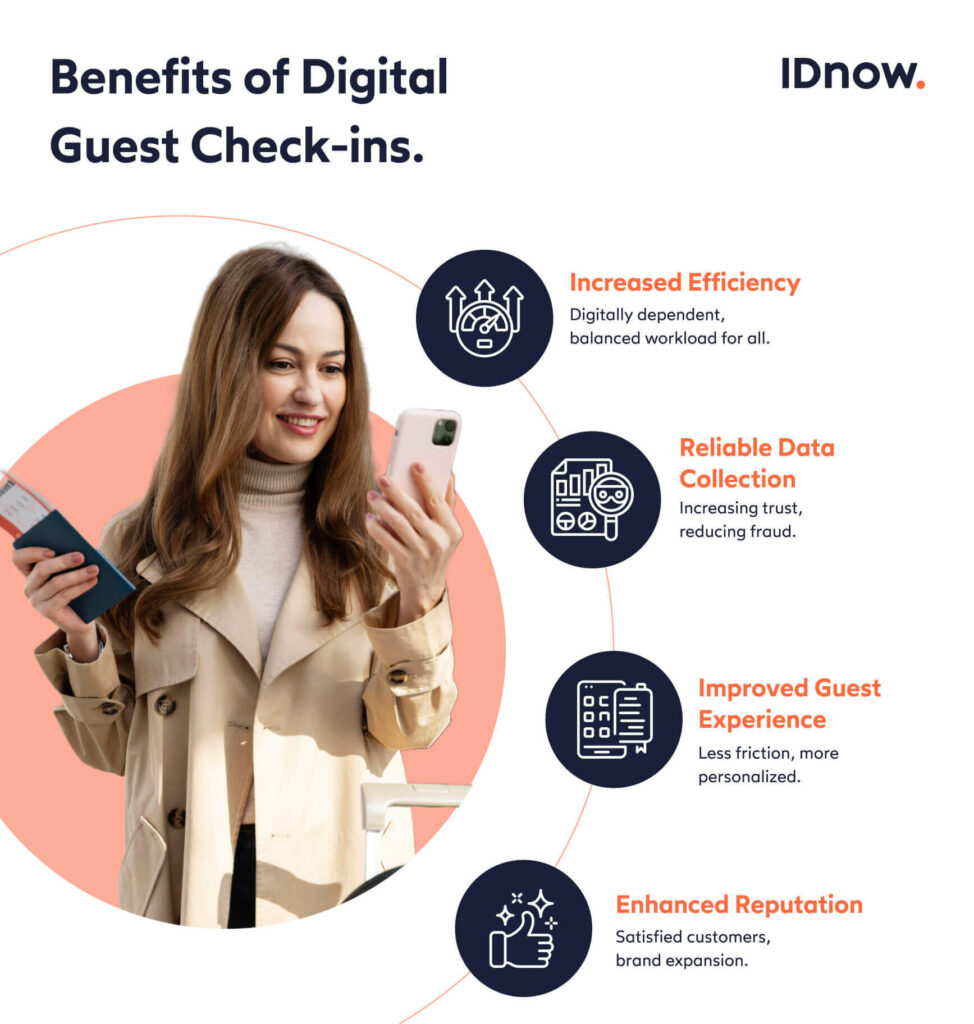 To guarantee that the check-in experience is complete, the guest's identity needs to be verified in order to prevent the risk of fraudulent behavior. To do so, a robust identity verification solution must be accounted for in the digital check-in experience.
What technology is needed for automated guest verification?
An automated guest-verification workflow can be easily integrated into any contactless check-in solution. Any device can be used by guests to verify their identity seamlessly and on their own.
AI or human assisted identity verification systems are now offered by identity verification solution providers like AutoIdent from IDnow. Thanks to its SDK, AutoIdent can be easily integrated into an app, a web flow or as a standalone app. It is also highly customizable as it defines patterns to better detect fraud or suspicious behaviors. By verifying one or two governmental issued documents, AutoIdent guarantees that users are thoroughly screened and their identity confirmed. Liveness checks can also be conducted via video calls to avoid identity spoofing.
Combined to a keyless system or coding station, the experience remains transparent and painless for the customer, whether he's checking-in from a smartphone, a tablet, a desktop, or from the kiosk.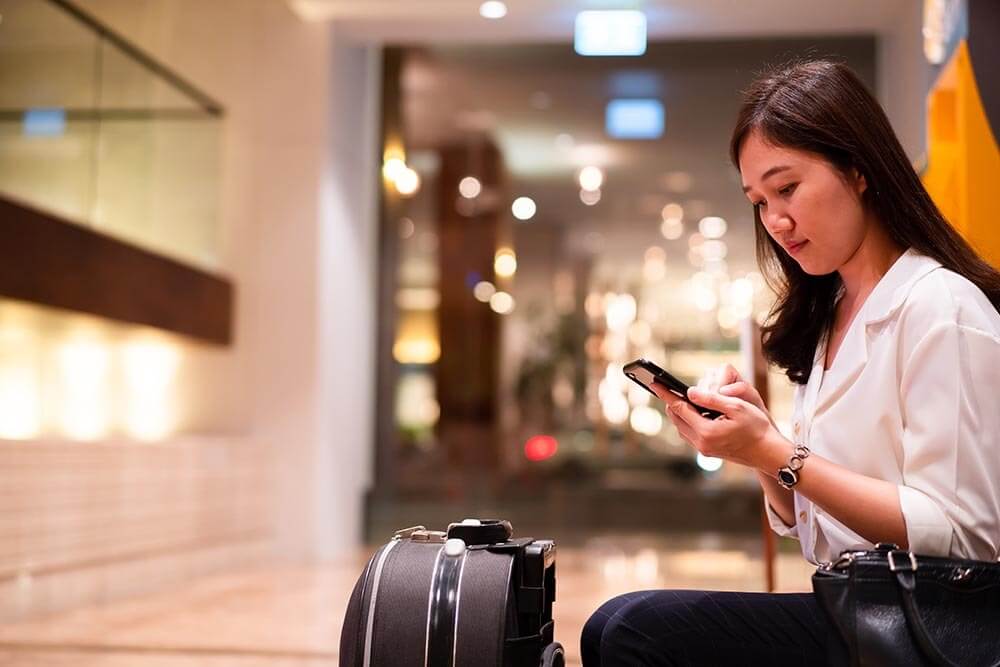 The three stages of identity verification in guest check-in.
A guest can digitally check-in on his own easily thanks to the latest solutions. Only three stages are usually required between the arrival at the hotel and the moment a guest crosses the door of his hotel room.
Fill-out registration form: There are different ways for a guest to start a digital check-in. Either through his smartphone, desktop, a tablet available at hotel reception or at check-in kiosks. They allow several guests to check-in at the same time, even while enjoying a welcome drink. Check-in processes are also interconnected, as the guest can start checking-in on his smartphone and finishing paying at the kiosk for example;
Biometric and document verification: After filling-out the personal information, the guest has to scan his governmental-issued document on both sides so that information registered is automatically verified. To confirm the person holding the document is the person making the registration, a selfie is required. This can be completed by liveness checks to ensure that no spoofing mechanism is used and fraudulent tactics are deterred;
Data transfer and system verification: As data is registered and confirmed through the back-end information system, the check-in is confirmed and enables the guest to save his booking on a Wallet Pass, have keyless access to his room, which 26% of customers say they prefer, or go to the coding station to grab his key.
Taking into account privacy and security concerns.
While some security and privacy concerns may arise, a 2019 report from the WTTC suggested that a majority of travelers were more likely to share their data if it meant a more seamless experience. The perceived benefit in addition to a relieved pressure on their journey also meant "improving safety and security through a better authentication and a reduction of fraud". Thus, providing a transparent process to collect customer information, while accelerating the booking process is one of the keys to a successful user experience.
Moreover, IDnow identity verification solutions and data storage are thoroughly vetted and tested against GDPR rules. Finally, the highest IT security standards are enforced on our information systems to guarantee security at all cost, because data privacy is a non-negotiable priority.
Digital check-in for successful hotel operations.
The adoption of digital check-in in the hospitality industry is becoming widely accepted by hotel operators, who recognize the benefits of freeing up front desk staff to focus on personal interactions with guests. Despite initial concerns about the loss of human interactions, the experience of digitalizing the check-in process has shown that it not only increases efficiency, but also improves the overall guest experience and brand relationship. Secured and transparent, digital check-in offers benefits for both the hotelier and the guest, while reducing friction points.
Hotel fraud in the hospitality industry.
Learn how to reduce fraud and secure your hotel in our ebook on hotel fraud in the hospitality industry.
Get your free copy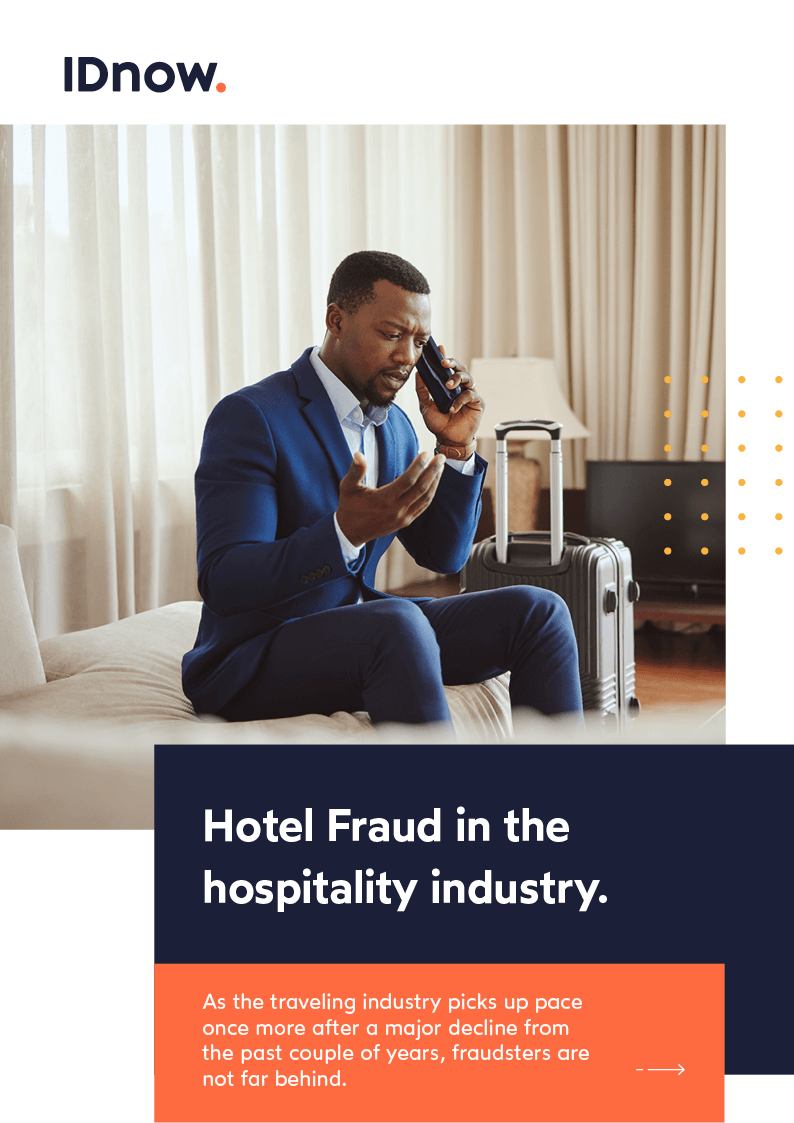 FAQs for digital check-ins.
How can I create a seamless digital check-in experience for my guests?
Traveling guests want to access their accommodation quickly after a long journey. By leveraging ID verification providers such as IDnow, hotels can implement a digital check-in experience on mobile, on-site, self-service tablets or at the reception, easily improving the guest journey and increasing customer satisfaction.
Are there any risks associated with using automated guest verification systems?
On the contrary. Implemented efficiently, automated guest verification systems can reduce fraud and impersonation by requiring one or two governmental issued identity documents, comparing them to the user by requesting a selfie, and determining suspicious patterns.
Can I customize my digital check-in experience to suit my business needs?
It is more than encouraged to tailor digital experiences to suit business model specifications. Customized digital experiences can drive revenues up by providing alternative services. They can be integrated seamlessly into specific guest journey workflows and IDnow is there to assist with every user-case scenario.
By

Florian Solleder
Senior Sales Manager Mobility & Travel
Connect with Florian on LinkedIn