With summer in full swing, we can't help but think of the endless queues at the various airport checkpoints. Arriving 2 or 3 hours before take-off for flights that are sometimes shorter is a frustrating experience for passengers who are often exhausted or in a hurry. What if there was a way of considerably reducing this wait and improving the travel experience?
What is biometric verification?
What if travelers could verify their identity and passport directly from home? Well, it's possible. Using a smartphone, passengers can capture their identity document (ID card or passport) before they even get to the airport by doing so during the booking process. The passenger is then invited to carry out a biometric capture of their face (also known as an identity check by liveness detection). The physical attributes resulting from the biometric capture are then compared with those on the identity document. This method of identification using biometrics is highly effective. Facial recognition or liveness detection have unique characteristics that enable us to ensure that a person is who they claim to be, and therefore that there is no attempt at identity theft.
Once verified, the passenger's biometric data is stored in the airport's or airline's application for a specific period, enabling the traveler to pass through checkpoints without difficulty.
The advantages of biometric checks at the airport.
Biometric checks at airports offers a number of advantages that are revolutionizing the travel experience for passengers. Here are some of the main benefits of this innovative technology:
Reduced waiting times: one of the greatest benefits of biometric control is the significant reduction in queues at the various checkpoints in the airport. Thanks to facial recognition, travelers can quickly pass through security checks and boarding gates without having to constantly present their identity documents, making the check-in and boarding process much smoother.
Improved passenger experience: by eliminating the tedious and repetitive steps involved in checking identity, biometric control offers passengers a smoother and more pleasant travel experience. They can concentrate more on their journey, relax and enjoy the services offered at the airport, without stress.
Enhanced security: biometric technologies provide a higher level of security than traditional control methods. Biometric characteristics are unique to each individual, reducing the risk of document fraud and identity theft. Advanced biometric systems enable airport authorities to detect any suspicious activity or potentially dangerous behavior more effectively.
Seamless integration: biometric control can be seamlessly integrated into existing airport processes. Passengers can enroll their biometric data just once, enabling automatic recognition during subsequent checks. This integration facilitates collaboration between airlines, security services and airport authorities for a frictionless travel experience.
Respect for privacy: biometric identity verification solutions generally adopt strict standards for the protection of personal data (GDPR). Travelers' biometric information is securely stored and accessible only to authorized persons, ensuring confidentiality and protection of sensitive data.
Biometric checks at airports: which countries are pioneers?
Due to the rapid development of technology and airport security policies, several countries have already introduced biometric control systems at their airports. Here are a few examples:
United States: The United States has deployed biometric screening programs at some major airports, such as Orlando International Airport, Los Angeles International Airport and Miami International Airport, as part of the US Customs and Border Protection (CBP) 'Biometric Exit' program.
United Kingdom: Biometric screening is being trialed at a number of UK airports, including London's Heathrow airport, as part of the Heathrow Biometrics project to facilitate the passenger screening process.
Singapore: Singapore's Changi airport is known for its early and extensive use of biometrics for immigration and boarding controls, offering a smoother and more efficient travel experience.
United Arab Emirates: Dubai International Airport is one of the first large-scale airports to deploy biometric screening for check-in, security screening and boarding.
Netherlands: Amsterdam-Schiphol airport has also implemented biometric control systems to simplify the travel process.
Many countries around the world have adopted or are considering adopting biometric screening at airports to improve the passenger experience and enhance airport security. Implementation varies according to the specific policies and regulations of each country and airport, but there is a global drive.
In France, what are the challenges inherent in introducing biometric checks at airports?
For several years, Lyon Saint-Exupéry airport has been running a free "Biometric Experience" service for passengers travelling to Portugal, Ajaccio and Bastia. Passengers download the Lyon airport application and select their eligible flight. They then create their biometric profile by capturing their identity document and taking a selfie. The final step is to capture the boarding pass and link it to the biometric profile. This option allows access to a fast lane dedicated to biometric checks, eliminating frustrating delays before departure.
In Paris, other similar systems have been in place since March 2021, notably with the airlines Air Caraïbes and French Bee. Passengers can carry out biometric verification directly at the airport on dedicated kiosks. However, there are a number of obstacles to the smooth running of the project.
Older passports without the NFC chip required for biometric services are excluded from trials on certain routes. In addition, the verification of biometric data carried out at home differs from that carried out at a kiosk at the airport. Although the latter has the advantage of offering the possibility of local assistance in the event of a problem, passengers do not seem to be rushing to use this latest technology, because of its similarity to a traditional check-in kiosk.
However, the results of these remote check-in pilot projects will not hinder their development. As further trials are implemented, the benefits of biometric boarding will become increasingly clear to all parties involved, and at every stage of the passenger journey through an airport.
Staff shortages at check-in counters and baggage depots will be alleviated, and passengers will no longer be forced to queue.
Biometric control and digital identity: What are the prospects for travelers?
In the future, frequent travelers will be able to take advantage of a European Digital Identity Wallet (EUDIW) containing all their personal data, including biometric data, which they will be able to use on every flight, eliminating the need to manually enter their personal details every time they fly. This wallet will enable everyone to store and manage their electronic credentials in one place (directly on their smartphone), all securely and transparently.
The use of biometric technology in the aviation sector has considerable potential, and airlines and airports are undoubtedly open to it as they see the results. Commercial aviation, like the mobility and tourism sectors in general, is undoubtedly undergoing a revolution that should not be missed.
By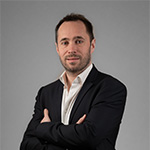 Edouard Baussier
Global Mobility and Travel Sales Director at IDnow
Connect with Edouard on LinkedIn