Exploring the challenges, opportunities, and necessity for cross-functional collaboration.
Attempting to draw similarities between two different industries may not seem the most productive use of one's time, but there are valuable insights to be gained, if you look hard enough. Let us take the financial services and gambling industries, for example.
Besides the obvious risks in the financial market and the speculative nature of trading, the banking and gambling industry have more in common than one might expect.
Both face similar risks, including operational risk, regulatory compliance, money laundering, liquidity, solvency risk, IT and cyber risks, and reputational risk.
Both invariably have an Enterprise Risk Management function, which, as the name suggests, carries out risk management.
As financial services and the gambling industry are both prime targets for fraud and money laundering, there is value in organizations from both sectors implementing a dedicated KYC program to help them comply with Anti-Money Laundering Terrorist Financing, and GDPR regulations.
Blocking new illegal, intertwined paths.
In April 2023, a first of a kind trial took place in Basildon Crown Court in the UK. Jon Howard was found guilty of defrauding Bet365, after the Essex Serious Crime Directorate confirmed he had used more 1,000 identities to abuse bonuses, which, had he been successful, would have netted him £236,000. (Read more about some of the ways that criminals abuse sign-up bonuses in our blog, 'Exploring bonus abuse in gambling'.)
Howard tried to legitimatize these funds via a mortgage application where he added details of a fake job. He was recently sentenced to a five-year jail sentence. In both gambling and financial services, fraudsters continue to find more creative ways in exposing weaknesses in controls. And, as the latest tricks tend to appear in one sector before the other, there is significant incentive for collaboration between the two industries.
Desperately seeking a global gambling regulatory framework.
The gambling industry has encountered fast-paced growth in recent years. Indeed, the proliferation of high-speed internet and mobile devices have made it even easier for individuals to access online gambling platforms from the comfort of their own homes or on the go.
This convenience factor has attracted a larger number of people to engage in online gambling activities. COVID-19 and multiple quarantine periods further cemented the expansion of online gambling. Despite the rapid growth, many national authorities and regulatory bodies have been slow off the mark in updating regulations or providing the industry with some much-needed clarity.
Read more about the UK's much delayed revision of the Gambling Act 2005 in our blog, 'Preparing for the UK gambling white paper' here.
The gambling industry is categorized as a Designated Non-Financial Business and Profession (DNFBP), providing gambling services for entertainment purposes. The gambling industry also engages in similar activities to financial institutions, such as accepting and withdrawing funds. As such, players in both the gambling industry and financial services industry are required to hold a license to operate in most European Union (EU) countries. Traditionally, if you wanted to operate in multiple EU countries, then you would need multiple licenses.
Recently, however, there have been substantial efforts to ease the headache of operating throughout Europe. In fact, multi-licensing has been adopted in 25 out of 29 European countries, introducing full multi-licensing for all regulated online gambling products, according to the European Gaming & Betting Association. In 2018, the EGBA published a manifesto to appeal for a globalized regulatory framework for online gambling operators.
Recommending a deepened standardization in the business, the Association is pushing for a more comprehensive regulatory framework to avoid "unnecessary compliance and supervision costs" and limit the risks of non-compliance. This would also have a direct impact on the risk exposure to fraud and money laundering. In fact, during its periodic supra-national risk assessments in 2022, the European Commission said it considered online gambling "to be especially vulnerable to money laundering and terrorist financing, with this risk categorized as the highest possible risk level."
As such, gambling operators would be wise to take a few lessons from the financial services industry to better understand its regulations, and the processes they use to protect themselves against fraud, money laundering, and other types of financial crime. As KYC programs are slowly becoming the norm within multiple industries – from crypto to mobility – gambling operators should follow suit.
Step one should be for all gambling operators to familiarize themselves with Anti-Money Laundering (AML) and Terrorist Financing regulations. Step two is to implement stronger KYC mechanisms. With a robust KYC program in place, gambling operators can anticipate potential regulatory developments and be ready with top notch compliance programs.
Gambling regulations 101: EU and the UK
Learn how gaming operators can keep pace with the ever-growing multi-jurisdictional landscape in Europe and beyond.
Get your free copy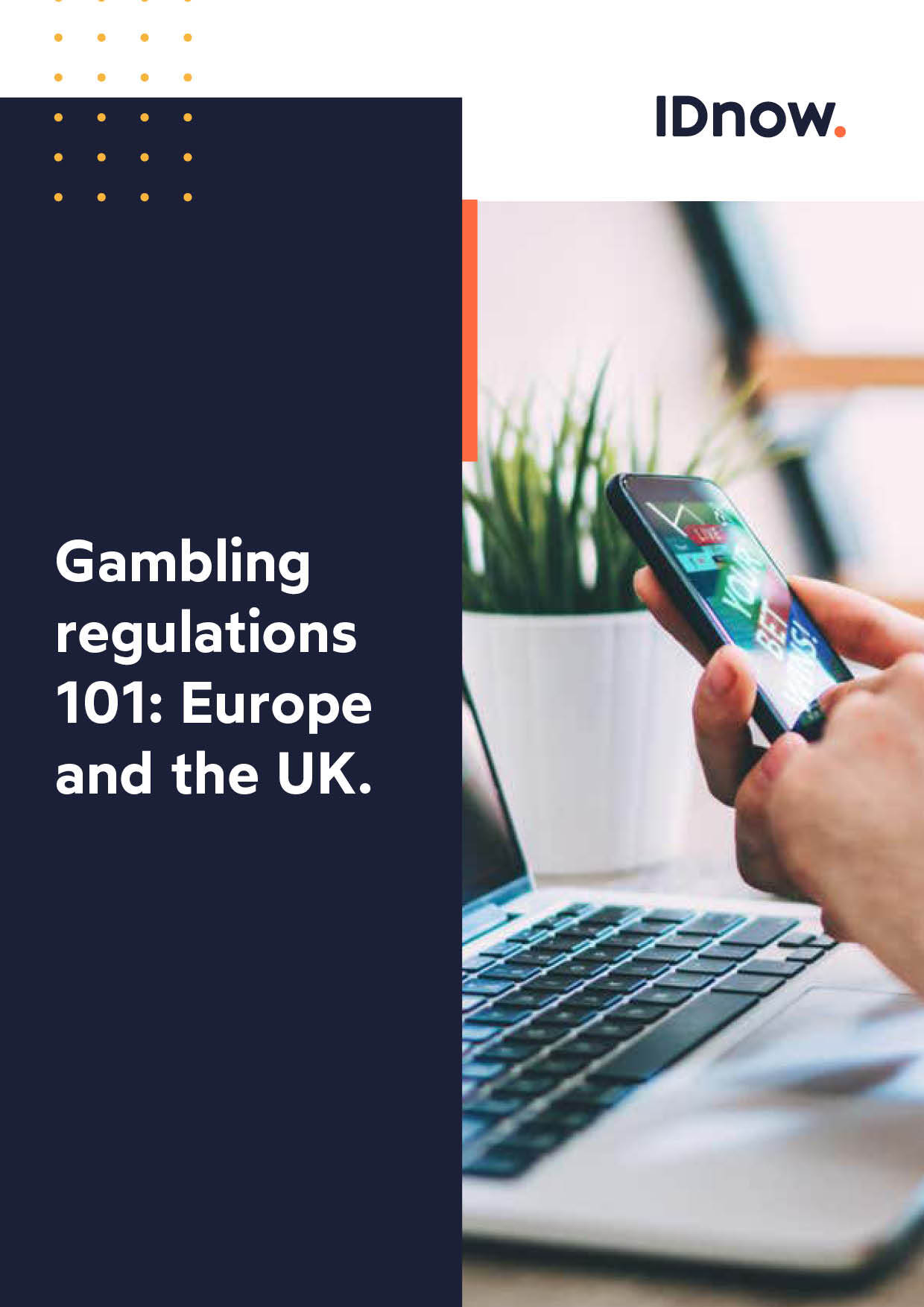 The opportunities that lie ahead.
Banks encounter significant challenges when collaborating with gambling operators due to the elevated levels of risk and potential for fraud. One of the key challenges is to navigate complex regulatory requirements and AML laws that apply to gambling activities. The cash-intensive nature of the gambling industry further exacerbates the risk, as large financial transactions only increase the potential for illicit funds to be circulated. Understandably, therefore, banks are far more reticent to work with gambling operators, as they represent a higher risk. But there is still value in collaboration, or as mentioned, at least being aware of what is happening in the other industry.
Between credit card fraud, bonus abuse, price scraping or account takeover, gambling platforms are often at the forefront of fraud trends, and how best to counter them. Additionally, the gambling industry's ability to deal with multiple means of payments (33 different types in 2018 alone for EGBA members) just goes to show how expansive their experience is in tackling online payment fraud.
Finally, it is no secret that gambling operators are leaders in cultivating customer engagement. Many utilize the latest technology and data analytics to provide seamless, personalized customer journeys, enhance the user experience and retain players. Both fintechs and traditional banks should learn from gambling operators and take similar steps to improve the customer experience by meeting and even exceeding customer expectations.
United we stand.
While the regulatory framework may bear a heavier weight on financial services than gambling operators, the latter can certainly learn from the best controls and monitoring practices of the former.
To protect against fraud and money laundering, collaboration is a must. As most fraudsters tend to work across multiple industries and targets at any one time, banking and gambling operators can benefit greatly from exchanging information and best practices. For example, by providing feedback on fraud detection systems, secure payment processing or even staff training.
Professional associations, such as EGBA or Association of Certified Examiner, are two legitimate places to collaborate and exchange. More informal channels like forums or event panels are other valuable channels to gain intelligence on the latest fraud techniques and money laundering trends, and the best ways of identifying criminal and suspicious activities.
One platform for multiple industries.
IDnow provides the most powerful, configurable, and secure platform for identity proofing. IDnow's highly configurable platform for identity proofing works across multiple regulations, use cases, and industries, including financial services, and gambling.
Whether automated or expert-assisted, online or point-of-sale, our identity-proofing methods have been optimized to meet the strictest security standards and regulatory requirements without compromising on customer conversions or the consumer experience.
By

Roger Redfearn-Tyrzyk
VP Global Gaming at IDnow
Connect with Roger on LinkedIn