What is the Canadian Gaming Association?
The Canadian Gaming Association (CGA) is a trade association representing operators and suppliers in the gaming, sports betting, esports, and lottery industries in Canada.
It was founded in 2005 and dubs itself as a voice representing the gaming industry within Canada. CGA is currently made of a board of directors of 20 people, led by president Paul Burns.
There are currently 47 members in the Canadian Gaming Association, as well as five affiliate members. This includes some of the biggest gaming operators and suppliers in the world.
What does the Canadian Gaming Association do?
The Canadian Gaming Association (CGA) acts very much like a traditional trade association. It represents its members and the industry, with its official goal being: "to advance the evolution of Canada's gaming industry."
They aim to achieve this through three key pillars, as outlined on the CGA website:
Advocacy & Awareness
"To promote the economic value of gaming in Canada by revealing the industry's contributions to communities across the country."
This pillar focuses on elevating the CGA's profile and establishing the Association as the leading voice on issues of importance to the gaming community.
Define advocacy priorities through consultation with stakeholders and continue to strengthen relationships with regulators
Continue to strengthen relationships with key federal government stakeholders
Act as a resource to the industry in its advocacy efforts
Be the trusted source for information on Gaming in Canada and increase public acceptance of gaming
Proactively furnish the industry with relevant and up-to-date information
Research & Innovation
"To support the evolution of the Canadian gaming industry through research, innovation and sharing of best practices."
The CGA is aware that helping the industry evolve will require supporting new research and innovation. Supporting research and innovation can lead to both product innovations and process improvements.
Coordinate national training, education courses and programs
Identify and share emerging, nationally-relevant issues and opportunities of the gaming industry
Gather and requisition new research that shows the value of gaming
Stimulate innovation in the gaming industry by creating opportunities to showcase, promote and advance new products and ideas, both in Canada and worldwide
Create, manage and make accessible a repository of industry-relevant data
Dialogue & Convening
"To create productive dialogue among industry stakeholders that optimizes the potential of the industry."
Creating and maintaining open lines of communication between all industry stakeholders is paramount in growing the industry and increasing its public acceptance.
Develop a long-term strategy for the Canadian Gaming Summit
Create forums for regular dialogue among regulators, operators, manufacturers, and other stakeholders
Create a consultation agenda to drive meaningful and consistent stakeholder engagement
The CGA is also currently playing a key role in the Canadian iGaming market, aiming to aid the wide adoption of gambling in the country following the passing of C-218, which overturned the prohibition on single-game betting in the country.
In addition to this, they also offer the Canadian iGaming academy. This is a training solution for keeping businesses, employees, and customers safe online and in the world of gambling. Some topics include Anti-Money Laundering (AML), iGaming basics, responsible gaming, and many others.
Why Ontario's iGaming model will be an industry game changer
Learn in our ebook how IDnow can help tackle Ontario's complex iGaming market.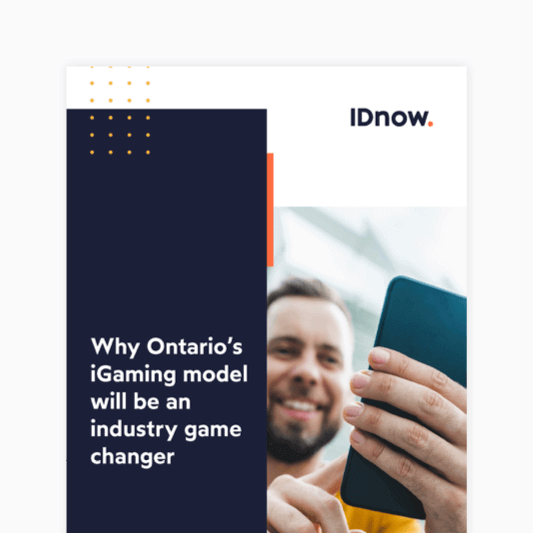 What is bill C-218 Canada?
Canadian Gaming Association Bill C-218 is a Canadian federal bill that was introduced in March 2021. If passed, the bill would ratify the Canadian Gaming Association's (CGA) Responsible Gambling Framework Agreement and ensure that the Canadian gaming industry adopts best practices in responsible gambling.
The CGA's Responsible Gambling Framework Agreement includes a set of industry-wide standards and guidelines that aim to protect Canadian consumers and prevent problem gambling. Therefore, the Canadian Gaming Association Bill C-218 aims at ensuring that the Canadian gaming industry adopts best practices in responsible gambling, which would benefit both the industry and Canadian consumers.
What are the main developments in Canadian gaming?
The Canadian gaming industry has seen a number of developments in recent years. One of the most significant is the increased use of mobile gaming platforms. Canadians are now able to play their favorite casino games on their smartphones and tablets, with many operators offering dedicated apps for iOS and Android devices. This has made it easier than ever for players to enjoy gaming on the go. Another development is the growth of live dealer games. These offer a more immersive and realistic gaming experience, with players able to interact with the dealer and other players in real-time. Additionally to these trends, there has also been an increase in the number of new online casinos launching in Canada. This has created more choices for players, with each operator offering different bonuses and promotions.
How to become a Canadian Gaming Association member
There are a few steps that any organization needs to take in order to become a CGA member. The full details, along with an application, are outlined on the official members page. However, generally, you will need to acknowledge and agree to follow the CGA code of conduct, then fill in an application, based on your business.
There are different applications for operators and suppliers, all of these require both filling out an application, as well as paying an annual fee, which can range anywhere from $2,500 to $50,000 (CAD) depending on size and type of business.
Read more in our article: Becoming Compliant in Ontario's iGaming Market