We examine France's new electronic national identity card (carte nationale d'identité) and why it will be integral in the country's future KYC efforts.
Most countries around the world issue compulsory identity cards (whether paper or digital) and require them to be carried when in public; to not do so could result in fines, or other forms of punishment. In Sweden, for example, if a suspect is unable to produce their ID card, they could be arrested for identity fraud.
Other countries have a more laissez faire attitude to identity cards, and only issue them when requested. Countries like Demark, Austria, Barbados, and Mexico have adopted this system.
Countries without a national identity card system include Canada, Australia, Samoa, Libya, and, of course, the UK. Citizens of these countries will tend to use either driving licenses or passports to verify their identity.
Going digital. Which countries have digital IDs?
There are currently 2.5 billion people around the world with digital IDs, but that figure is expected to reach 4 billion by 2026. India lays claim to the world's largest biometric ID system, Aadhaar, which is used by 99% of Indian adults (1.3 billion people) for tasks like opening bank accounts and obtaining SIM cards.
One of the first European countries to fully embrace digital identity verification was Estonia. In fact, E-ID and its digital signature service was launched over 20 years ago, in 2002. Use cases include e-prescriptions, and i-voting, which is used by approximately 33% of Estonians, wherever they are, to cast votes.
In Italy, traditional methods of identity verification are gradually being phased out and replaced with the Public Digital Identity System (SPID). If an Italian citizen wants to access a range of public services, including registering their child for school, then they now need to do so digitally, via SPID.
In 2021, France revamped its national identity card (carte nationale d'identité), and released an electronic ID-1 card bearing a photograph, name and address, with the hopes that the new card will help in the fight against fraud and identity theft.
Why is the fight against document fraud a necessity?
In the banking and government sectors, there is a very high risk of document fraud, especially when opening accounts remotely. According to France's Minister Delegate to the Minister of the Interior, in charge of Citizenship, Marlene Schiappa, more than 33,000 French people fall victim to identity theft every year.
In 2019, identity fraud accounted for nearly 45,000 complaints made to police, representing 1.19% of the total number of offenses recorded over the year. The proliferation of online services has created a new market for fraudsters whose techniques are constantly evolving, and include Fake Identity Fraud, Romance Fraud, and Similarity Fraud.
In addition to being distressful for individuals, the damage caused by document fraud in France is now estimated at over €20 billion. Such financial crime can have catastrophic repercussions on businesses, customers, and, of course, the country.
It is the role of the company to protect its customers against document fraud, and protect itself against financial loss and repetitional damage. This requires a reliable and secure identity verification solution that is integrated into the customer onboarding process.
France's new national identity card is a huge step when compared to its predecessor, which was susceptible to forgery. The new document has certain specifications and components that make it much more difficult to forge, but which ones?
New French identity card: what's new?
The new French national identity card is the size of a credit card, and features many advances in terms of fraud protection.
For example, the card features two fingerprints and a photograph of its holder in a secure chip, which will effectively combat identity theft.
It also includes a cryptogram and a 2D-Doc (Visible digital seal), which is a two-dimensional barcode containing key information (name, gender, identity number, nationality).
This information is secured by an electronic signature, which guarantees the identification of the holder and the integrity of the data. Our Smartstamp solution, invented in 2011 by ARIADNEXT by IDnow and the ANTS (Agence Nationale des Titres Sécurisés), effectively combats document fraud by securing sensitive data and key information on the document at the source.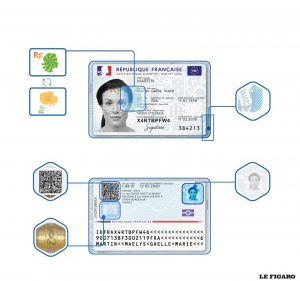 How will the electronic ID card contribute to a more reliable KYC process?
In addition to the usual checks performed via OCR (optical character recognition), the new electronic ID card is able to be securely scanned by all solutions that offer remote Near Field Communication (NFC) reading. NFC is a contactless technology that enables data exchange between two compatible devices. Providers equipped with a 2D barcode reader will also be able to verify identity documents remotely to ensure information is intact and the document has not been altered.
Read more about the UK government's recent fraud strategy, and the responsibility that operators bear in our 'UK declares war on fraud, calls on technology giants to join the fight.' blog.
Identity crisis? The future of digital IDs in the UK.
Download to discover all about the past, present and likely future usage of digital IDs.
Get your free copy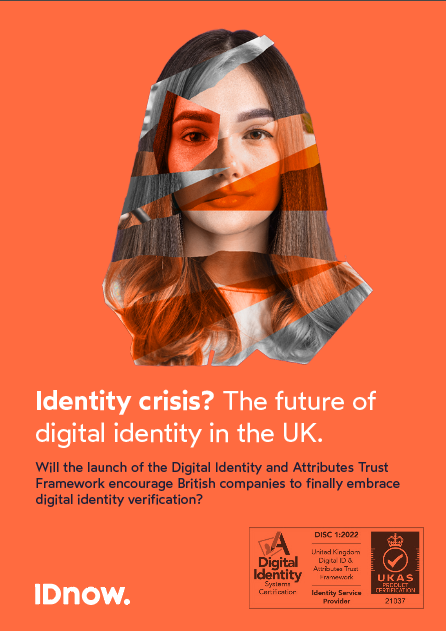 By

Rayissa Armata
Senior Head of Regulatory Affairs at IDnow
Connect with Rayissa on LinkedIn