Like with many industries, digitization has a big influence on the mobility sector. The demand for digital services has grown rapidly in the last years.
Modern digital solutions grant users a great deal of flexibility and comfort. The primary focus is usually on time-saving and user experience. Plus, as lives get back to normal with people now working either fully from home or in a hybrid model, mobility trends and the types of mobility transportation have become versatile.
Traveling for instance has become much easier for people who don't own a car – which is a significant trend in urban areas. Services like Car Sharing, Ride-Hailing, or Car Subscriptions have become more and more popular in the last years. A study from McKinsey expects the annual growth rate for shared-mobility solutions to exceed 20 percent through 2030. With this prediction, the way in which mobility is seen, used, and offered will change and requirements will need to be met. Aspects such as flexibility, price, convenience, and sustainability must be incorporated in order to stay relevant and competitive, especially the convenient part. But what options are out there?
What are the types of mobility transportation?
Micro-mobility: Increasing in popularity over the years, micro-mobility includes all small vehicles used by an individual such as a bike, e-bike, e-scooter, moped, etc. It is a very practical solution for those that don't have a far commute or reside in large cities where smaller modes of transportation are easier and more convenient.
Car-sharing/car-hailing: A somewhat newer phenomena for getting around is a concept known as car-sharing/car-hailing. Easily book a car for a short period of time or order a ride to take you where you need to go. This type of traveling is better when the distances are greater between destinations and is just as accessible as micro-mobility.
MaaS:
When it comes to MaaS, one has to think bigger in terms of transportation, but in a way that makes life more convenient. MaaS combines all types of transportation, including the two listed above, and provides users the ability of seeing and choosing the best mode of transport for them without having to visit multiple apps. Look at it as a one-stop traveling shop.
Learn more in our Mobility as a Service and Digital Identity—a partnership blog.
Shared-mobility and how it drives convenient mobility
The above types of mobility transportation are changing the way of how we get from A to B, due to the fact that there isn't a need to personally own a vehicle. Shared mobility instead takes the wheel. But how does shared mobility drive convenient mobility?
Home Office. With the majority of people having switched to home office or a hybrid working model, there is no longer the necessity to own a personal vehicle. Why waste time and money on something that you don't need every day? Car-sharing or car-hailing becomes more practical and is as simple as a click on your smartphone.
Time. As people's schedules and timetables have changed the past couple of years, there's less of a demand for constant or immediate transportation. Instead, multiple transportation options with regards to shared mobility, which can be seen in MaaS, are available anytime and anywhere.
Sustainable. When comparing micro-mobility and car-sharing/hailing to other forms of transportation, these two modes of transport are far more eco-friendly. Many of the smaller vehicles are sustainable and there are even options for electric vehicles. The future of mobility is greener by reducing emissions with the help of these rising trends.
Cheaper. When considering the costs of owning a personal vehicle, around half of the people underestimate the total amount. Car ownership is not to be taken lightly, as unexpected costs can arise. Both car-sharing/hailing and micro-mobility offer a less expensive option based on traveling needs.
Flexible. When owning your own vehicle, there aren't many options for switching to a different model and trying something new. However, with micro-mobility and car-sharing, the choice is yours whenever you want. The options are there to fit your lifestyle and not the other way around.
But as mobility becomes more convenient for people, what exactly are the rising trends in convenient mobility?
Up-and-coming trends
Autonomous driving:
With more and more companies and individuals talking about self-driving cars, it's only a matter of time before we start seeing autonomous vehicles become the norm. Possibly even as a taxi service. Optimists in the industry even think that by 2030 autonomous vehicles will be sufficiently reliable, affordable and common to displace most human driving.
But perhaps first teledriving is the next step in that direction. A Germany-based company is testing out teledriving where people can order a vehicle and it will come to you without a driver in the car, but instead a teledriver that is in command of the vehicle in a remote location. However, once it arrives, the customer can then take over driving until they get to their desired location. The teledriver would then take back command instead of the customer having to look for a parking spot.
Autonomous driving, therefore, is not to be overlooked when it comes to mobility of the future and convenient mobility. Similar to ride-hailing, customers could tentatively order teledriving vehicles or autonomous vehicles in the future.
Electric vehicles:
Along with autonomous driving comes the increasing importance and interest in achieving a more sustainable environment and lifestyle. As such, electric vehicles are seeing an increase in demand with almost half of European new-car sales expected to be battery electric vehicles by 2030. Even the teledriving cars are electric and environmentally friendly.
As a result, mobility will be geared towards sustainability while also being convenient since operating costs are lowered, emissions are reduced and maintenance needs are lowered.
Mobility on Demand (MOD):
Transportation over the years has become more about how fast and easy a person can get to where they need to be. In consequence, the term Mobility on Demand was developed. Mobility on Demand basically encompasses the movement of people, and also goods, on demand. What people want is delivered to them simply by hailing a vehicle or grabbing an escooter. Therefore, with trends such as autonomous driving and electric vehicles becoming more common, they will assist in making Mobility on Demand safer, convenient and more efficient.
Plus, when paired with MaaS, convenient mobility reigns supreme. But keep in mind that MaaS is not to be confused with MOD as MaaS clusters all mobility services together and provides subscriptions so people can have their mobility on demand.
However, all those mobility transportation services as well as up and coming trends require a secure and fast identity verification process to guarantee the user is of legal age and allowed to drive while guaranteeing a perfect user experience.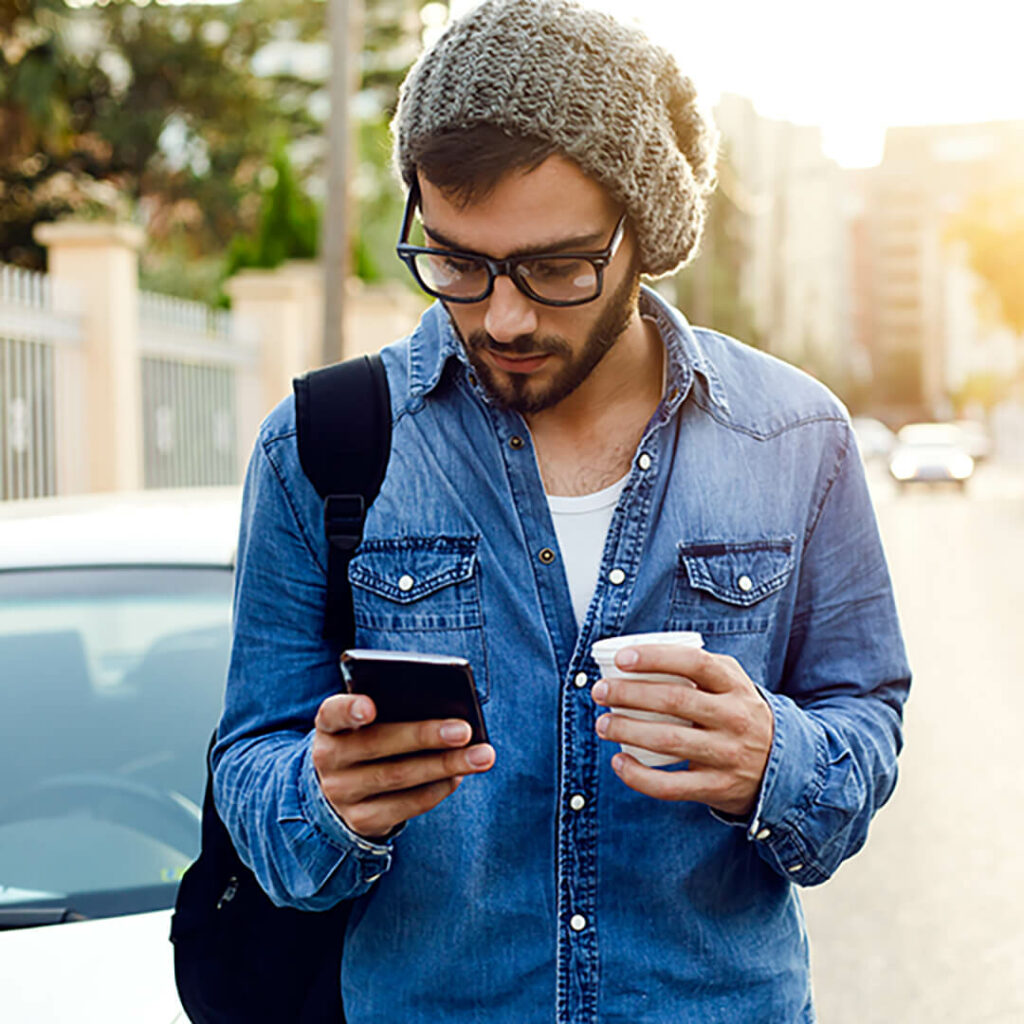 Convenience through security
As mobility becomes more flexible and diverse, security plays a major role in leading the future of mobility. Companies and consumers want to know they can trust one another because safety is everyone's concern. End users of these services are not only looking for convenience, but also secure mobility options. They need to trust that they are getting exactly what they are looking for in a transportation service.
In return, mobility providers want to deliver on that because they know that the more convenient and secure their service is the higher the conversion rate. Therefore, security is a two-way street for both the consumers and the companies because when convenience is met by providing a secure and reliable service, conversion rates rise.
How ID Verification can assist in convenient mobility
When automated ID verification is integrated into the onboarding process it increases the confidence of users in using a certain mobility provider. Onboarding feels safe, robust, straightforward, and convenient for consumers while also being flexible to the services through easy integration into a mobility app with different languages in the interface. To start the onboarding process, users need only to identify themselves, verify their driving license and age.
IDnow is there to assist in this endeavor with products such as AutoIdent or AutoIdent with e-sign add-on all while leveraging technologies such as NFC. With an onboarding process of only a couple of minutes, consumers have the convenience they are searching for, while companies meet KYC needs. Trust is our top priority and we wouldn't have it any other way.
Why convenience and security should be at the top of your priority list
Not only have we mentioned that the right balance of convenience and security will increase your conversion rates, but it will give you a step-up from your competitors. Because users are looking for these two main aspects in a mobility service, if you don't provide it, or aren't fast enough, they will easily find the next scooter or car that does provide what they are looking for. Looking ahead gives you the benefit of knowing what consumers want and need, and they will thank you for it by choosing you every time.
By

Florian Solleder
Senior Sales Manager Mobility & Travel
Connect with Florian on LinkedIn
Mobility Guide
Identity verification for the new driver experience.
Learn how AI-based ID verification contributes to a perfect user experience and helps drives convenient mobility into the future.
Read now