What is eKYC, and what solutions offer the best user experience in Europe?
The European digital banking revolution has ushered in a new way for banks and fintechs to acquire customers, and create superior end-to-end user journeys. As digital experiences have managed to remove many of the customer pain points associated with sending, saving, and investing money, customers have quickly become accustomed to frictionless digital banking journeys. In addition to maintaining a frictionless customer experience when it comes to KYC, banks and fintechs must also adhere to and navigate the sometimes disparate national and EU AML regulations while using technologies that fit within their tech stack. Fortunately, several eKYC solutions, such as AI-based identity verification, and agent-based identity verification, offer a superior user experience, adhere to regulation, and utilize future-proof technologies. For more information on the benefits of eKYC, read our 'Why the future of KYC belongs to eKYC' blog.
eKYC in Europe: What to consider.
There are numerous considerations to take into account when assessing KYC in Europe. The first: regulation, is perhaps the most important. Banks and fintechs are required to focus on KYC regulations at both a national and EU level. At the EU level, banks and fintechs must adhere to AMLD5 and AMLD6, but at national level AML requirements vary greatly. For example, in the UK, banks and fintechs can use automated solutions to perform eKYC, but in Germany, the regulator (BAFiN) requires a video-based solution for eKYC.
AMLD5 came into force in the EU in 2018, and required all EU member states to transcribe the directive into their own legislation by 2020. The directive aimed at expanding the scope of AML requirements, while streamlining AML procedures across member states.
Another core consideration is if the customer already has an existing banking relationship. Customers applying for their first financial product in a country are often required to visit a branch. However, customers who have an existing banking relationship tend to be able to access quicker onboarding services, such as MobileID in Sweden or ID confirmation via bank account number in Spain.
What is eKYC in the UK?
Although each country has their own processes, rules, requirements and regulations, the UK government suggests five steps to check identities:
Gather evidence of claimed identity
This can be digital evidence, such as information from a personal data store, or physical evidence like a passport, or driving license.

Check evidence is genuine or valid
If digital, check cryptographic security features. If physical, check the physical features of a PASS card (a cheaper form of ID used predominantly by teenagers to prove name and age).

Check claimed identity has existed over time
Also known as an 'active history check' to ensure the identity is not synthetic or belongs to someone who's died. This can be credit card transactions or gas or electricity account payments.

Check if claimed identity is at high risk of identity fraud
Check details with authoritative, or national counter-fraud data sources.

Check that the identity belongs to the person who's claiming it
Like with the other four steps, there are different strengths (or scores) of verification checks. The weakest is knowledge-based verification, where applicants are, for example, asked to submit a free text response and enter a previously agreed-upon answer.

The strongest identity verification check is biometric-based authentication of documents that feature electronic chips. This may involve cross-referencing an authorized and approved form of ID with a selfie, or live video recording. The most secure identity verification solutions have 'Liveness Detection', which makes use of sophisticated AI to determine whether it is interfacing with a physically present human being, or an inanimate spoof artifact. With this functionality, fraudsters using stolen photos, masks, or deep fake videos to access or create online accounts will be detected and stopped.
Identity crisis? The future of digital IDs in the UK.
Download to discover all about the UK's past, present and likely future usage of digital IDs.
Get your free copy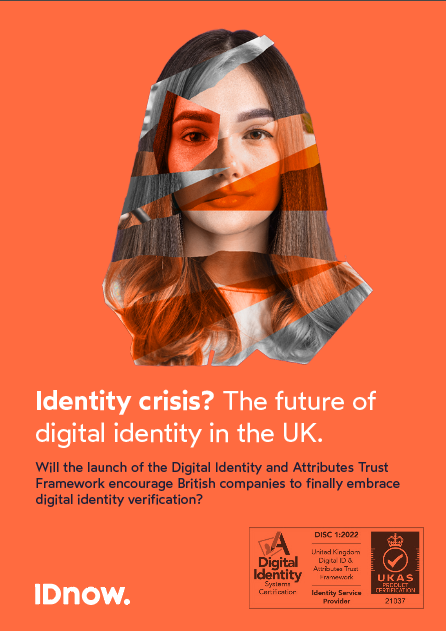 How can a bank or fintech offer a compliant eKYC user experience?
Understanding the many requirements of the customer experience is critical when assessing the most appropriate eKYC solution. A good user experience is characterized by several factors and attributes, such as efficiency, access to relevant help and support, error prevention, and consistency of experience. Within Europe, a number of eKYC options are available that not only adhere to local and regional regulations, but allow banks and fintechs to offer a superior onboarding user experience.
The most common type of eKYC in Germany is agent-based authentication. This type of authentication, either run in-house or via specialized eKYC companies, enables the applicant to speak to a qualified agent who completes the identity and document check. From a user experience perspective, it offers an incredibly high amount of convenience, as applicants are able to undertake the agent-based video call at a time that works for them.
AI-based identification often combines machine learning, AI, NFC, and biometric capabilities to provide a highly accurate and quick eKYC process. This type of identification is often the quickest to complete, and is a great solution for banks or fintechs already employing AI or data-driven products and experiences because it provides a consistent brand and usability experience.
Finding the right balance between UX & banking regulations.
The digital financial service space is growing more competitive by the day, and offering customers a seamless, innovative and relevant user experience is quickly becoming a hygiene factor. While designers and product owners may be inspired by the user experience of non-regulated tech companies, such as Spotify or Netflix, banks and fintechs must first ensure they abide by not only national, but regional regulation around AML. Historically, these requirements, specifically KYC and customer identification, have been a cumbersome, manual and time-consuming process, both in physical and digital onboarding, that disrupt an otherwise exceptional user experience.
However, eKYC options like AI-based verification and video verification offer seamless onboarding that strikes the perfect balance between UX and banking regulations. These solutions are a win-win-win; for the bank or fintech, for the customer, and for the financial services industry.
Read on in our next article on how to offer the best customer experience whilst maintaining security and trust.
By

Meaghan Johnson
CX & UX Consultant for fintech and digital banking
Connect with Meaghan on LinkedIn