While the global gambling industry holds its collective breath for the formal approval of Brazil's regulatory framework, we investigate what operators can expect from Brazil's upcoming gambling license structure…
Online gambling is already big business in Brazil, despite the absence of a fully regulated environment or licensing structure.
Surprisingly, while the industry awaits final regulatory approval on an online regulatory framework, Brazil still manages to generate over 20% of all global online gambling traffic.
Brazil's lack of online gaming and gambling regulations means Brazilian gamblers are either using foreign gambling platforms, or Brazilian-owned platforms headquartered abroad. It is for this reason that the Brazilian authorities have introduced new regulations to help the Brazilian gambling market capture what is viewed as lost revenue (a projected $1.5 billion in 2023) and bring it back into the Brazilian economy.
History of Brazilian gambling regulation.
Gambling has enjoyed a long-standing place in the heart of Brazilian culture. Until the early 1940s, games of chance, like rolling dice, was a popular activity in Brazil until the then President introduced a blanket ban. The belief is that this was driven by his and his wife's devout catholic views.
This remained in place until the 1970s, when state-owned lotteries were permitted to run. In the mid-1980s, betting on horseracing was allowed, and in 1993, the Zico Act legalized commercial bingo and slot machines. However, the 1998 Pele Act (no relation to the football star) revoked commercialized bingo, leaving only non-commercial games permissible.
The only game that has remained legal in the Brazilian gambling market is poker, which has always been regarded as a game of skill rather than chance. Even now, poker remains completely unregulated, however this is likely to change with upcoming regulations.
In 2015, alongside the passing of Law No. 13,155, virtual and land-based instant lotteries (sweepstakes) were created.
Discussions regarding the regulation of Brazilian sports betting regulations have been ongoing since 2018, when Congress authorized the federal government to regulate online sports betting. A four-year timeframe was set for the government to implement a licensing regime, which expired in 2022. It was then decided that the regulatory regime should go through Parliament as a legislative bill, not as an emergency measure by the Ministry of Finance.
Further steps toward legalizing and maintaining a safe regulation of gambling in Brazil began in March 2023, with the formation of Associação Brasileira de Defesa da Integridade do Esporte (ABRADIE). ABRADIE is a not-for-profit company founded and run by a wide range of sports and gambling legislation experts to provide a safe and secure environment for those partaking in online gambling in Brazil. The organization's mission is to ensure the new Brazilian gambling licensing structure protects all relevant parties from fraud and other nefarious practices that can run rampant through this particular industry.
The current legal framework.
The current legal framework regarding gambling laws in Brazil remains largely uncontrolled. The only legalized forms of gambling are through state-owned means such as lotteries, horse racing, or non-commercial bingo.
Under current Brazilian gaming jurisdiction, poker, fantasy sports betting, and games of skill are legal but have no governing regulatory bodies and therefore offer no protection from fraud or other activities.
In recent years, the increasing popularity of online gambling in Brazil has called into question the effectiveness and logic of the ban, as the existing laws did not cover the concept of online gambling.
In 2018, the first steps toward change were made when fixed-odds sports betting was legalized through state-controlled means, and in 2020, non-commercial bingo was legalized. Unlike games of chance, games of skill like Fantasy Sports betting are legal but completely unregulated. Games of chance remain entirely illegal. However, the Brazilian gambling licensing structure will undergo a significant overhaul, alongside proposed gambling laws, overseen by ABRADIE.
The road to regulation: Brazilian gambling licensing.
Brazilian gambling regulations will add security and governance, and also, of course, permit the formation of new domestic-based companies. In fact, one of the core factors driving the need for licensing is monetary. It is worth noting that Brazil's surge in online gambling has coincided with the decline of the Brazilian economy, which has dropped from being the world's 7th largest economy to the 13th in just over a decade.
By introducing gambling permits and online betting licenses in Brazil, the authorities aim to cash in on the immense tax revenue potential.
Online gambling in Brazil is expected to grow by around 20% by 2027. These optimistic projections reinforce the importance and need for online gambling regulations and licensing practices in Brazil.
Categories of gambling licenses in the Brazilian licensing structure.
There is not one specific government agency that is responsible for issuing gambling licenses in Brazil. For example, the Secretariat for Competition Advocacy regulates lotteries and bingo events, while the Ministry of Agriculture regulates horse racing events. The formation of ABRADIE is the first step toward a comprehensive regulatory system that includes a comprehensive Brazilian gambling licensing structure.
The Ministry of Finance and ABRADIE will develop and regulate a licensing structure pending the finalization of the gambling regulations. This new structure will enforce gambling compliance and protect the industry from fraud and other illegal activities.
Eligibility and application process for Brazilian gambling licenses.
As there are currently no gambling licenses available in Brazil , there is no established eligibility criteria or application process. While the much-anticipated changes to the current laws will undoubtedly usher in new standards and application processes, nothing has been disclosed to hint at how this will work.
Compliance and regulatory standards.
A major challenge in opening up the Brazilian market to legalized gambling is to ensure the correct levels of compliance and protection are in place to keep everybody involved safe. While there are no such regulatory standards, the proposed Brazilian gambling licensing structure will be spearheaded by ABRADIE.
The key to establishing satisfactory regulatory compliance for Brazilian gambling will be to ensure that stringent fraud and anti-money laundering measures are in place. A vital part of this will be establishing strict and well-monitored checks for fraud protection and identity proofing.
Fees, taxation and revenue allocation.
While the Brazilian authorities currently enforce no taxation or revenue allocation requirements, the increasing likelihood of legislation changes has given rise to discussions on  taxation rates. These discussions are being led by the IBJR (Brazil Institute for Responsible Gaming) who are calling for negotiations over the proposed high tax and license rates.
Below is the current proposed structure for licensed gambling operators by the Brazilian authorities.
The rumored cost to obtain a gambling license will be BR$30 million (US$6.1 million) per operator for three years, and then it will need to be renewed. Operators that wish to qualify for a Brazilian gambling license must be headquartered in Brazil and have a minimum capital of BR$100,000 (US$20,000) At this time, there is no further information on whether there will be different tiers of license, depending on the different online gambling offerings.
Operators within the online gambling sector will be taxed at 18% of Gross Gaming Revenue (GGR), of which 10% will go directly into Brazil's social security budget. A sub-fund will be set up as part of the National Fund for Public Security, which will receive 2.55% of the total tax revenue. This fund will ensure correct and effective measures are set up to combat money laundering, match-fixing, and other illegal activities that could threaten those working in the Brazil gambling market.
For players, a proposed tax levy of 30% will be placed on any winnings over BR$2,112 (US$430).
Challenges and controversies.
Changing a country's gambling laws and introducing new regulations for an already multi-billion dollar industry is understandably not without challenges, concerns, and controversies.
One of the core concerns is the social impact of introducing a regulated Brazilian gambling licensing structure. The safety of players should be paramount to the Brazilian authorities. While legalizing gambling will open up the sector to increased numbers of operators and customers, it will also result in increased risk of fraud, match-fixing, and other fraudulent activities that could cause irreparable harm. Ensuring due attention is paid to creating and enforcing safety rules, and responsible gambling measures must come first and foremost in operators' plans.
The economic boost created by gambling legislation in Brazil is understandably appealing for new and old operators alike. However, in the race to become licensed, it is important to strike a balance between maximizing profitability and ensuring the safety of all parties.
Gambling regulations 101: Europe and the UK.
Interested in expansion? Discover how gaming operators can keep pace with the ever-growing multi-jurisdictional landscape in Europe and beyond.
Get your free copy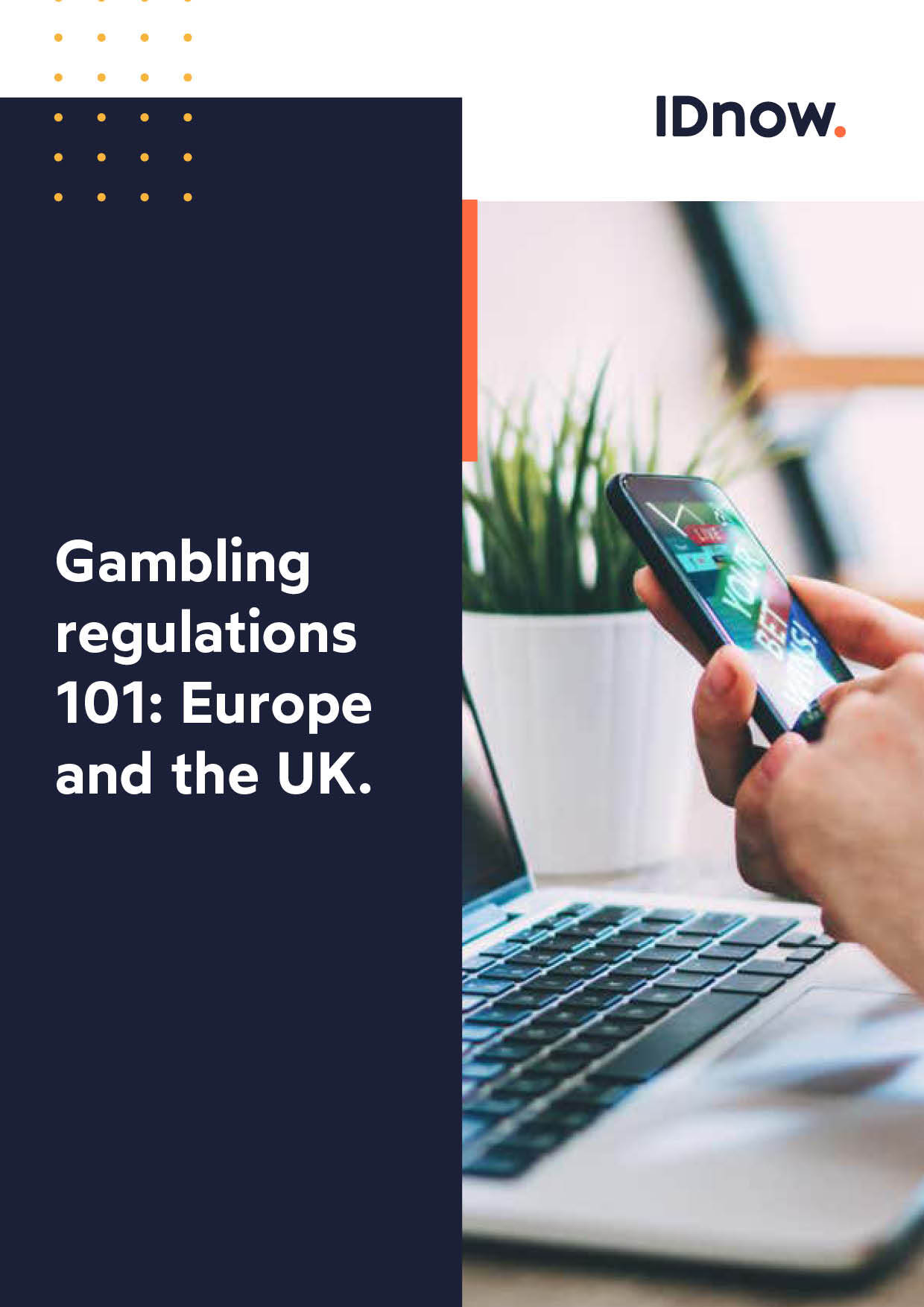 Successful gambling licensing models.
To introduce a successful gambling licensing model, the Brazilian authorities would be well served to study and learn from the experiences of other markets, such as Ontario or Malta, as well as the International Association of Gaming Regulators (IAGR). The IAGR consists of representatives from gaming regulatory organizations throughout the world, including ABRADIE, which meet and exchange knowledge on best regulatory gaming practices.
The UKGC gambling licensing structure [which is also going through major revisions to bring it up-to-date with the online gambling era] provides a fantastic framework for successful licensing regulation and is a good case study for the Brazilian gambling licensing process. A clearly defined application process is crucial, as ensuring the correct level of information is provided for acceptance and ongoing protection creates a bubble of safety that encourages growth and attracts new business.
Read more about the process for obtaining a UK gambling license here.
Technological advancements and future legislation.
With the rapid advancement of technology and the global expansion of online gambling, the future presents both lucrative opportunities and dangerous pitfalls. It is therefore essential to establish clear licensing structures that address emerging risks, ensure user safety, and prevent system abuse.
The rise in online gambling in Brazil began amidst the COVID-19 pandemic and has caused a groundswell pointing toward highly sustainable growth for the foreseeable future. Early predictions show expected growth from $2.1 billion to £2.6 billion by 2026. Of course, the forecast is based on the current landscape, which has no comprehensive regulatory framework. By introducing a well-managed legislation and licensing structure, the future of gambling in Brazil is even brighter, and would significantly boost its dwindling economy.
The proposed changes and introduction of a Brazilian gambling licensing structure will see gambling legalized and regulated for the first time since the 1940s. This will open up a world of possibilities for the emergence of new Brazilian-based gambling companies. The market would become instantly more accessible while also bringing a level of safety to all involved.
Online gambling is huge in Brazil, with 86,43% of sports fans admitting to using online betting services. The current lack of active legislation and licensing for gambling in Brazil means other countries benefit from Brazil's keen interest in the iGaming market. Although the potential impact of Brazil formally and legally entering the gambling market will benefit the iGaming industry on a global scale, it will likely impact the markets of the individual countries' and gambling jurisdictions who are currently collecting Brazilian online gambling traffic.
Navigating the complex web of Brazilian gambling licensing.
Creating a Brazilian gambling license structure is no small task. Identity proofing and fraud protection will become two areas that are paramount in propping up and ensuring the new licensing structure survives in the Brazilian economy.
With IDnow, you can rest assured that our highly configurable platform works across multiple regulations, industries and use cases. Our advanced identity proofing features like Proof of Address, Cadastro de Pessoa Física (CPF) validation, and Anti-Money Laundering (AML) checks ensures Brazilian gambling operators can offer a safer and more secure gaming experience. Read more about our Brazil-ready identity verification services.
Brazilian gambling license FAQs.
What types of gambling activities are allowed under the Brazilian licensing structure?
The only forms of permitted gambling under the Brazilian licensing structure are state-owned, such as lotteries and horse racing. No non-state-driven operators are allowed to be active in Brazil. However, changes are in the works, with a finalized plan to issue gambling licenses in Brazil going through a final ratification process. This will see the introduction of purchasable gambling licenses and the revocation of a law in place since the early 1940s.
How does Brazil's taxation system for gambling operators work
The Brazilian taxation system for gambling operators works by taxing operators approximately 18% of their GGR. This taxation will be spread across several government funds, primarily the Social Security budget, with an additional portion being appropriated to help track and prevent fraud and other illegal activities within the newly regulated space.
What responsible gambling measures are in place to address gambling addiction?
Under the final gambling regulation drafts, all gambling or iGaming operators in Brazil must point out the dangers of gambling addiction. Additionally, those currently listed as under the control of credit protection agencies or those with a poor credit rating are still prohibited from gambling through Brazilian-based iGaming companies. 
An extensive campaign stresses the importance of self-control and responsibility when gambling to prevent people from getting into trouble.
Are foreign entities eligible to apply for gambling licenses in Brazil?
Yes, under the current proposal, foreign entities are eligible to apply for gambling licenses in Brazil. Under the new proposals for gambling permits in Brazil, both foreign and national operators will need to meet the same set of requirements that will be scrutinized by the Finance Ministry.
Does Brazil allow gambling?
For more than seven decades, Brazil has maintained a strict prohibition on the vast majority of gambling pursuits. Since the sweeping decree of 1941 that outlawed games of chance, the nation has permitted only two legal forms of gambling: state-controlled lotteries and wagering on horse racing events. To date, Games of chance remain entirely illegal. Nonetheless, the Brazilian gambling licensing framework is poised for a substantial transformation, aligning with impending gambling legislation and overseen by ABRADIE.
What is the legal gambling age in Brazil?
The Brazilian Civil Code classifies bets as contractual agreements, hence permitting only individuals aged 18 and older to engage in legal gambling activities.

Roger Redfearn-Tyrzyk
VP Global Gaming at IDnow
Connect with Roger on LinkedIn