Release of official counter fraud guidelines signals another step in the right direction toward fraud prevention in the UK.
Following hot on the heels of May's fraud strategy paper, the UK government has released official counter fraud guidelines to tackle the scourge of fraud in the UK, which currently amounts to around £3 billion in losses per year.
The 'Government Counter Fraud Profession – Fraud Prevention Standard for Counter Fraud Professionals' paper is billed as a resource for counter fraud specialists to refresh their knowledge and plug any gaps in their capability.
Writing on LinkedIn, Mark Cheeseman, Chief Executive of the Public Sector Fraud Authority said:
"This is the latest milestone in over a year's work with experts from across sectors and countries to codify the knowledge, skills and experience for fraud prevention professionals.
Those who commit fraud are continually evolving and developing their capability to be successful. If we want to have a bigger impact, we need to systematically build our own capability – building from the hard-won experiences of those who have, and are, taking action on fraud."
What is in the 'Government Counter Fraud Profession – Fraud Prevention Standard for Counter Fraud Professionals' paper?
The 80-page document features comprehensive information on the Competency Framework (outlining the knowledge, skills and experience required by those undertaking fraud prevention), and guidance for professionals. Whether in the public or private sector, having a counter fraud culture is imperative to protect the business and its customers.
What are the benefits of an anti-fraud strategy?
The benefits of having fully trained counter fraud professionals in the private and public sector are numerous:
Reassures the public: Having a strategy and adequate tools and controls in place, alongside trained counter fraud professionals reassures the public that the services they use are safe and secure, and that the government or specific company is serious about protecting users.
Protects vulnerable members of the public: As fraud often has a disproportionate effect on the vulnerable (the old, the sick, the poor), it is this section of society that are either most dependent on government services like welfare or would feel the most acute impact from a loss of money.
Improves effectiveness of services: With a well thought out approach to safeguard against fraud, and a rigorous and robust identity verification service, you can ensure your users access the services or payments that only they are entitled to.
Optimize operations, increase speed of transactions: Taking a proactive, preventative approach to fraud by implementing AML and KYC measures saves money in the long run. Automated identity verification can increase the speed and security of transactions, while creating a safer environment.
What is a counter fraud professional?
A Counter Fraud Professional (CFP) is someone who focuses on fraud prevention, and who will work to implement proactive and preventative controls within their organization. A CFP will need a good working understanding of the different types of fraud, including document fraud, synthetic identity fraud, and embezzlement, as well as the causes and motivators of fraud. A chief part of the CFP role is also to collaborate with other invested stakeholders.
What are the 8 key steps for counter fraud professionals to follow?
The Competency Framework is comprised of eight key components, featuring the requisite knowledge, skills and experience required for CFPs to comply with. There are three different levels to attain: Trainee (developing introductory knowledge); Foundation (having the knowledge), and Practitioner (demonstrating the knowledge).

1. Counter fraud management:
Display understanding of why fraud is committed and the impact of fraud, alongside the correct reporting procedure.
2. Legislation:
Demonstrate knowledge of relevant legislation, including data protection.
3. Risk management:
Proficient in a range of risk management techniques, including determining priorities, using business process mapping and controls to mitigate fraud, and influence policy plans.
4. Business analysis:
Identify and use data in fraud prevention. For example, using analytical techniques and datasets.
5. Prevention methodologies:
Utilize a process specifically created to calculate prevented fraud figures, thereby encouraging innovation before controls are implemented.
6. Stakeholder engagement:
Engage with stakeholders to implement fraud prevention controls and foster collaborative processes and relationships.
7. Communications and deterrence:
Develop communications plan to convey deterrence messages.
8. Measurement, evaluation and review:
Conduct ongoing reviews of materials and methods to ensure effectiveness.
The value of technology and training in fraud prevention.
"At IDnow, we recognize the necessity of keeping up to date with the latest developments and techniques in fraud. We run regular training sessions and courses for our clients, and are proud to have helped forensic document examiners and fraud experts from police departments around the world, including the Republic of North Macedonia and Abu Dhabi."
Fraudsters have become smart, it's time to get smarter.
A successful counter fraud strategy is dependant on close collaboration between industry and government. Alignment between innovation and regulation will ensure a watertight approach to combating fraud, spanning services across the public and private sector.
IDnow's layered, strategic approach to fraud prevention and KYC combines cutting edge biometrics and liveness detection with comprehensive document and data checks to arm you with all the tools you need to fight fraud.
We put the power of identity back into the hands of businesses; helping to reduce friction for trusted users, preventing fraud, and detecting high-risk or anomalous behavior.
Check out our AI-enabled identity verification service, IDCheck.io for more information.
Check out our Fintech Spotlight Interview with ex-police officer Paul Stratton, on the limitations of the UK's fraud strategy.
By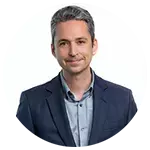 Jody Houton
Content Manager at IDnow
Connect with Jody on LinkedIn