IDnow BankIdent
Smooth AML-compliant identity verification with a simple bank transfer.
IDnow's fully-automated and AML-compliant customer onboarding for best conversion.
This fully AML-compliant, online identification solution leverages the existence of an online bank account of your users; it seamlessly blends state-of-the-art technologies with existing identity and banking data into an easy and secure identity verification service.
All it takes for the user is a valid ID document and an active bank account with the online login data. The user will make a money transfer, which will be reimbursed, and finishes the process with a confirmation—three easy steps.
BankIdent offers a tremendous opportunity for a simplified AML-onboarding process to optimize your conversion due to faster turnaround times and lower operational costs. Smart customization rules, such as automatic fallback routing to VideoIdent or eID in case of user problems also improve your conversion.
If you want to experience a safer connected world with this innovation, register here and join IDnow's Early Adopter program.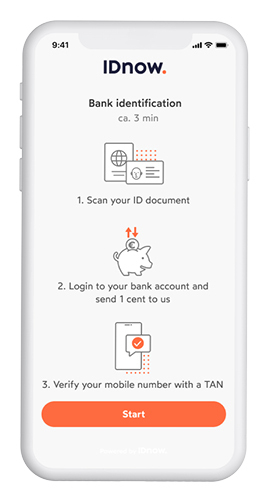 AML-compliant identity verification – fully-automated and available 24/7.
COMPLIANT.
Unique combination of existing bank account and ID document provides AML-compliant identity check (GwG §12, 3).
SECURE.
Support from licensed and certified trust and banking service providers, service is end-to-end encrypted and hosted in Germany.
ADVANCED.
Fully-automated AI and machine learning technology reads out and validates the user data.
EASY.
Guided step-by-step process: all that is needed are a valid ID document and bank account credentials.
Identification in three simple steps:
Enter data and take a picture of the ID document.
Login into your bank account and authorize and confirm a micro money transfer, which will be reimbursed.
Enter a TAN and complete the process.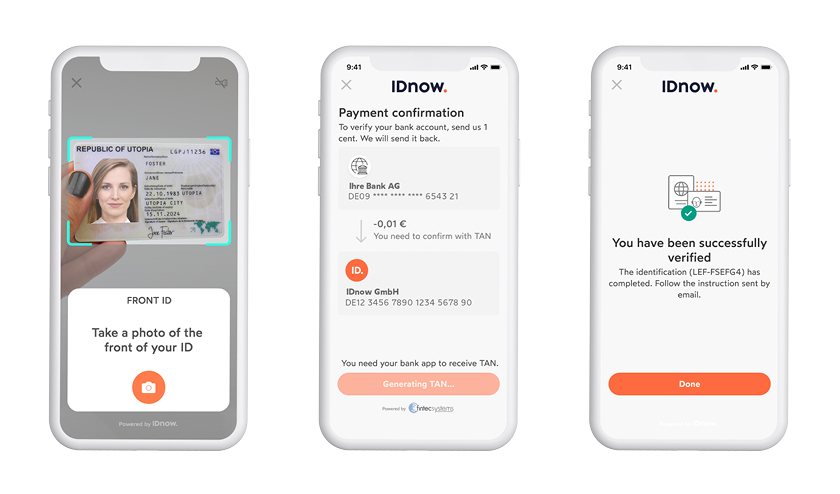 Quick Guide to AI-powered Identity Verification.
Learn the benefits of AI and machine learning technologies in fraud prevention.
Meet the IDnow identity verification platform.
The highly flexible IDnow platform is the answer for meeting all of your KYC identity verification needs. Everything is available on a single platform, from automated and video-based identity verification to eSigning solutions. You'll love it!