In the finance sector, there is an increasing number of Fintechs emerging alongside classic banks. In recent years, this has created competitive environments amongst them, as well as numerous partnerships. It is, above all, where established financial institutions and innovative Fintechs cooperate that many lucrative solutions emerge which meet customer expectations very specifically.
Usability
Your solutions or products should not only be available online but also on mobile. After all, transactions are nowadays increasingly finalised using mobiles.
We've taken this into account in the development of our products IDnow VideoIdent and IDnow eSign. They can be used both via the web and by iOS and Android app. Apart from outstanding usability, in the finance sector, regulatory factors are also of paramount importance.
Legally Compliant
Video Identification
Since the approval of video identification in compliance with the Money Laundering Act in Germany in 2014, many financial institutions and Fintechs have opted for this way of doing digital onboarding. It offers significant advantages for both banks and companies, as well as their customers. The appropriate solution for this is called IDnow VideoIdent. It has also been used in Switzerland since 1 March 2016 and in Austria since 3 January 2017.
eSigning
On 1 July 2016, the eIDAS EU regulation was introduced. Amongst other things, it regulates the qualified electronic signature (QES), which replaces manual signatures for digital contracts. The so-called eSigning process avoids media disruption since the electronic document no longer has to be printed out, signed and then sent by post. Moreover, the QES offers a high level of legal security. This naturally places a great deal of emphasis on the providers of such eSigning processes. They have to undergo strict quality controls beforehand and be certified by qualified auditors such as TÜViT. Thanks to eIDAS, qualified electronic signatures are recognised throughout the EU and have the same security standard in all Member States. This can be implemented with IDnow eSign.
A strong range of Customers

The perfect integration of video legitimation in our digital account opening process allows our new clients a genuine real-time experience.
Maren Heiß
Head of eCommerce for Private Banking at Commerzbank AG
Use Cases
All processes during which you have to identify your customers according to the BaFin (Federal Financial Supervisory Authority) can be carried out using the solution which is compliant with the Money Laundering Act: IDnow VideoIdent. If you wish to have contracts digitally signed which require a manual signature, IDnow eSign is the solution of choice. Please take note of the following examples.
Account Opening
If you would like to offer your customer a convenient way of opening an account via video chat, you must ensure that your solution covers all platforms that your customers use – from desktop to mobile, from Android to iOS. Your customers select the online account opening option using your app or your website. They are then taken directly to the video identification via our, or your, identity centre. After successful identification, the customer data will be transmitted to you immediately. Thereupon, the opening of the new account can immediately take place.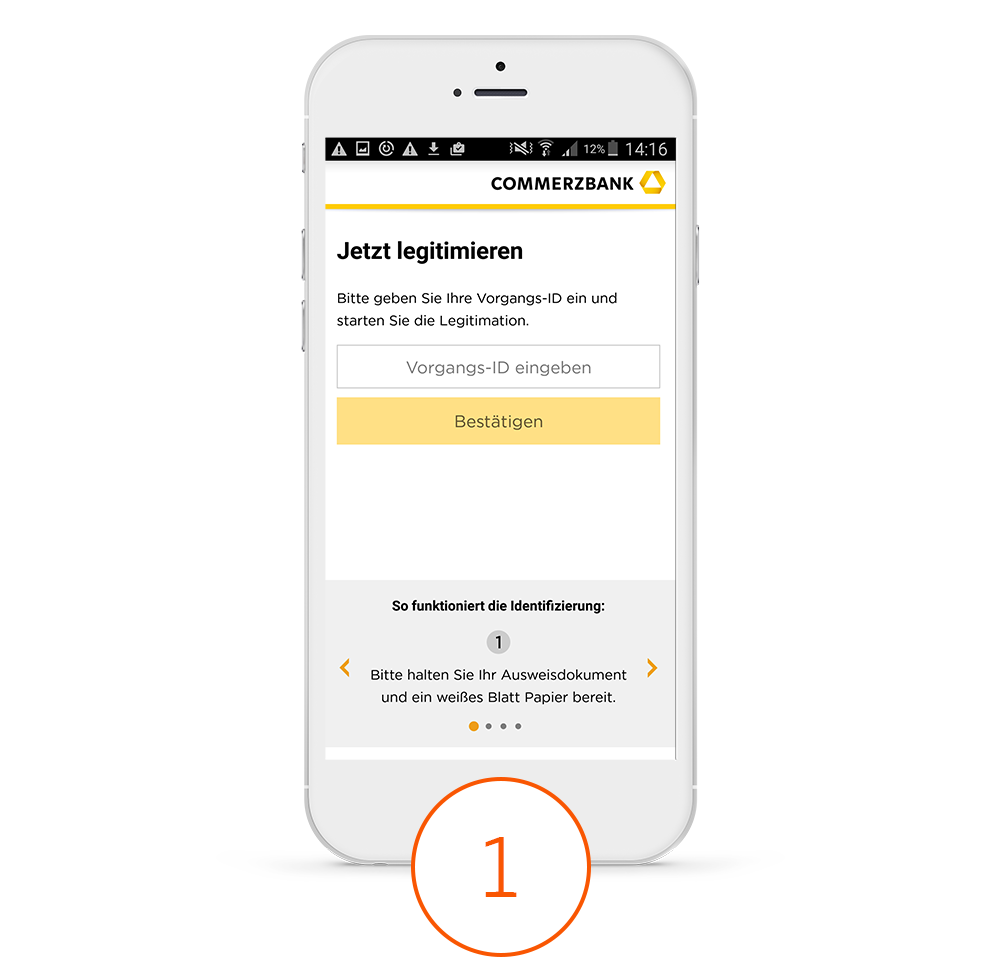 Product
Selection
The interested party selects a product on your website
Start of the IDnow process
Expert
Identification
The identity expert identifies interested parties using the IDnow software during a process in compliance with regulations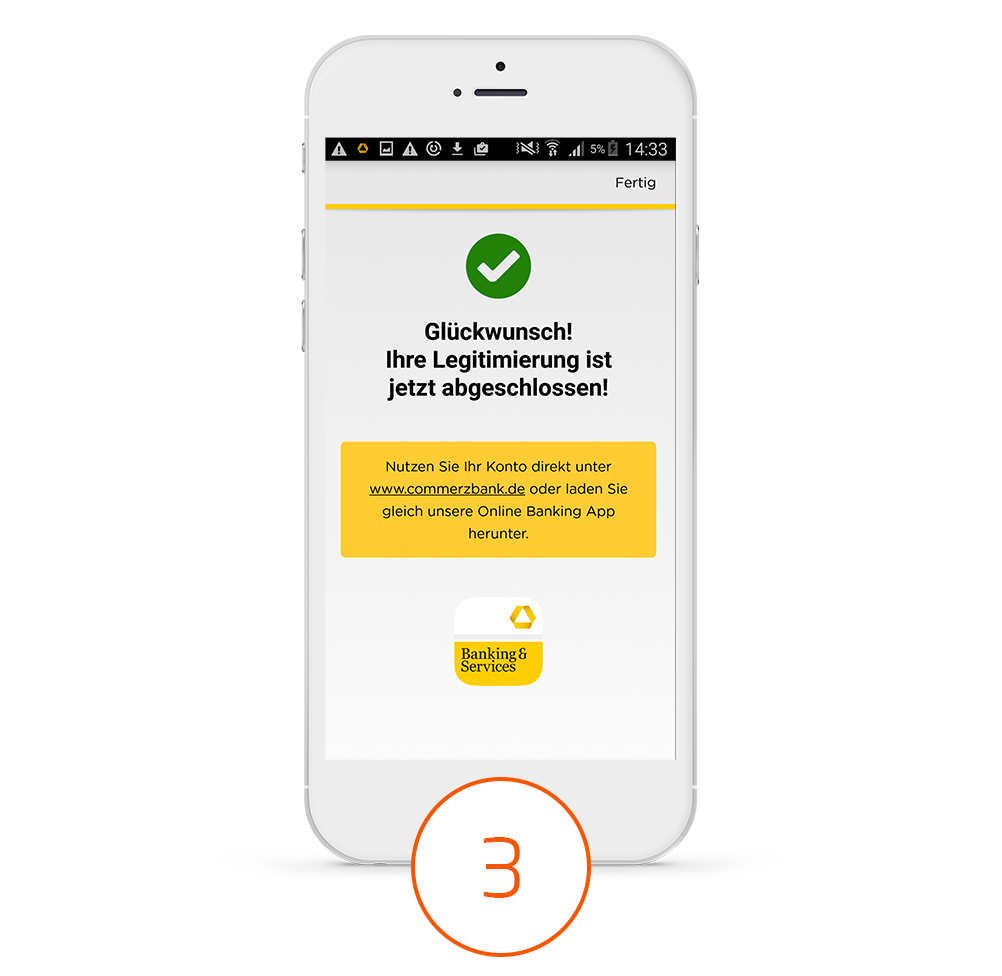 ID
Transmission
Immediate transmission of the identification data to you
An interested party becomes a customer and can use their account forthwith
Securities Account Opening
If customers wish to open a securities account online, apart from ascertaining their identity, a contract must be signed. Both can be done during an online process. In doing so, the required handwritten signature can be achieved via the digital process using the qualified electronic signature (QES). Online identification proceeds exactly as described for "account opening". Following this, the customer views their credit contract again and confirms the contract conclusion by ticking the appropriate box and by entering a TAN. The entire process takes approximately less than five minutes and complies with both national and European (eIDAS) laws.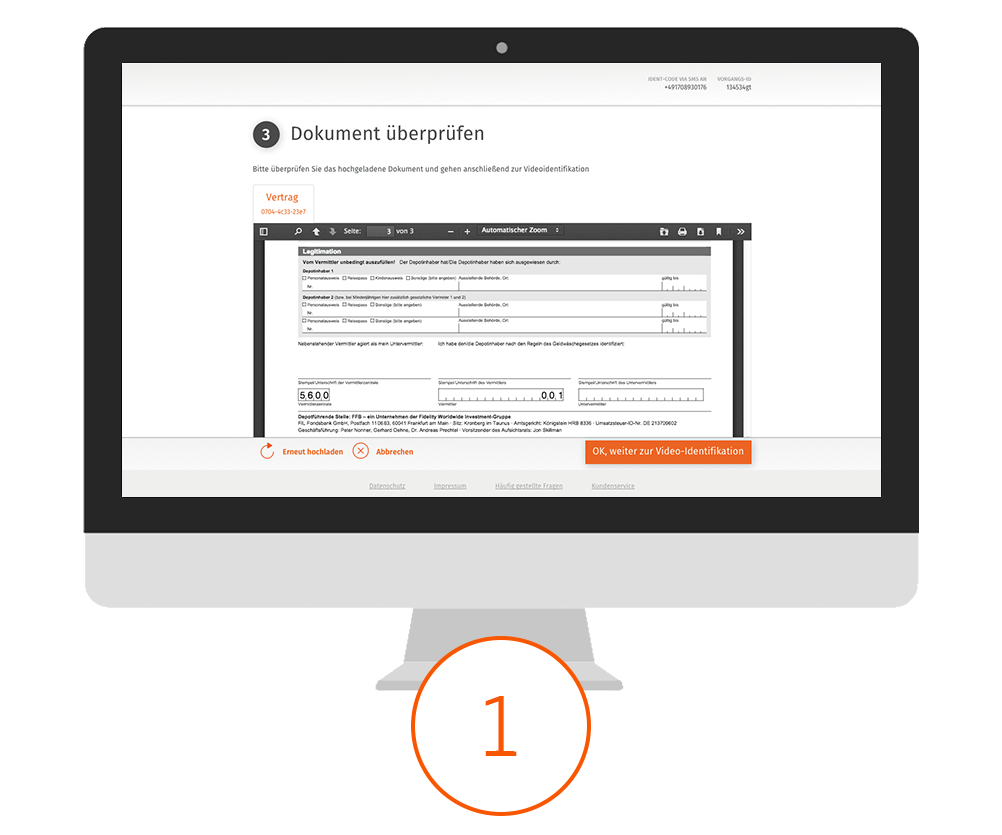 Product
Selection
The interested party selects a product on your website
Start of the IDnow process
Expert
Identification
The identity expert identifies interested parties using the IDnow software
Contract signing by qualified electronic signature (QES) as part of the video chat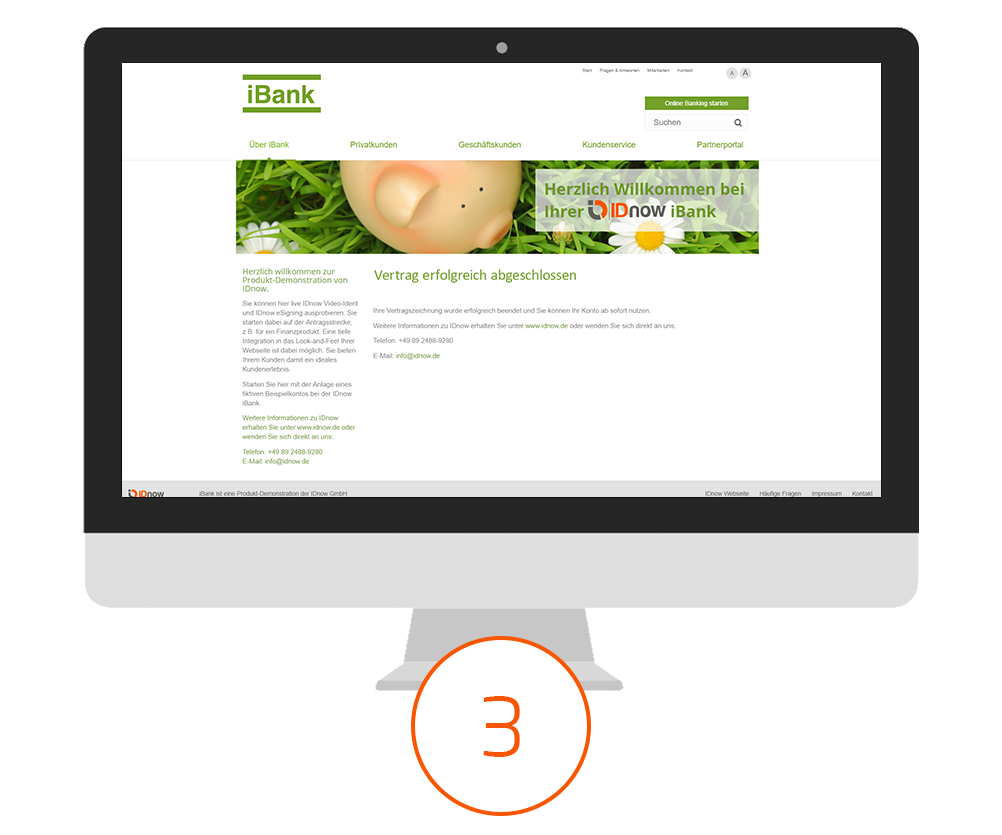 ID
Transmission
Immediate transmission of the identification and contract details to you
An interested party becomes a customer and can use the product forthwith