After the 2018 World Cup, it's time to look forward and prepare for all the action that will unfold during the Qatar 2022 World Cup.
What type of sports betting products can you expect?
What kind of algorithms will broadcasters use, and how should operators respond to optimize their development and prevent fraud or money laundering after players have gained access to their online betting accounts?
Find all the answers below.
FIFA World Cup 2018 recap
The 2018 FIFA World Cup was a massive success for the betting and gaming industry. It was a record-breaking tournament, with an estimated $155 billion wagered on the game, including $1.9 billion in the UK alone.
As more and more people got involved in betting on the World Cup, with many of them placing bets for the first time, the market expanded rapidly. The high level of consumer engagement can be attributed to the fact that it's one of the few sports that can be bet on almost anywhere in the world.
It's also one where there are plenty of opportunities to make money: A person can bet on who will win each game, which team will win each group stage match, and whether a player will score goals or not during their time at a specific club, and many more aspects of a game or tournament.
The popularity of betting on football has caused many operators to offer new products specifically designed for World Cup fans: They have created markets offering odds on everything from which team will be sent off first to particular bets, such as how many yellow cards England will receive during their game against Belgium.
World Cup betting trends, facts, and figures
This trend will likely continue as we head into Qatar 2022, which will take place from November 21 through December 18 this year. While we don't know exactly how much money will be wagered on this year's World Cup, it's safe to say that it will be even more than last time since there are more ways than ever for people all over the world to place their bets.
For the 2022 World Cup in Qatar, online gambling will be available for residents with a license to gamble online – which is only granted to locals. Qatar's strict laws against illegal gambling mean that it has been difficult for foreign operators to obtain licenses there – but it seems they'll have a chance at monetizing this massive event within the borders of the oil state.
Security and betting fraud
The last World Cup was an excellent success for betting and online gambling. The action was thrilling, the games were exciting, and it was a big success for those who had placed the right bets. However, not everything went according to plan. Looking back, there were some concerns about security and betting fraud at the 2018 World Cup. To avoid a repeat of the issues four years ago, gaming operators should look out for those anomalies that happened in 2018:
Bookmakers offered inaccurate odds due to a lack of liquidity, and many customers could not place bets.
There was a lack of transparency, and some bookmakers were accused of fixing matches.
Fraudulent activities were carried out by criminals who used bots to manipulate bettors into placing wagers on specific teams or players.
Betting fraud is a problem that affects all countries where gambling is legal, not just those hosting major sporting events like the World Cup or Olympics. For example, during the 2018 World Cup in Russia, numerous match-fixing instances were reported by players and officials from various nations participating in multiple stages of the competition.
The consequences of a Winter World Cup…
Learn how to best prepare as a gambling operator for the challenges of a winter World Cup.
Get your free copy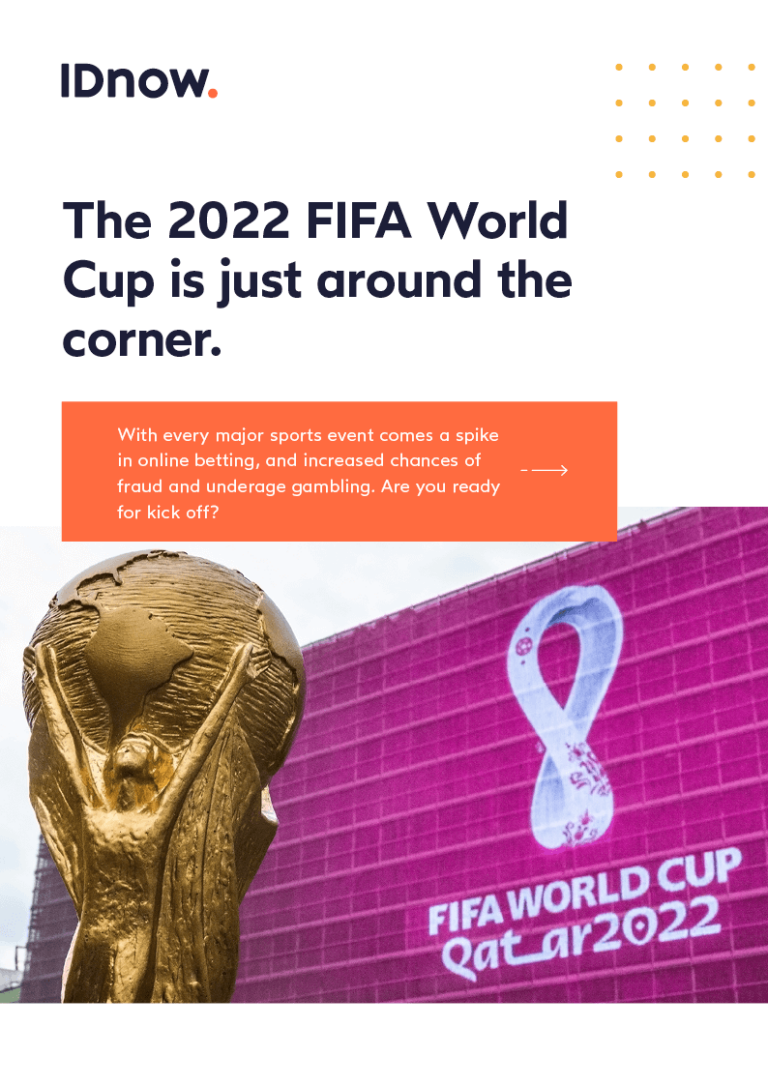 Forecasts for Qatar 2022
World Cup 2022 is approaching fast, and the iGaming industry is preparing itself for the upcoming event. For the Qatar 2022 edition, we expect increased betting activity. This inevitably increases the risk of revenue fraud and other issues.
The online gambling market is still increasing, and online gambling operators expect an uptrend in revenue during this upcoming World Cup. There's also an anticipated increase in fraudulent parties trying to take advantage of this situation by using fake websites or even creating new ones just for this purpose.
There are still some challenges facing the gambling industry as they prepare for this massive influx of new customers. One thing we expect to see happen during this period is an increase in online gambling sites that take advantage of loopholes in legislation to offer their services without regulation or oversight by any government agency. We also expect a growth in illegal betting operations and underground casinos operating out of private homes or warehouses where gamblers can make bets anonymously without having any records.
How to prepare for the 2022 World Cup
IDnow is aware of how bots attack and how to prevent this. Culprits are not only on the side of the gambling operators. They can also be among players. Our solutions offer a hassle-free, fast, and secure KYC process to keep fraud to an absolute minimum. Discover more about our KYC solutions, such as our real-time, AI-powered identity verification system AutoIdent.
FAQ for the World Cup Qatar 2022
What bets are placed during the World Cup 2022?
Bets for the World Cup are wide-ranging. The most common bets are on who will win the tournament, who will be the top scorer, and who will be the scorer of the tournament's best goal.
How do I secure my iGaming website against fraudulent activity?
The best way to secure your website is by using an automated, AI-powered system for identity verification. This technology can verify users' identities from all over the world – anytime, anywhere – and will comply with AML regulations. Read more about our KYC solution, AutoIdent.
Is there a safe and fast way to verify the identity of my customers?
Yes. IDnow offers AI-powered identity verification solutions for users worldwide, using AML-compliant video and document verification. We provide solutions for high-security requirements with VideoIdent, backed by AI technology, and a wallet for storing and reusing verified documents. IDnow helps you verify identity documents faster and more efficiently than ever.
By

Max Irwin, Sales Manager, Gambling at IDnow
Connect with Max on LinkedIn