This blog article is part of our blog series "Pushing fintech regulation forward".
Fintechs have brought many changes to the financial services industry. The rapid introduction of new technology and increasing competition have improved services and customer experience in many ways. However, increasing regulation goes along with this rise in innovation.
As fintechs expand the services they offer and the licenses they need, they can quickly become exposed to increased regulation. This is especially challenging as it can include new technology areas where regulation is not well established.
Fintechs also need to be aware of regulatory differences between countries where they operate.
There has been much discussion in the industry about the challenges of regulation keeping pace with fintech's speed of innovation. As one example, UK-based City AM reported in February 2022 that many leading UK fintechs have called on the government to overhaul the regulation of fintechs. This is needed to keep pace with innovation and allow fintechs to continue to grow while keeping the market safe.
Whatever the changes are going forward, KYC and AML will remain key amongst the regulations. Fintechs are subject to the same well-defined requirements to protect themselves, customers, and the wider financial markets from financial crime as other financial institutions. In Europe, this includes the AMLD and eIDAS regulations.
Fintech regulation and Artificial Intelligence
An eKYC solution, such as AI-driven ID verification is one way fintechs can ensure they are mitigating regulatory risks at almost any stage of their growth plans. Automation offers faster and more accurate verification and customer onboarding.
Done right, it can improve overall customer experience and conversion. Regulators are increasingly supporting AI technologies for automated identity verification. As long as fintechs stay aware of regulatory changes, there is plenty of potential for growth and service improvement.
What is RegTech within financial services?
RegTech refers to regulatory compliance management with the help of technical innovations. It is a subset of the fintech market, which refers to the wider idea of using technology (regulatory technology) within the financial services industry.
The RegTech sector is growing rapidly. According to Markets and Markets, its market size is set to grow to $16 billion by 2025 (from $6.3 billion in 2020).
RegTech utilizes many different technologies to meet the growing challenge of compliance. This includes cloud computing, live video, predictive analytics, and voice recognition.
The use of artificial intelligence and machine learning is key among these technologies. It can support the vital AML and KYC regulations in place in almost all countries with automated identity verification, biometric verification, and transaction monitoring.
Automated Identity Verification for fintech and RegTech companies
Fintechs leverage artificial intelligence (AI) and machine learning technologies in many different ways. They allow for automated information processing, unlimited monitoring of transactions, trend analysis, and fraud identification.
Applications include loan processing and credit evaluation, credit card fraud detection, and even algorithm-based trading.
Automated identity verification has risen to be one of the most important uses of AI, bringing huge benefits in safety, cost, and customer experience.
As more customer interaction has moved online in recent years, the need and possibilities for this have exploded.
More and more people are accessing services online, replacing traditional branch interactions and even ATM use (one of the first fintech growth areas in the 1980s).
The COVID pandemic has seen this trend accelerate even faster – a study by consultancy McKinsey suggests that companies are up to seven years ahead in digital transformation. And with increasing acceptance from regulators, the trend is well set for the continued expansion of automated identity verification.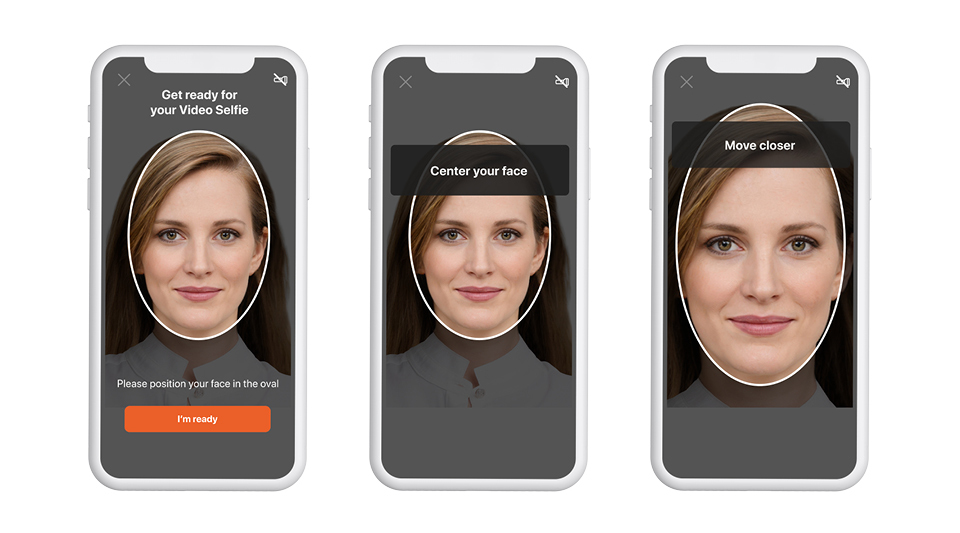 How is Artificial Intelligence (AI) used in Identity Verification?
AI has changed the identity verification and onboarding processes for financial institutions. Not long ago, these were entirely manual processes. Customers would visit a branch to verify physical identity documents. This is time-consuming, costly, and frustrating for customers.
Artificial intelligence is the technical simulation of human intelligence by computers. AI is trained using data sets to think and draw conclusions like a human (this process is referred to as machine learning).
This has obvious applications in automated verification, and AI solutions are now well advanced in this area.
For example, Artificial Intelligence can be used in several ways:
Checking identity document authenticity. AI can automatically detect and verify security features contained in identity documents.
Live video biometrics. Personal identity can be checked using live photos or videos and comparing biometrics with identity photographs. With training data and human oversight, machine learning algorithms can be trained (and continually improved) in detecting matches.
Transaction monitoring. KYC and AML are not just one-off checks that need to be carried out when onboarding a customer. Ongoing monitoring of customer states and transactions is required. AI can assist here as well.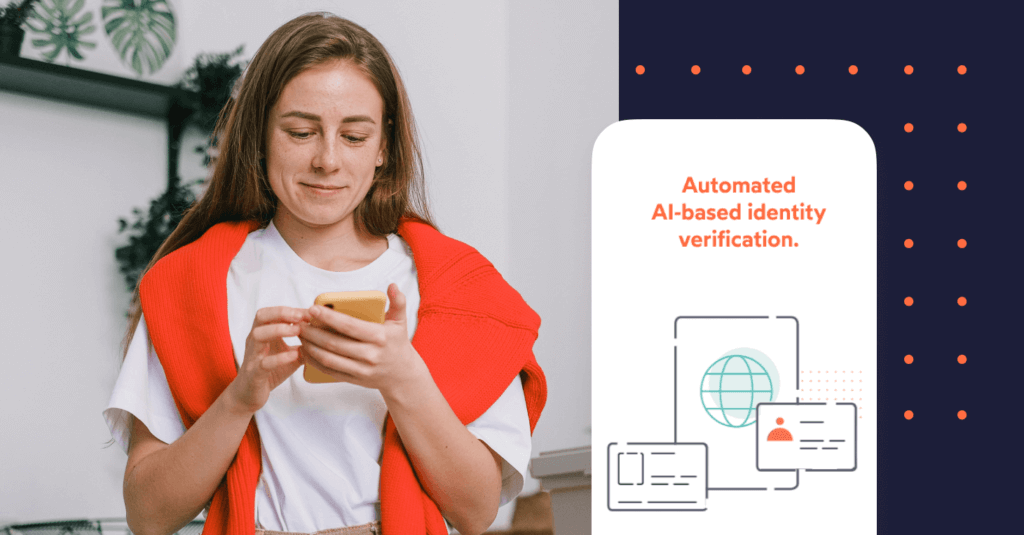 The benefits of using Artificial Intelligence for Identity Verification
AI is transforming KYC procedures, customer onboarding, and identity verification.
When implemented right, AI brings many advantages for fintechs, financial institutions, and their customers, such as the following:
Automated processes are, as you would expect, much faster. AI-based verification can check documents and identity within minutes. Even if manual intervention is needed, this can be built-in and handled quickly.
Manual KYC verification has high costs – in both time and money. Expensive third-party services are often used, staff are involved in repeated manual tasks, and delays and backlogs can lose customers.
Part of the reasoning for increasing regulatory acceptance is the realization that automated AI verification is safer in many ways. Automated processing limits the possibility of human error or oversight. AI is also trained on datasets, and accuracy improves as more data is created.
Meets regulatory requirements.
Staying compliant is vital in the heavily regulated financial services sector. AI is permitted by many regulators (including in the UK and parts of the EU), and its acceptance is increasing. Non-compliance can be very expensive. You just have to look at some huge fines handed out to banks to see this – including £102 million for Standard Chartered in the UK in 2019.
Allows for true ongoing monitoring.
AI can monitor activity and transactions continuously and in real time. This would be a vast effort to achieve manually without the use of AI.
Improved customer experience.
Customers want to know their interactions are secure, while also having a fast and friction free experience.
Increased conversion rates.
Customer conversion rates are critical in online financial services. This is improved with faster onboarding and verification, with customers less likely to abandon the process.
Allows for global expansion.
Having an automated solution that meets appropriate regulatory requirements makes it simpler to expand service into other countries. More and more countries are accepting automated AI solutions as part of KYC.
The challenges of integrating AI into KYC procedures
There are also challenges and difficulties with the implementation of AI and machine learning. For a fuller discussion of these, see IDnow's blog on the challenges of fintech AI integration.
When AI is used as part of customer onboarding, adopters need to consider customer expectations and experience. Users need to feel that interactions are secure. They also want fast results without errors or delays – this will become more pronounced as AI use expands.
As well as these KYC issues, fintechs need to be aware of standard problems with AI techniques. This includes having access to sufficient data for training.
AI and machine learning algorithms rely on data for training, and this should be complete, thorough, and representative. Sufficient human input and oversight are needed and should be managed to avoid introducing hard-to-detect bias.
Increasing global acceptance by regulators
Of course, any technology used in the financial services sector needs to comply with strict regulations. This is sometimes a challenge in the fintech sector, where technology use often advances faster than regulations.
KYC and AML regulations in most countries do not directly discuss technical implementation details.
Nevertheless, more and more national regulators are permitting the full use of AI techniques. These include the United Kingdom, France, Spain, Belgium, and Finland.
Other European countries permit video-based KYC. Germany is a tightly regulated market, and it now accepts an element of automation combined with a manual review.
The trend is set for the acceptance of full AI to increase, and this is giving fintechs and financial institutions the confidence to adopt AI for expansion.
Final thoughts
Regulation of fintechs is a complex area and one that is still developing. As fintechs and their technology use continue to advance, regulations and oversight ensure its safe long-term growth.
There have been big improvements, and many areas are now well regulated. The use of AI and automated identity verification is certainly one of these.
Regulation is now well established for the use of AI with KYC and AML. This can lead the way for fintechs to comfortably adopt new technologies that are faster, cheaper, and safer, and help them grow.
Furthermore, the right implementation provides a much-improved user experience.
Going forward, more users in more locations will come to expect a reliable, safe, and fast onboarding experience. With the right technology in use, fintechs can easily offer this.
By

Francisco Martins
Senior Identity Consultant, Financial Sector UK/I at IDnow
Connect with Francisco on LinkedIn
Regulatory challenges in the fintech Industry.
To find out more about the regulatory challenges the fintech industry faces, you can download a guide here.
Get your free copy