2022 is set to witness a FIFA World Cup like no other. We are less than 2 weeks away from the world-famous tournament, where 32 nations are all set to compete in the winter months of November and December for a chance to lift the famous Jules Rimet trophy. This will be the final World Cup tournament to feature 32 teams before its scheduled expansion to 48 teams in 2026.
Significantly, this is the first time the tournament has taken place in the Middle East and is the first time the event will be held during the winter. Although it will be held in the comparatively cooler winter months (with temperatures around 30C vs 40C+ in June and July), every stadium will have air conditioning, and there will be increased water breaks to help players stay rehydrated.
The competition is anticipated to be as intense off the field, as operators compete to grab the attention of bettors with the best possible customer onboarding and betting experience.
There are, however, a number of challenges that operators must meet before they can begin to welcome new customers.
Sustaining interest: Long run of matches in a short period.
To adjust to the World Cup's winter scheduling, the Premier League season began a week earlier, at the beginning of August, and will break before the World Cup commences. The Premier League season will then pick up where it left off, almost immediately after the World Cup ends. That is a long stretch of football mania for fans, players, and UK gambling operators. Sustaining the bettor's interest throughout this extended period could prove to be challenging.
Operators will also require a strong customer acquisition strategy since players may be distracted during the Christmas holidays.
Since the 2022 World Cup has a reduced timeframe of only 28 days, numerous matches will be held in a short time, however, just because a sportsbook has gained a new customer during the World Cup doesn't mean they will place multiple bets throughout the tournament. This was demonstrated on the Kambi network during the Euro 2020 tournament, when 78% of new players bet on the event when given a coupon, but only 76% returned for a second bet during the same event.
Customer acquisition and retention after a big tournament are crucial to successful sportsbooks. The timing of this year's World Cup creates a real opportunity for operators to capitalize on. Indeed, when the World Cup ends on December 18, the Premier League is scheduled to resume a week later, on December 26, allowing for a much shorter window for player retention compared to Euro 2020, which had a gap of over a month.
Learn more: How the Winter World Cup in Qatar impacts other sports events, including the Premier League.
Unique operational challenges for gambling operators.
The extreme Qatar heat, combined with the crammed football schedule before and after the Qatar World Cup is likely to lead to an increased risk of player injuries.
Offering a stable and scalable betting experience during an uncertain World Cup will therefore be crucial for retaining bettors and keeping their interest after the tournament ends.
The last thing sportsbooks need is for consumers to try their platform – whether they are solid bet builders or player props – only to lose interest and vanish when the World Cup ends.
On the plus side, since the Qatar 2022 World Cup is being held during the winter, sandwiched between Premier League games, and followed by Champions League knockout phases, it could be advantageous from an upselling perspective, with increased opportunities to retain customers, and increased betting activity.
The worldwide tournament offers operators a unique opportunity to optimize their platforms and provide team and player-specific content, allowing customers to place bets on various football markets.
Operators that can offer a great customer onboarding experience, and a product that delivers a wide variety of markets and an outstanding level of combinability, are perfectly positioned to benefit from the opportunities at the World Cup and beyond.
Festive financial commitments may keep bettors away.
The World Cup tournament's unique scheduling during the winter holiday season brings about increased competition for customers' funds.
As most bettors may prefer to stay indoors to watch the World Cup tournament this winter, sportsbooks may experience an inflow of online players. That said, since the sporting event will happen so close to the Christmas holidays, operators may also experience a decrease in numbers. The reduction in numbers may be linked to bettors choosing to allocate their funds elsewhere due to the festive expectations of parties, gifts, and increasing heating costs, etc.
The consequences of a Winter World Cup…
Learn how to best prepare as a gambling operator for the challenges of a winter World Cup.
Get your free copy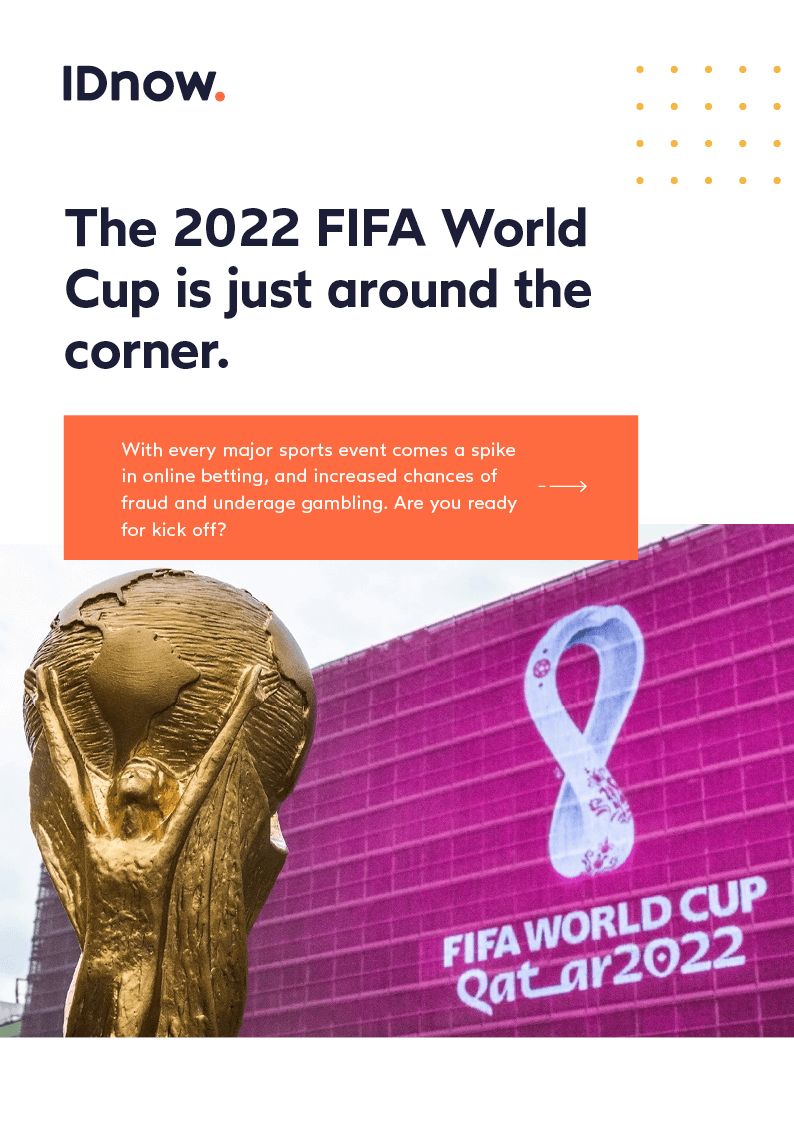 How to prepare for Qatar 2022 as a gambling operator
As sportsbooks will be focusing on new markets and a (possibly) smaller pool of customers this World Cup season, they must ensure their services are competitive, if not the best.
As new users in particular will not want to complete a long, arduous sign-up process, operators must make the onboarding experience as intuitive, streamlined, and safe as possible. New users tend to abandon a product because it's either too complicated to register, they don't understand the product, or they do not get value from it.
Gambling operators endure many challenges, such as risks of fraud, underage gambling, regulatory compliance, and offering a safe and smooth onboarding process for new users.
IDnow streamlines the onboarding process of gambling platforms. Bettors must simply scan their identity documents via a mobile device and AutoIdent automatically does the rest, processing the data and verifying identities within a matter of minutes.
IDnow's AI-powered identity verification tool, AutoIdent is compliant with regulations across 195 countries and offers coverage in over 30 languages.
Download our 'The Fifa World Cup 2022 is just around the corner' guide to discover how identity-proofing technology enables gambling operators to offer a safe, secure and friction-less experience for bettors, new and old.

Max Irwin, Sales Manager, Gambling at IDnow
Connect with Max on LinkedIn